EISA Awards 2017-2018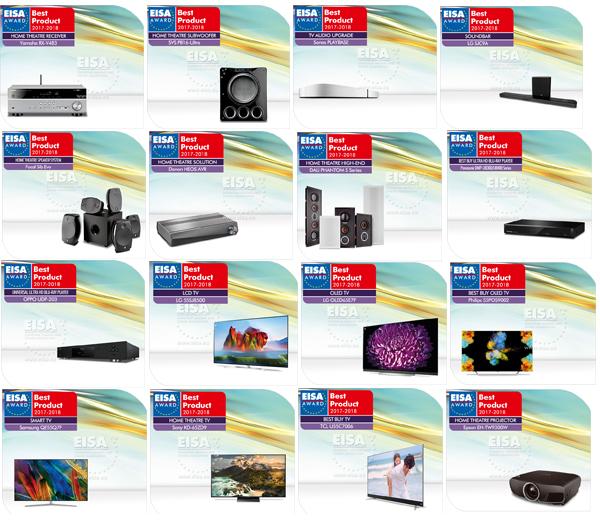 The European Imaging & Sound Assn. Celebrates the Year's Best Gear
EISA, the European Imaging & Sound Association has announced the winners of its 2017-2018 Awards program. Technical experts from more than 50 leading specialist magazines in 25 countries have recognized 66 products as the best in their categories.
For 35 years EISA has been selecting the most innovative, cutting-edge products for its prestigious EISA Awards — products that offer a combination of the most advanced technology, the most desirable features, the most functional ergonomics, and the best performance for the money.
The awards are debated and voted upon by Expert Groups of specialist judging panels covering the full spectrum of consumer electronics and photographic products, including Hi-Fi, Home Theater, In-Car Electronics, Photo, Video, and Mobile Devices. The Expert Groups work independently, but collaborate under the umbrella of EISA. Only one magazine from each Expert Group may represent each country.
Key to the success and relevance of the annual EISA Awards lies in the evolution of its categories, always reflecting the changing trends and technologies of the consumer electronics world. Moreover, the association itself continues to evolve, as 2017 was also the year that EISA announced its global expansion with five new member magazines and websites from Australia and the U.S.
Sound & Vision is proud to be one of EISA's first U.S. member magazines along with our sister publication Stereophile. Both magazines will participate in the nomination and voting process for the 2018-2019 awards.
To win an EISA Award all products undergo a comprehensive multi-step judging process. Products are intensively tested at the facilities of individual EISA member magazines and are also presented at the Association's annual Convention in Antwerp in May. Products that pass this stage already rank among the best in the world. The final deliberations take place at EISA's annual General Meeting in June where a democratic voting process establishes a consensus of excellence and determines the winning products.
Not surprisingly, several of this year's EISA Awards were Sound &amp Vision Top Picks. These are noted with a link to our review.
"The collaboration of some 53 specialist magazines and websites from across the greater European continent, Australia and the USA brings with it a unique pool of experience that informs each and every EISA Award," said Paul Miller, president if EISA. "So whether consumers are looking to purchase a feature-rich smartphone, a versatile camera solution, or a pair of high-end floorstanding loudspeakers, the EISA Awards are their unequivocal guide to the cream of today's entertainment technologies."
For more information on EISA, visit eisa.eu.