Dolby Atmos, DTS:X, Virtual Assistants Power Soundbar Launches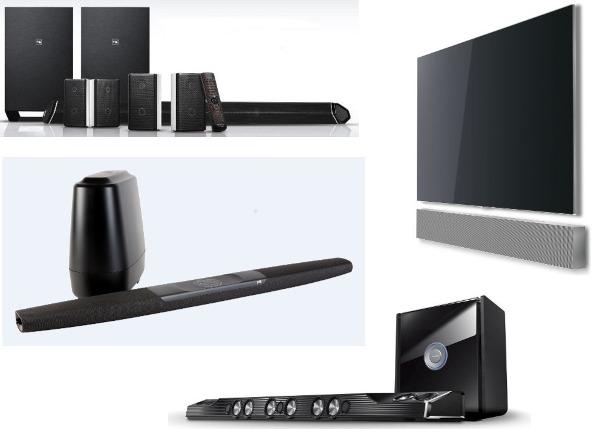 Soundbars used to be something that you'd add to a thin TV to fatten up the sound and make a TV program's vocals sound intelligible. But they've come a long way.
Here at CES in Las Vegas, we found a growing selection of soundbars that deliver the immersive audio of the Dolby Atmos and DTS:X object-based surround formats. At least one sound bar — from Polk Audio — doubles as a smart speaker. And many other new sound bars network with smart speakers so you can control soundbar functions via voice commands detected by the smart speakers' built-in far-field microphones.
On top of that, more sound bars incorporate DTS Virtual:X to deliver object-based surround from soundbars lacking dedicated height and surround drivers. Other new models come with wireless multiroom-audio capabilities, high-resolution audio playback, and separate wireless-surround speakers.
For its part, Roku talked up plans to extend its OS beyond smart TVs to include soundbars and wireless speakers. The goal is to make it easy to set up Roku-equipped soundbars and wireless surround speakers when used with a Roku-equipped smart TV. TCL said it would be first to offer audio gear with Roku inside.
Here's what we found on the show floor: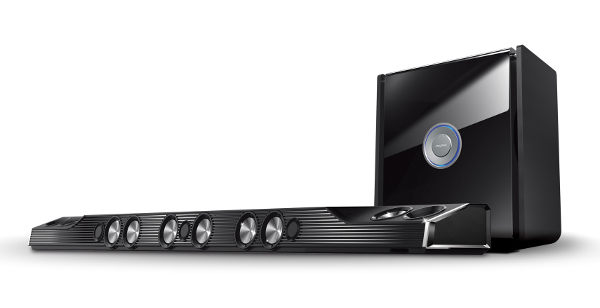 Creative Labs: The company's long-delayed $5,799-MSRP X-Fi Sonic Carrier features Atmos, a planned DTS:X upgrade, 192/24 high-res decoding, and 15 top-, side- and front-firing drivers in the main chassis, which packs 1,000-watt RMS amplification. A wireless subwoofer puts out another 600 watts RMS. It also incorporates audio- and video-streaming apps, including 4K Netflix and 4K Vudu.
Damson Audio: The U.K.-based supplier of wireless-multiroom speakers ventured into home theatre with the $799 Damson S Series Home Cinema system. It consists of a mini-size Atmos sound bar with upward-firing height drivers, a wireless subwoofer, and a pair of battery-powered wireless-surround speakers. The soundbar uses the company's JetStreamNet wireless multiroom technology to connect to the wireless subwoofer and surrounds, which also double as wireless multiroom-audio speakers.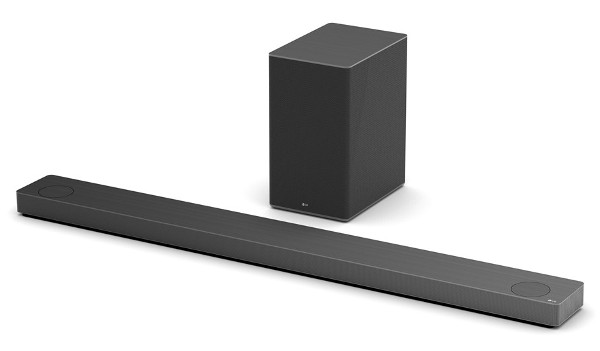 LG: In launching seven new sound bars, the Korean company expanded its selection of Atmos models to three from one, unveiled its first four "Works with Google Assistant" soundbars, and expanded its selection of high-res-audio models to six from four.
LG also adopted DTS Virtual:X for the first time, offering it in three soundbars that lack Dolby Atmos or DTS:X decoders. The Virtual:X bars deliver virtual height and surround information without dedicated height and surround channels from any audio source, though Virtual:X is said to work optimally with soundtracks featuring any DTS surround codec.
The four "Works with Google Assistant" models can be voice controlled through a networked Google Home speaker. They play back the audio services available through networked Google Home speakers and feature Chromecast built in (CCBI) wireless multiroom audio.
The company's top three bars, all with Atmos, are among LG's first audio products designed in consultation with high-end audio supplier Meridian to improve sound quality.
The top two Atmos models feature extra drivers to deliver 5.1.2-channel sound. The third Atmos model uses Dolby virtualization technology instead of extra drivers to deliver height and surround information.
To the top two Atmos models, you can add wireless rear speakers to create 7.1.2-channel surround.
Pricing was unavailable.
Nakamichi: The company's latest three soundbars feature DTS:X decoding but not Atmos. DTS Neural:X upmixes Dolby content into an immersive sound field through the soundbars' driver complement, the company said.
The models are the Shockwafe Ultra 9.2-channel DTS:X Soundbar at $1,199, the Shockwafe Elite 7.2-channel DTS:X Soundbar at $899.99, and the Shockwafe Pro 7.1 at $699.99. All come with surround speakers wired to a wireless rear subwoofer that powers them. The top model comes with four surround speakers. The top two come with two wireless subs.
Polk Audio:The brand came to CES to introduce one of the industry's first wireless multiroom sound bars with far-field microphones and an embedded Cloud-based digital assistant.
The $299 Command Bar, available in March, features built-in Amazon Alexa to enable voice control of Alexa-supported Wi-Fi music-streaming services, networked smart-home devices, and Alexa-enabled AV products, including Amazon's 4K Fire TV and Fire TV Stick. The Amazon streaming devices can be plugged into the bar's two HDMI 2.0a ports to get power from the bar's USB port and stream video content to an HDMI-connected TV.
Samsung: The Korean company replaced its current two Atmos-equipped sound bars with two Atmos/DTS:X-equipped models. The top HW-N950, like its predecessor, features three front-speaker channels and two up-firing height-speaker channels in its main chassis, but the new model adds two side-firing surround-channel drivers in its chassis. Like before, the bar is packaged with two wireless speakers, each featuring a surround-channel driver and an upfiring height-channel driver, to create a 7.1.2-channel system.
The HW-N850 Atmos/DTS:X sound bar delivers 5.1.2 channels out of the box via three front channels, two upfiring drivers, and two side-firing drivers in its main chassis. Its 3.1.2 predecessor lacked side-firing drivers. Optional wireless surrounds, which lack upfiring driver, bring the channel complement to 7.1.2.
Among seven new bars, the two Atmos/DTS:X models and two other models feature wireless multiroom audio. One of the latter two models, the NW-700 (shown), is only 1.97-inch deep and comes with almost-no-gap wall-mounting solution, preventing the sound bar from protruding too far past a slim on-wall TV.
Pricing was unavailable.