The New Rokus Have Arrived. Should You Upgrade?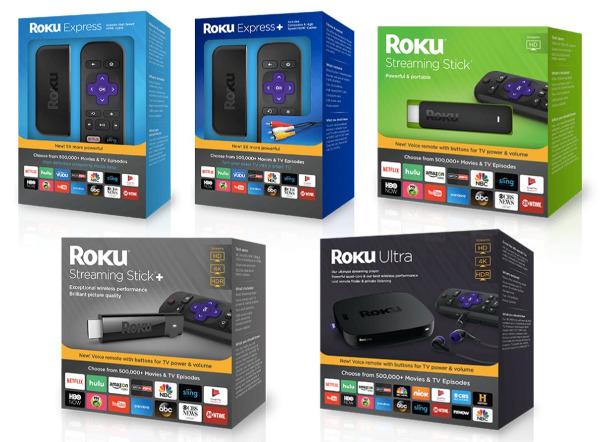 Roku recently released an
updated line of Roku players
. The new players resemble their predecessors but have improved processors for better performance and upgraded remotes for added features. The only model that is newly designed inside and out is the Roku Streaming Stick Plus. Otherwise, the lineup still covers the bases with models compatible that are with old TVs that require a composite-video connection to new HDR-enabled 4K TVs.
The Roku Express ($30) and Roku Express Plus ($40) are the entry level units. Roku has boosted the performance of these two models with a quad-core processor for faster navigation and quicker video startup. Both units come with an HDMI cable. The Roku Express Plus has an AV output with composite video for older TVs and includes a set of RCA cables. If you're still using a TV that only accepts a composite-video input, you might consider spending another $100 and getting a Roku TV, available from a number of brands at prices starting as low as $139.
Next in the lineup are the streaming sticks. First introduced in 2012, this year's Roku Streaming Stick ($50) has an improved processor for a 50 percent boost in performance and responsiveness and comes with a new remote offering voice search and control capabilities previously available only on higher end models; the remote also now controls TV power and volume. When you plug the Stick into the TV's HDMI port, it automatically detects the TV's make and model and configures the remote — the only thing you have to do is confirm the setting.
As mentioned earlier, the Roku Streaming Stick Plus ($70) has been completely redesigned for better performance and is built to stream 4K content encoded with high-dynamic range (HDR) highlights. Because streaming 4K HDR requires a solid wireless connection, Roku relocated the 802.11 AC MIMO wireless receiver to the Stick's USB power cord, which is said to produce a four-fold increase in wireless performance to ensure top quality video from Netflix and other 4K providers. Like the Streaming Stick, the remote for the Plus includes voice and TV control.
The Roku Ultra ($100) is the new top-of-the-line 4K HDR-enabled model. Roku has lowered the price from the previous generation Ultra, which sold for $120 and is a Sound & Vision Top Pick. The form factor is the same as its predecessor and the remote includes a headphone jack for personal listening, which is great for watching TV in bed. Like the other models, it comes with a new remote that adds voice control and a remote finder.
Roku's new models have something for everybody, offering improved power and features for even the most basic streaming players. If you haven't upgraded to a 4K HDR media player, you can choose between the Streaming Stick Plus or the Ultra. Either device is a great, simple-to-use choice for streaming 4K video. While neither player can decode Dolby Surround, both are able to pass the signal through to a receiver that with Dolby decoding. For tips on how to set up a Roku player for Dolby Surround, go here.
Roku has come a long way from the original Netflix box it released 10 years ago. Performance and quality have improved and it continues to be a streaming player that's easy for the whole family to use. I like to travel with my Roku Stick and I'm finding the new Streaming Stick Plus to be great for use at home with my 4K TV or on the road. Watch for my review in a future blog.