DJI: Own Your Own Drone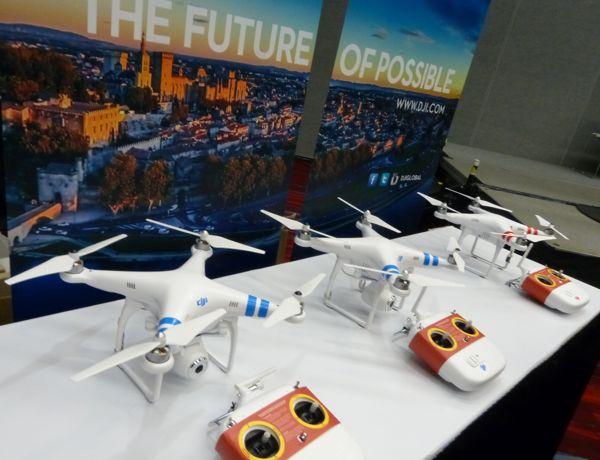 Drones are big news these days (a recent
60 Minutes
piece on Amazon's drone package-delivery plans drove the hype machine to full throttle), so it comes as no surprise that drones—or Unmanned Aerial Systems, as manufacturers of consumer-grade drones like to call them—are a category here at CES. One maker, DJI, even held a press conference to introduce its new Phantom 2 Vision, a quadcopter with a built-in 14 megapixel camera capable of recording 1080p video (4 GB micro SD card included).
What's cool about the Phantom 2 Vision is that it's a complete out-of-box solution for aerial cinematography—no DIY cobbling together of components required. The camera's angle can be controlled by an iOS or Android app that gives you a live camera view on your portable's screen and also radar positioning so you can see where the quadcopter is hovering in relation to your location (communication is carried out via Wi-Fi, with a range of 300 meters). The Phantom 2 Vision's battery provides 25 minutes of flight time; you even get an onscreen alert when the battery dips below 30% charge so you can return safely home.
Another cool thing about the Phantom 2 Vision is that its integrated GPS provides auto-pilot capability: You can put down the controller as you ponder your next shot and the copter hovers in place awaiting your next command.
New updates for the Phantom 2 Vision that DJI announced at CES include support for Adobe RAW uncompressed photo files, an adapter for lens filter support, and ground station capability so you can preset flight path, speed between points and, more with the control app.
The Phantom 2 Vision is available now for $1,119.