Discovery+ Streaming Service To Launch in January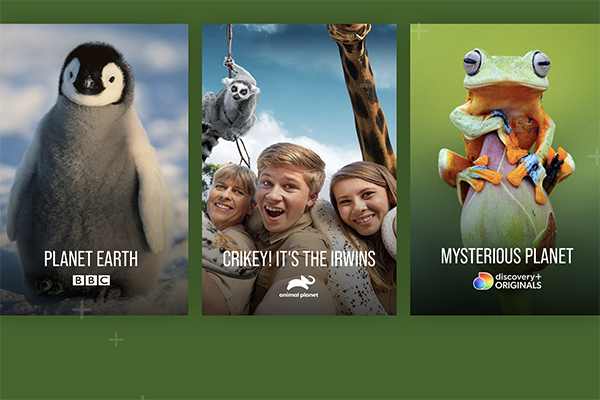 Discovery+ will launch on January 4th as the newest aggregated subscription streaming service. Drawing on 17 of Discovery's channels, the service will offer the largest inventory of unscripted and non-fiction programming. The "plus" service promises to do for specific-interest real-life entertainment what Disney Plus, Apple TV Plus, Peacock, and HBO Max have done for movies and TV series. By adding exclusive original programming, Discovery hopes to get a bigger piece of the 100 million streaming households. There are currently 5.2 million customers who can log into the various streaming "Go" apps — Discovery Go, Food Network Go, etc. — if they subscribe to the channels through their TV provider.
The new service will take the place of several special-interest channel apps. Lifestyle, relationships, home, and DIY programming will come from TLC, OWN, and HGTV. Food Network will bring cooking and food related shows. It will include true crime series from ID. Series and documents covering adventure, natural history, science, tech, and the environment will be available from Animal Planet, the Travel Channel, and BBC's Natural History Collection. TV series from the History Channel, A & E, the DoDo, and more.
Calling discovery+ a "definitive" non-fiction, real-life subscription streaming service, Discovery CEO David Zaslav described it as a companion to services such as Disney + and Netflix. "We fill out the entertainment pie… with all of our brands and characters."
Discovery+ Content
The company is claiming to have more content available at launch than other recently launched streaming apps. Discovery+ will offer more than 55,000 episodes of over 2,500 current and classic shows with 1,500 episodes of content from popular shows like Property Brothers, Naked and Afraid, Diesel Brothers, Deadliest Catch, My 600 Lb Life, The Pioneer Woman, Expedition Unknown, Good Eats, Pawn Stars, Storage Hunters, Ghost Hunters, Diners, Drive-Ins and Dives, Fixer Upper, Flip or Flopped, Chopped, and many more. It will also feature the exclusive streaming rights to many BBC Nature series including Planet Earth, Blue PlanetandFrozen Planet. Judi Dench's Wild Borneo Adventure is new to the U.S. It follows Dame Judi Dench as she explores the lush rainforests, magical wildlife, and spectacular Malaysian Borneo's spectacular coastlines.
There will be more than 50 original series at launch, including a preview of Chip and Joanna Gaines' Magnolia Network, along with a vast library of past and current content. The Gaines became popular with their show Fixer Upper. For fans of the couple, Magnolia will be a real treat. Their new network will include a reboot of the show called Fixer Upper: Welcome Home, along with Magnolia Table with Joanna Gaines where she shares her favorite recipes and their origins. The previews also include a Road to Launch show, where the couple speaks to those featured in the upcoming series.
Original Programming
The original programs available in 2021 include everything from Discovery shows to true-crime series and documentaries, new food and home shows, and many spinoffs from 90 Day Fiancé. Some of the exclusive originals will be available at launch.
A Perfect Planet. This five-part series is narrated by Sir David Attenborough, who tells the story of the natural forces that shape our environment and its inhabitants.
Mysterious Planet. This is also a five-part series that examines the Earth's greatest evolutionary mysteries. Combining humor with the awe and beauty of the natural world, David Schwimmer narrates, unlocking the most extraordinary mysteries behind the world's most incredible species.
Six Degrees with Mike Rowe. The Dirty Jobs star travels back in time to significant moments in history to reveal the origins of society's "most taken-for-granted" moments. As he follows the stories, he shows that every single thing is connected.
Battlebots: Bounty Hunters. Each episode shows how teams design and build robots to compete with legendary robots in the ultimate robot combat.
Gold Rush: Freddy Dodge's Mine Rescue. Freddy will share his experience and practical knowledge about where to look for gold and inside tips of mining and "sluicing" it.
Undercover Billionaire. Three successful entrepreneurs bet $1 million that while undercover, they can start a business with $100 and build it to a million-dollar business in 90 days. The challenge is more difficult as they do it in a COVID-19 world.
Long Island Medium: There In Spirit. Medium Theresa Caputo delivers messages and readings from home in the time of COVID-19. This season will feature those who didn't have a chance to say goodbye to their loved ones, along with virtual readings of celebrities.
Bobby and Giada in Italy. Bobby Flay joins Giada De Laurentis on a culinary tour of Italy.
Cakealikes. Expert cake makers must create life-sized cakes of celebrities.
Duff's Happy Fun Bake Time. Puppets from The Jim Henson Company join Duff Goldman to teach the basics of cooking and reveal how ingredients work together.
Luda Can't Cook. We watch rapper and successful restaurateur, Ludacris, get lessons on how to cook.
Mary McCartney Serves it Up. Home cook, Mary McCartney, makes family favorites and vegetarian food in her London kitchen for famous friends including Cameron Diaz, Nicole Richie, Dave Grohl, Kate Hudson, Gayle King, Mark Ronson, and Liv Tyler.
Amy Schumer Learns to Cook: Uncensored. An updated and uncensored version of this Emmy-nominated series.
Clipped. Martha Stewart, along with renowned landscape experts and designers, judge a Topiary contest.
Frozen in Time. Maureen McCormick (Marsha from The Brady Bunch) joins designer Dan Vickery to do makeovers on homes that are stuck in a design time warp.
House Hunters: Comedians on Couches Unfiltered. Led by Dan Levy and Natasha Leggero, this series will show unfiltered color commentary of classic episodes of House Hunters. Celebrity comedians Seth Rogen, John Mulaney, Ali Wong, JB Smoove, Chelsea Peretti, Witney Cummings, Margaret Cho, and Blake Griffin will make snide comments as they watch the show.
Home Town: Ben's Workshop. Celebrity guests join master woodworker Ben Napier as he shares his craftsmanship and carpentry expertise. Napier will guide Astronaut Scott Kelly, Martina Navratilova, comedienne Loni Love, and country singer Chris Lane to build iconic wood projects.
Queen of Meth. This new true-crime show follows actor Tom Arnold's sister, Lori Arnold, who invented meth in a cabin in Iowa in 1984. Within two years, she was the Queen Pin of a multimillion-dollar drug business. This is her story.
American Detective with Joe Kenda. Lt. Joe Kenda brings viewers "astounding investigations" from across the country. Each episode features a different homicide detective who successfully put a killer behind bars.
Onision: In Real Life. Greg Jackson, aka Onison, has gained millions of followers on YouTube with his off-kilter, opinionated dark humor. His real-life is even more sinister.
Route 66 (working title). Kevin Hart follows America's famous Route 66 to visit and tell the stories of people and places from Chicago to Los Angeles.
Pushing the Line. This series follows slackline walkers as they push themselves to cross 900-foot canyons during the day and party at night.
And Documentaries, Too
Along with the reality shows, the new discovery+ service will offer several documentaries.
The Impossible Row. Adventurer Colin O'Brady and his crew attempt the first completely human-powered ocean row 600 miles across the Drake Passage — the most dangerous open ocean on Earth.
P.S. Burn This Later Please. A 60-year-old secret box of letters is the basis of this part of LGBT history that reveals a time when it was illegal to "be yourself and masquerade as a woman."
My Beautiful Stutter. Follows five kids, ages 9 to 18, who stutter and ultimately meet up in an interactive arts-based program.
Beyond Borders. The journey of Juan-Peter Schulze and travel blogger Louis Cole as they circumnavigate the world in 81 days in a single-engine 1974 Cessna airplane.
The Parachute Murder Plot. Victoria Cillier's parachute failed to open, yet somehow she survived. As the story unfolds, she learns that this is the second time her husband tried to murder her.
Then, there are spinoffs of 90 Day Fiancé:
90 Day Bares All. Interviews with 90 Day Fiancé couples who reveal the down and dirty uncensored stories that couldn't be shown on TV.
90 Day Diaries. An intimate look into the couples' lives as they film themselves without producers or crew.
90 Day Journey. This is several limited series. Each series is an edited version of the show that follows a specific couple from beginning to end.
Other original programming includes paranormal content that is being developed as they partner with big names in Horror film genre. More content will come from Group Nine Media digital providers like The DoDo, NowThis, and Thrillist.
Subscription Details
Subscription options are $5 per month with commercials or $7 without ads for up to five user-profiles and four concurrent streams (that's two more than Netflix and Hulu allow). Some Verizon customers will get a year free. Check out the details at Verizon.com/discoveryplus.
We don't yet know if there will be 4K content or on which devices discovery+ will be available. The site says you can watch on mobile, computer, and smart TVs. Roku and Amazon Fire TV have not yet cut a deal to carry it. You can go to the discovery+ website to sign up for notifications when the app launches.