Denon, Marantz to Unveil Imax Enhanced AV Receivers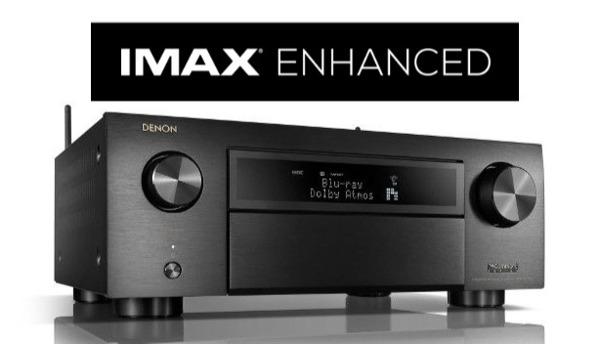 Sound United brands Denon and Marantz are coming to the CEDIA Expo to update premium audio components in the highest reaches of their lines and launch the industry's first audio components certified under the new
Imax Enhanced
content and hardware certification program.
The program, developed by Imax and DTS, certifies digitally remastered Ultra HD 4K HDR video with immersive 3D DTS surround sound for delivery through certified audio and video products that meet performance standards and incorporate a proprietary suite of Imax and DTS technologies, all to deliver video as filmmakers intended it to be seen, the companies said.
Imax Mode will appear first in Denon's currently available $3,999 13.2-channel AVR-X8500H AV receiver, which will get an Imax firmware upgrade in October. Two new Denon AVRs — the $2,199 AVR-X6500 (pictured) and $1,599 AVR-X4500H — will be available in October and get the firmware update in early 2019. Sound United will use the Marantz AVP and a projector in its booth to demo the Imax mode, starting Thursday.
Under the certification and licensing program, top-end AV receivers, the largest top-end big-screen 4K HDR TVs, and other home theater equipment must meet what DTS called a "set of the highest audio and video performance standards." TVs and projectors will include pre-set Imax calibration modes. Imax certification of speakers is under consideration.
The program also covers Ultra HD Blu-ray discs and 4K HDR streaming content, requiring the use of a "proprietary post-production process developed by Imax" to digitally re-master content for enhanced color, contrast, and clarity, DTS said. Digitally remastered content will be available from Sony Pictures, Paramount Pictures, and Imax, with the first unnamed titles due later this year.
Hollywood sound mixers will work with a variant of the immersive object-based DTS:X codec technology, which will be integrated in home audio components, to deliver Imax-required audio enhancements that mimic the audio experience of Imax theaters. AVRs and AVPs will also be configured to pass through Imax-enhanced video.
Only the largest 4K HDR TVs will participate in the Imax Enhanced program because their size, brightness and high contrast "magnify image imperfections in content and diminish a filmmaker's creative intent," a DTS spokesperson told Sound & Vision. Other content that is not Imax-certified will also get a performance boost, including sports, gaming, and high-production-value TV shows, DTS added.
Sony also plans to offer CE products with Imax mode.
AVR, AVP upgrades
Imax Mode is the major upgrade to the two new Denon AVRs and the new Marantz AVP compared to the models that they will replace at no change in price. All three also add an HDMI 2.1 feature called Auto Low Latency Mode (ALLM), which reduces game-console lag when the audio components are connected to an ALLM-equipped game console like the X Box One X and to an ALLM-equipped TV. ALLM will be available from Sound United as a future firmware update.
Like their predecessors, the three components will also get a firmware update to add HDMI enhanced ARC (eARC) to play back high-bandwidth lossless surround and object-based Dolby Atmos and DTS:X metadata from smart-TV streaming apps.
Like before, the $2,199 AVR-X6500 features 11.2-channel processing, an 11.2-channel amplifier, three immersive surround formats (Dolby Atmos, DTS:X, and Auro-3D), DTS Neural:X and Dolby Surround Upmixing to bring immersive surround to legacy soundtracks, three high-dynamic range (HDR) video formats (HDR 10, Dolby Vision, and Hybrid Log-Gamma), Heos wireless multiroom audio, Apple AirPlay 2, eight HDMI inputs with HDCP 2.2 copy protection, three HDMI outputs, high-resolution audio decoding, 32-bit DACs on all channels, and three multiroom zones.
Denon's $1,599 AVR-X4500H offers those features with the major exception of its nine-channel amplifier section. It and its predecessor, however, feature 11.2-channel processing to deliver 11 full-range channels when a two-channel amp is added.
Marantz's $2,199 AV7705 AV processor offers the features and performance of its same-price predecessor with such additions as Imax Mode. Carryover features include 11.2-channel processing, Heos, AirPlay2, three immersive surround formats, three HDR technologies, eight HDMI inputs, and three inputs with HDCP 2.2.
Like their predecessors, all three models feature voice control of select functions through a smart device equipped with Amazon Alexa.
Network Players and turntables
Both brands are also adding proprietary Heos wireless multiroom audio technology, Apple's AirPlay 2, and Bluetooth for the first time to component-size network players. Denon's network player is the $599 DNP-800NE, and Marantz's is the $699 NA6006. Unlike their predecessors, both players feature voice control through an Amazon Alexa device such as a smart speaker.
Two new Denon turntables include the brand's first to support USB recording and editing via PC. A new $599 Denon integrated amp and new $499 Denon CD player are also on the way.