Denon AVR-3805 Digital Surround Receiver Page 2
The AVR-3805 does have three other important features that seem to be catching on among the higher-end receivers. The first is Denon Link, a multichannel digital input for compatible DVD-Audio and SACD players. Unlike the FireWire (a.k.a. i.Link) digital connections offered on some other gear, Denon Link is a proprietary system using a back-panel RJ-45 connector, and at this writing only one Denon player (the DVD-5900) has a corresponding output.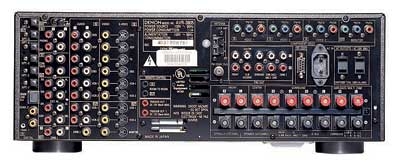 Key Features
• Dolby Digital EX and DTS-ES 6.1-channel decoding • Dolby Pro Logic IIx and DTS Neo:6 for 5.1/7.1-channel playback from two-channel or matrixed four-channel sources • Dual surround speaker outputs for movie- or music-oriented playback • 8 ambience-enhancement surround modes plus virtual surround for two-speaker listening • Automatic setup and speaker equalization with optional microphone • Bass-management options include 8 crossover frequencies from 40 to 250 Hz • Upconverts composite- and S-video input signals to component video • 3 HDTV-compatible component-video inputs, 1 output • 7 A/V inputs, 2 outputs, all with S-video • 8-channel analog audio input; 8-channel preamp output • Denon Link multichannel digital audio input • 5 optical (1 on front panel), 2 coaxial digital audio inputs; 2 optical outputs • 3 stereo audio-only inputs (including phono); 1 record output • Multiway binding-post speaker terminals for all channels • Backlit 12-component preprogrammed/ learning remote control with 6 macros (up to 12 steps each) • RS-232C connector supports AMX and Creston control systems • Zone 2 A/V output with stereo speaker-level outputs
When you use the Denon Link connection, DVD-Audio and SACD signals are sent from the player to the receiver in digital form. Besides simplifying the wiring (one cable instead of six from the player's multichannel analog output), a digital hookup lets the receiver do the multichannel decoding as well as the bass management and speaker-distance compensation processing - which does not happen when you use the receiver's multichannel analog input (the stereo analog inputs are processed correctly).
The second notable feature has more to do with convenience than performance. The AVR-3805 upconverts composite- and S-video signals to component video (interlaced only). You can hook your composite- and S-video components to the receiver while the receiver connects to the TV with component-video cables only, greatly simplifying the wiring. What's more, the receiver's component-video inputs are wideband, which means they'll pass the progressive-scan output of a DVD player or high-def signals from an HDTV tuner.
Complete user-friendliness is the receiver's third key feature, led by automatic setup, which is surely the greatest single contribution to A/V convenience since the infrared remote control. With a simple menu selection, the receiver balances the channel levels - something that usually requires a sound-level meter and is nearly impossible to get right when done only by ear. Yet achieving a proper balance is essential if you want to hear what a movie's sound designer or a music recording's artist and producer intended for you to hear.
LATEST VIDEO