Definitive Technology BP7001sc Home Theater Speaker System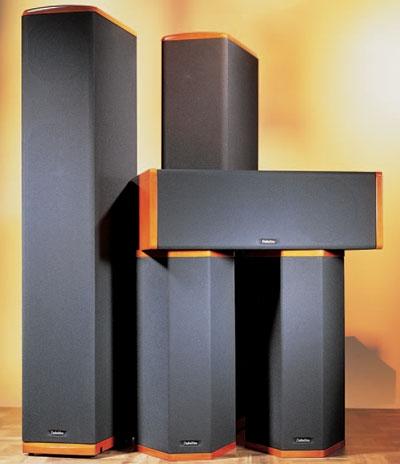 Photos by Tony Cordoza With the popularity of flat-panel TVs exploding and companies straining to create speakers that will mate with the unobtrusive sets, it seems like the era of hulking home theater gear - towering speakers, massive subwoofers, video projectors hovering above your head like an F-15 - is over. I'll admit that part of me likes the interior design-friendly stuff, but another part frets about trying to coax too much from too little. I'm reminded of that every Saturday night when I hear the screech of my neighbor's "home theater in a box." Man, I wish that guy would go out to the movies!
PDF: Fast Facts
Inexpensive subwoofer/satellite systems can give you a taste of surround sound, but compromise-free performance requires serious speakers. And in my experience, that usually means floor-standing towers at least for the front left/right channels. Definitive Technology's BP7001sc SuperTower speaker, a slightly smaller version of its flagship BP7000sc, is equipped to deliver full-range performance thanks to its built-in powered subwoofer. In the system I tested, a pair of BP7001sc towers is mated with the company's C/L/R 3000 center speaker - another full-range design with a built-in powered sub - and a couple of beefy BPVX surrounds. Definitive Tech claims the system can handle the dynamic needs of both movie soundtracks and multichannel music on DVD-Audio and Super Audio CD. And with each speaker in the system using the same 6 1/2-inch woofer and 1-inch tweeter, you can count on seamless sound all around.
There are plenty of top-shelf speaker systems available, so you're probably wondering what makes this one different. First off, both the BP7001sc tower and BPVX surround are bipolar designs (the C/L/R 3000 center speaker is a conventional direct-radiating, or monopolar, design). A bipolar speaker uses matched sets of drivers to radiate equal sound from the front and rear, and because all of the drivers operate in phase with one another, it can produce a nearly 360° sound field.
The second thing, of course, is the built-in powered sub in each tower speaker (each BP7001sc must be plugged into an AC outlet for the sub to operate, and the same goes for the C/L/R 3000). The BP7001sc sub's 10-inch driver is powered by a 1,500-watt Class D amplifier, and it has two 10-inch passive radiators, so using a pair of BP7001sc towers effectively gives you stereo subwoofers. In some rooms, this will boost deep-bass output. The BP7001sc has a line-level input that lets you separately feed the subwoofer/LFE (low-frequency-effects, the ".1" in "5.1") output from your surround processor or receiver to the tower's built-in subwoofer. There's also a volume control to adjust the sub's output when only a full-range speaker-level connection is used. The C/L/R 3000 has a line-level input as well, but it's designed to connect to the full-range center-channel preamp output found on some receivers and is not intended for subwoofer/LFE signals.
The system Definitive Technology sent me came with wood end caps finished in its new golden cherry piano-gloss finish. They all have the same black knit wraparound sleeves as most of the company's previous speakers, but to me the lighter finish on the end caps is an aesthetic leap forward from the previous monolithic black look. Another pleasing touch is a beveled edge that runs the length of the tower speaker's front baffle and is echoed in its end caps.
Weighing in at 61 pounds, the C/L/R 3000 is one hefty center speaker - as you'd expect from a model packing a powered subwoofer. It's also pretty large, so don't expect to set it on top of one of those slim new TVs, most of which provide only a few inches of surface depth on top. For horizontal placement, a set of adjustable feet lets you angle the speaker up or down.
With a specified low-end limit of 31 Hz, Definitive Tech's BPVX is equipped to deliver more bass than your average surround speaker. Standing a tall 22 inches, it has a semi-triangular design with matched sets of drivers on both of its angled sides. The supplied mounting hardware lets you attach the speaker's back panel to a wall.
There's been a lot of debate about which type of speaker works best for surround sound. But because they radiate sound from both front and rear, bipolar surrounds like the BPVX split the difference between a dipole's diffuse presentation - a desirable trait for movie soundtracks - and a monopole's directionality, which tends to work better for music.
I used the Def Tech system to christen Sound & Vision's new A/V testing facility - a set of soundproofed, acoustically treated rooms tucked away in the heart of midtown Manhattan. Owing to the large size of the BP7001sc towers, I set up the system in the more voluminous Room 1, a 20 x 14-foot space with an 8 1/2-foot ceiling. The C/L/R 3000 center went on a shelf of a large TV stand, under the screen, and was angled up toward the seating position. I put the BPVX surrounds on a set of 38-inch-high stands 2 feet behind the couch. I set these up in the arrangement Definitive Tech recommends, with one set of drivers angled in toward the listening position and the other facing the rear of the room.
Since only a precious few DVD-Audio and SACD players provide any kind of bass management, what to do with the bass can be a problem in a typical surround sound setup with small, bass-limited satellite speakers. Fortunately, I didn't have to worry about that with this system.