Def Tech Celebrates Bipolar/Power Tower Heritage with New Speaker Series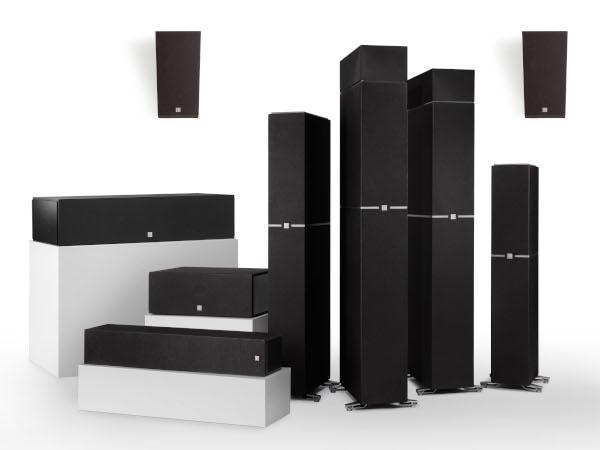 Definitive Technology, the company started by audio-industry icon Sandy Gross in 1990, today announced a new series of speakers that celebrates the two things the brand is best known for: bipolar speaker designs that use front- and rear-facing drivers to create a more spacious listening experience and the "power tower" — a floorstanding speaker with a built-in powered subwoofer.
Nine models in all, the new Dymension Series comprises three bipolar power towers, a passive bipolar tower, and three center-channel speakers plus a height module and wall-mount surround speaker for Dolby Atmos/DTS:X setups. Prices for a single speaker range from $699 to $2,499. All of the speakers use the same 1-inch aluminum-oxide dome tweeter and are timbre-matched so they will work together in any home theater configuration.
Towering Sound
The hallmark of each Dymension tower is front- and rear-firing driver arrays, each comprising two small (4.5- or 5.25-inch) woofers situated above and below a 1-inch tweeter and, in three of the four new models, a powered subwoofer section with one large woofer supported by two passive radiators — one on either side of the cabinet.
The bipolar driver arrays are balanced to "direct more sound in more directions" than traditional front-firing speakers and arrive set up for "fully bipolar" operation with a rear tweeter switch that can be used to lower rear output by 6dB for more forward-focused sound when the speakers must be situated close to a wall.
In the flagship DM80 ($2,499) and DM70 ($1,999) power towers, the front- and rear-facing driver arrays in the top of the enclosure use 5.25-inch woofers, which dovetail with the deep bass delivered by the powered subwoofer built into the base of the speaker.
The DM80's sub section mates a 12-inch woofer and two 12-inch passive radiators with a new high-performance 400-watt GaN FET amplifier to achieve a low-frequency rating of 28Hz (–3dB)/23Hz (–10dB). The DM70 pairs a trio of 10-inch active and passive drivers with a 250-watt (peak) class-D amp and is rated down to 30Hz (–3dB)/25Hz (–10dB). The enclosure of both models is just over 49 inches tall, 11 inches wide, and 16 inches deep.
DefTech has reserved its top technology for the DM80 and DM70 towers. Woofers in the bipolar arrays incorporate the company's patented "balanced double surround system" (BDSS), which is said to improve driver excursion while ensuring a uniform soundstage and seamless integration with the subwoofer. The drivers are also loaded in a "linear response waveguide" designed to enhance spaciousness by extending and smoothing off-axis dispersion.
Moving down the tower lineup, the DM60 ($1,499) is a 2-inch shorter, scaled down version of the DM70 that uses smaller 4.5-inch woofers in its bipolar driver arrays and mates a trio of 8-inch active and passive drivers with the same 250-watt amp used in the DM70. The speaker is rated down to 34Hz (–3dB)/30Hz (–10dB).
The DM80, DM70, and DM60 also feature a patented "intelligent bass control" on the rear panel, which uses digital processing to "deliver powerful deep bass without sacrificing midrange clarity."
The DM40 ($999) lacks a powered subwoofer section, relying instead on four 4.5-inch woofers and two 1-inch aluminum-oxide dome tweeters to do all the work in a ported cabinet about 37 inches tall, 10 inches wide and 10 inches deep. The speaker is rated down to 55Hz (–3dB)/38Hz (–10dB).
All tower models feature DefTech's signature black-knit "sock" on three sides and come with adjustable hard-floor glides and carpet spikes.
Stuck in the Middle
Three center-channel speaker options are offered in Dymension Series, starting at the top with the 31.5-inch-wide DM30 ($1,499) that pairs the 1-inch tweeter with a four 5.25-inch BDSS woofers in a dual-woofer-tweeter-dual-woofer arrangement and a 250-watt (peak) powered subwoofer with an upfiring 8-inch woofer flanked by two 8-inch passive radiators. The speaker is rated down to 41Hz (–3dB)/36Hz (–10dB) and has a beefy enclosure 7.5 inches tall and almost 16 inches deep.
Rounding out the center offerings are the 30.5-inch-wide DM20 ($799) and the considerably smaller, 19.5-inch-wide DM10 ($699), both passive designs. The DM20 has the same driver configuration as the DM30 but steps down to 4-inch woofers and the DM10 is a three-driver model with two 5.25-inch woofers flanking the tweeter and a 9-inch passive radiator. Rated low-frequency limits are 91Hz (–3dB)/64Hz (–10dB) for the DM20 and 81Hz (–3dB)/57Hz (–10dB) for the DM10.
Surround Options
The Dymension Series offers two surround speakers for Atmos and DTS:X setups. The DM90 height module ($999) is designed to sit atop the DM80 and DM70 towers and features an upfiring woofer/tweeter combo; the module snaps in place while making an electrical connection with the tower speaker. The DM95 ($799) is a wedge-shaped, two-way surround speaker designed for mounting on a wall. Both models use the same 5.25-inch woofer found in the two top tower models.
The speakers start shipping today. For more information, visit definitivetechnology.com.