December 2017 New Gear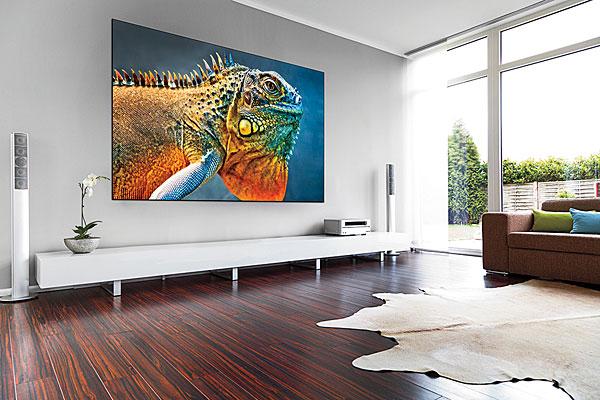 AVutec Stiletto Projection Screen
Stiletto—an alluring name for an alluring projection screen that appears to float in midair thanks to its super-thin bezel. It's so skinny, you practically have to squint to see it. But the frame is made of extruded aluminum, so it's anything but flimsy. Lightweight, yes. Flimsy, no.
Wide or Really Wide:
A selection of ISF-certified screen materials, with gains ranging from 0.6 to 1.3, are available in standard 16:9 or ultra-wide 2.35:1. Screen sizes range from 92 to 159 inches (diagonal) in 16:9 and 115 to 189 inches (diagonal) in 2.35:1; custom sizes are also available. The frame can be ordered in flat black or matched to any RAL color. Prices range from about $1,500 to $4,200.
Vutec • (800) 770-4700 • vutec.com
Onkyo TX-RZ920 A/V Receiver
If you're willing to settle for near top-of-the-line features and performance on your next AVR purchase, Onkyo's new TX-RZ920 deserves a look. Compared with the TX-RZ1100 ($2,199), you get slightly less power, one less optical input, and you'll have to live with 24- (instead of 32-) bit DACs on all channels except the front left and right.
Bang for Your Buck: You're still getting a THX-certified 9.2-channel receiver rated to deliver 9 x 135 watts into 8 ohms with eight HDMI inputs, Onkyo's AccuEQ room calibration system, support for all three high dynamic range formats—Dolby Vision, HDR10, and HLG— as well as DTS:X and Dolby Atmos surround processing, the latter for setups with up to 5.2.4 channels. Price: $1,599
Onkyo • (844) 525-6053 • onkyousa.com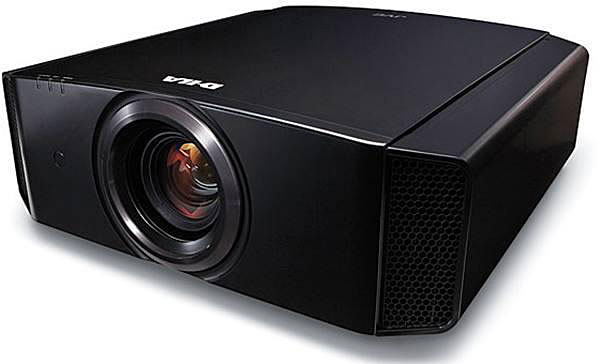 JVC DLA-X790R D-ILA Projector
One of three new projectors in the Procision series, the DLA-X790R is built around JVC's sixth-generation LCOS-based D-ILA imaging device—said to produce brighter, higher-contrast images—and the fifth generation of its proven e-shift technology. Though technically a 1080p projector, the X790R accepts a true 4K input and boosts apparent resolution to something close to 4K using a process called pixel shifting, which in this latest iteration samples each pixel individually prior to processing to "provide more optimization and better sharpening."
Certifiable: The projector is both ISF and THX 3D certified to ensure performance that has been independently verified and supports wide color gamut and two high dynamic range formats: HDR10 and HLG (Hybrid Log-Gamma). A motorized zoom lens eases setup, and the presence of two HDCP 2.2-compatible 18-Gbps HDMI inputs means you can connect two HDCP 2.2 copy-protected devices to the projector. Lamp life is rated at 4,500 hours in low mode. Price: $6,000
JVC • (800) 252-5722 • jvc.com
Definitive Technology Demand Series Speakers
Elegant is the word that comes to mind when you lay eyes on Definitive Technology's Demand Series speakers. Each of the three models in the new line—the 10-inch-tall D7, 12-inch D9, and 13-inch D11—mates a 1-inch aluminum dome tweeter with an appropriate-size woofer and either a passive radiator or port (D7); respective woofer sizes are 4.5, 5.25, and 6.5 inches. The cabinets are finished in high-gloss black with a textured aluminum baffle.
Catch a Wave: A patented waveguide in the center of each woofer is said to extend on- and off-axis response and improve dispersion. Each tweeter is offset 5 degrees to deliver a more precise image by eliminating symmetric diffraction off the corners of the front baffle and fitted with an alignment lens to improve dispersion. Per-Pair Pricing: D7 ($499), D9 ($749), D11 ($999)
Definitive Technology • (800) 228-7148 • definitivetechnology.com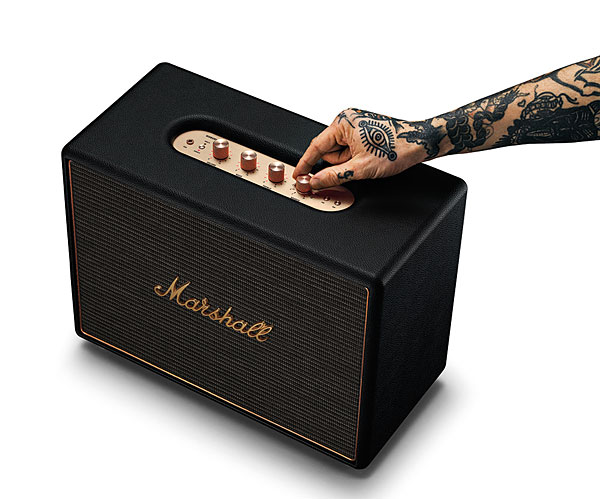 Marshall Wireless Multiroom Speaker System
If you worship at the altar of rock, you can pay homage to the amp that gave rock guitar its big, bad voice. A follow-up to its Bluetooth speakers (the Kilburn made our 2015 Holiday Gift Guide), Marshall has launched a line of Wi-Fi-based multiroom speakers crafted in the image of the ultimate amp stack. You can connect up to five speakers and use the Marshall Multi-Room app to access music via Chromecast built-in, Spotify Connect, or AirPlay and create up to seven presets for instant access to favorite music sources. You can also stream to individual speakers via Bluetooth.
Rock Trio: Small, medium, and large models are available in black or cream, each featuring a classic Marshall control panel and dual tweeters plus a woofer or two: Acton (50 watts, $349), Stanmore (80 watts, $449), and Woburn (110 watts with two woofers, $599).
Marshall • marshallheadphones.com