Dear Best Buy,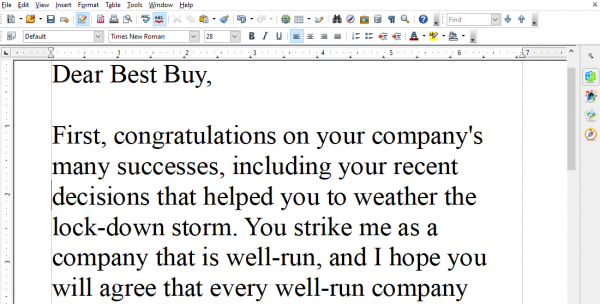 First, congratulations on your company's many successes, including your recent decisions that helped you to weather the lock-down storm. You strike me as a company that is well-run, and I hope you will agree that every well-run company listens to its customers. So, on behalf of audio/videophiles everywhere, I am asking you – begging you – to take into account one very special need of our community.
We all remember "the good old days" when Mom and Pop hi-fi shops defined the audio/video industry. Those shops, along with record stores, cultivated loyal customers who went there to purchase, and upgrade their stereo and home theater systems. More than just retail stores, those shops provided a social fabric that allowed like-minded people to meet, share ideas, and just shoot the bull. We were dismayed as those shops disappeared. They were replaced by "big box" stores that could leverage their economies of scale to bring lower prices, but often at the cost of personalization and community. But when managed properly, even the biggest stores could still meet the single most important need of audio/videophiles.
Which brings us to Best Buy. You are perhaps the last store standing. (I see that Fry's went belly up last week and will shutter its remaining locations.) Best Buy survives, and prospers, because of its smart business decisions. Good job! As with many businesses, the pandemic has caused you to push heavily into e-commerce sales. That is understandable. But one of your recent corporate decisions make me uneasy.
I see that you are experimenting with a new store format that substantially downsizes the traditional retail floor space. For example, a 27,000 square foot store would be reduced to 15,000 square feet of retail, with the remaining space devoted to e-commerce fulfillment. In particular, I see that you have started testing this format at four Minneapolis stores, and plan to expand it to other markets. Apparently, up to a quarter of your 1,000 stores could become shipping hubs.
I completely understand your rationale; e-commerce is important to your future growth, and even survival. The reality is that it is Amazon's world now, and we are all just living in it. But your bricks and mortar stores are what sets you apart from Amazon. Your stores offer a physical presence, an opportunity to see and touch products, to talk to sales associates – things that online shopping can never provide. Your bricks and mortar stores are supremely important.
Which, at last, brings me to my point – my begging, actually. Physical locations are essential to audio/videophiles because they are the only way we can meaningfully buy our products. I can order a washing machine from an online picture and description. But I cannot meaningfully buy a soundbar, a home theater system, or a television, without listening to it and looking at it, in a bricks and mortar store.
We know that Maurice's Hi-Fi Emporium is long gone, but we still need a place to look and listen, often painstakingly comparing many different models before choosing the one that's just right. Frankly, when we can't audition audio/video products, many of us simply don't buy anything at all, and instead soldier on with our old gear. We lose, the loudspeaker manufacturer loses, and the retailer loses.
One last observation: If we lose the places to audition audio/video products, we also lose something much more. If the future is all online, consumers will buy a soundbar, take it home, and it will make sound, and they'll figure it's fine. They literally will never know if it sounds good or not because they will never have the opportunity to directly audition it against other soundbars. If consumers forget that sound and picture quality is what really matters in audio/video products, those products will be reduced to the status of washing machines, no more than commodities purchased from thumbnails on Amazon.
Please, as you downsize, keep floor space that allows us to audition audio/video products. You might be the last bricks and mortar bastion left to provide that important extra feature. I don't know if we'll buy enough to optimize profitability from the floor space, but if you don't do it, who will?