Control4 Home Theater and Home Automation System Part 2 Page 4
Although I love the MechoShade shades, I wish they could report their status back to the system. On the other hand, I never experienced a problem with any of the other ZigBee- enabled devices, like the lights and door locks. This lack of status feedback is an issue that plagues any automation system that's designed for use with a variety of equipment from different manufacturers. For example, my Russound XM tuner can't report what channel it's on. (You can pop $798 for a Control4 XM tuner to overcome that issue.) The HC-300C has video-sensing capability, but that only tells the system if a component is turned on. And it can't tell if my Sunfire surround processor is set on the correct input.
In spite of this, if you're thinking of a Harmony or other universal remote control, it's a no-brainer to find a dealer and check out a Control4 HC-200B. As a universal remote control with almost universal expandability, I don't know of another system remote that can truly compete with it in the price range. Of course, there'll be some dealer involvement, so be prepared for that. If you're a dyed-in-the-wool DIYer, a Control4 system may not be for you. But if you're comfortable with the many benefits of having your dealer do most of the heavy lifting, you have to look at Control4. There's precious little else out there that can handle the range of home theater control, lighting, security, and multiroom audio, and offer such scalability for the money.
The same applies for more elaborate Control4 systems. While an entry-level Control4 system is relatively affordable, there's no doubt that reliable home automation and multiroom audio in general can cost real money. For example, you might well think that a motorized door lock for $335 is outrageous (though there are plenty of people who pay more for non-motorized ones). In that case, don't add the door locks. Motorized shades, regardless of the manufacturer, are expensive. Skip them. You can start small and scale up from there. That's one of the beauties of the system architecture. Plus, with the 4Store marketplace, there's the potential to add lots of capabilities that haven't even been thought of yet (fart apps, anyone?).
Control4's COO, Glen Mella, told me that one of the company's goals is to turn home automation/multiroom audio from one of those things that's nice to have into a gotta-have. I think they've hit the bull's eye. Once you've lived with a Control4 system, regardless of its scale and options, you'll wonder how you ever called your house a home without it.
The iPortals
While it's difficult to discuss the entire scope of a Control4 system, iPort is a little easier to get a handle on. The relatively small number of iPod dock–related products the company makes are all designed to make life easier when it comes to integrating an iPod into a multiroom A/V system. There are three flavors of iPort iPod docks: freestanding, in-wall removable (iPort claims to be the inventor of the world's first in-wall system for the Apple iPod), and in-wall fixed. To give me a better idea of the iPort concept and how well it works within the Control4 ecosystem, iPort sent one of each type of dock for the SOHO Shop to install in my system.
The iPort FS-23 ($450) is a sleek, freestanding iPod dock with an included IR remote that lets you control the iPod using an onscreen video interface that displays on a connected HDTV. While iPod docks are more common than sand in a camel's crotch during a windstorm in the Sahara (although, now that I think about it, I've never really tallied up either one), the FS-23 is a beautiful standout. In addition to a sleek and sophisticated two-tone glossy finish, the FS-23 includes a remote-zone IR control input, an RJ45 Ethernet jack, as well as audio and component video outputs. Optional balanced upgrade kits are available to extend the audio delivery up to 500 feet and video delivery up to 250 feet. Free iPortNetSync software from iPort lets you sync a connected iPod with iTunes on any networked computer.
My favorite iPort, the in-wall IW-22 ($600), is a small recessed alcove in which to dock your iPod while you shower, study, or do whatever it is you do next to wherever it's installed. It my case, it resides in the wall between the shower and the toilet (or "stool" as my plumbers called it—a term I refuse to use) in my downstairs bathroom. The SOHO Shop wired audio from the IW-22 so that I can use a docked iPod as a local music source in the zone. I have a refurbished iPod touch, which I normally leave docked in the IW-22 so it's there when I need it, which is typically to listen to bowel-activating music when I'm holding court on the porcelain throne. On the other hand, my son slides his iPod classic into the IW-22 and uses the iPod touch to access his own personal music stash. As with all iPorts, the IW-22 continually charges any docked iPod. That's an important feature because an iPod running in Dedicated Control4 mode always draws power even when the screensaver is active. Undocked, a dedicated iPod will run out of juice in a couple of hours.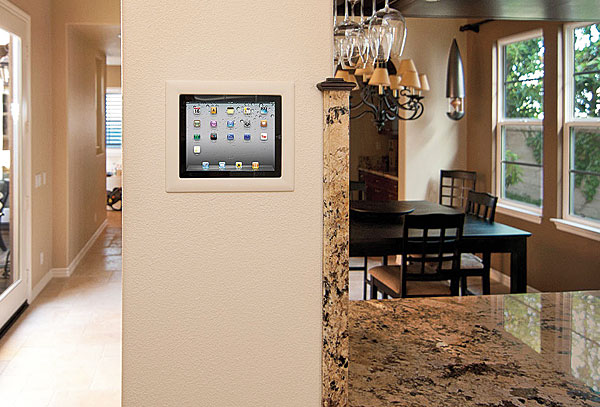 The newest iPort models are part of the company's Control Mount series of fixed in-wall docks available for both the iPod (CM-IW100T, $250) and iPad (CM-IW2000, $499). iPort sent a CM-IW100T for me to use in my kitchen where I definitely wanted to lock down the iPod I use for control in that zone. (There's nothing like dropping an iPod into hot French fry oil to limit its useful lifespan.) With the white magnetic faceplate snapped in place, it made my refurbished second-generation iPod touch look like a custom 4-inch in-wall touchscreen controller. As with the other docks, the CM series allows for audio playback, although I didn't have it installed that way.
Control4 • (888) 400-4070 • control4.com
iPort • (888) 45-IPORT • iportmusic.com