Control4 Home Theater and Home Automation System Part 1 Page 2
It's important to mention that although Control4's database has drivers for over 6,500 components, not every piece of gear—such as my Sunfire processor—has drivers readily available. That means either your installer will have to create a driver—as Joe from the SOHO Shop did in my case—or you'll have to think about updating your equipment to get the most out of the system. According to Glen Mella, Control4's COO, drivers are available for over 90 percent of the models manufactured during the last four to five years. If your system is relatively new or you're buying a brand-new system, compatibility issues shouldn't be much of a problem. It won't be long before Control4-certified manufacturers actually embed some or all of Control4's controller capabilities in their own components. In that case, you might not even need an HC-200B or HC-300C. One example that should be available around the time you read this is a new surround processor from Sherbourn Technologies that will have a ton of HDMI connectivity plus a built-in HC-200B. (Hurry up, Sherbourn, I'm waiting.)
Pieces of Eight
The system Control4 sent me includes eight zones of audio plus the main theater. Four of the zones (kitchen, downstairs bathroom, pool table room, and back patio) are individually powered by Control4's $1,195 dedicated four-stereo-input 60-watt x 8 amplifier. In addition to full matrix switching and independent volume control, the amp includes bass, treble, and five-band parametric EQ adjustments for each channel. Although Control4 stresses the retrofit-friendly nature of its overall system architecture, it took some good old-fashioned blood, sweat, and tears (plus a few choice words) to use the four-zone amp in my home since my house is so difficult to wire. This added significant bucks to the labor portion of the system.
On the other hand, Control4's small (2.2-by-8.6-by-8.6-inch) Wireless Speaker Points are retro friendly, since they can communicate with the system controller via Ethernet or Wi-Fi. In addition to a built-in 40-watt x 2 amp, each Wireless Speaker Point includes one set of analog audio outputs for use with an AVR. There's also a set of analog audio inputs for use with a local source. You can configure the Wireless Speaker Point to digitize the input and make that local source—in my office, for example, it's my computer—available to the other zones in the house. I used three Wireless Speaker Points in Wi-Fi mode to run music to the hardest zones to wire in my house (master bedroom, master bathroom, and side patio). Because I already had an Ethernet drop in my office, I just used the existing cable to connect the fourth Wireless Speaker Point. Each of these zones is totally independent of the others. To test how independent they actually were, I ran three different streams of audio from Rhapsody along with a fourth zone of music from my network's NAS drive. I'm not sure I can conceive of a situation when we'd actually run separate streams to all of the zones simultaneously, but it's mighty impressive to know that the system can do it.
The way my system is configured has one quirk. Although the four-zone amp has four pair of analog inputs, the HC-300C has only two pair of audio outputs. That means at best, I can only listen to two sources (one analog and one digital) simultaneously—or the same source, of course—in the four zones that the Control4 amp powers. (Should I ever find this to be a problem, Control4 also has a 16-by-16-channel audio matrix switch; but I couldn't justify the $1,295 price tag.) However, there are often times when we want to listen to two different digital sources in the mornings in the kitchen and bathroom. Fortunately, iPort sent an IW-22 in-wall iPod dock, which lets my son use his iPod as a local source in the bathroom while I listen to POTUS on XM in the kitchen.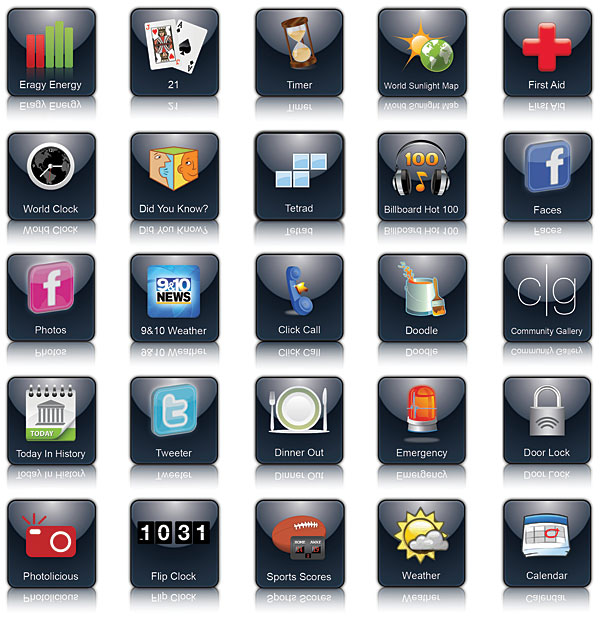 Appy Days Are Here Again
Although it's currently underutilized, OS 2.0's most promising feature is its ability to download apps from Control4's 4Store marketplace. Yes, this is the same concept as with an iPod or Android device where you can browse through various applications and download the ones you might find useful or pleasantly time-wasting. As with the app selection for the other devices, there's a mixture of free and pay apps. But with only approximately 125 apps available, Control4 still has a long way to go in order to make this a truly compelling part of the system. (There are no fart apps, for example.) Before you buy an app, it's important to note which screens the app is designed for. Some only work on Control4's 5- and 7-inch touchscreens and not on the iPod touch or iPad.
Control4 is hoping to attract third-party developers who will create apps that Control4 either doesn't have the manpower to develop or simply hasn't thought of. (Surely, someone at Control4 must have thought about a fart app.) Of the apps currently available, there are a couple that stand out, such as the Web Radio app. At $30, it's expensive in a world that's used to apps for under two bucks. But it makes listening to free Internet radio stations in the various zones of your home as easy as—if not easier than—listening to Rhapsody's subscription service on the Control4 system. Web Radio ties in to SHOUTcast's Internet radio directory, sorts stations by category and genre, and makes them available to select from any remote or screen.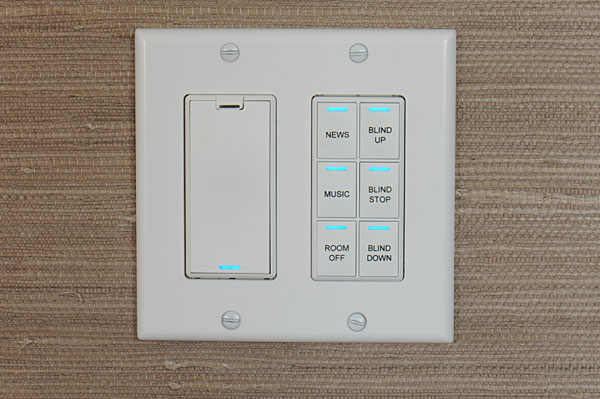 The other standout is the Eragy energy-monitoring app. This one uses cost data supplied by your utility company and lets you monitor your home's electricity costs on as small as an hour-by-hour basis. In addition to predicting what your bill will be at the end of the month, the information will help make you more conscious about the amount of electricity you use every day. Eragy's intelligent home energy-management app uses that info to work behind the scenes and reduce electricity costs by, says Eragy, up to 30 percent a month. It does this by turning ZigBee-enabled outlets and appliances on and off at appropriate (and convenient) times based on your programming criteria. In my case, I get a flat usage rate from my utility company, so every kilowatt-hour costs the same. Other utility companies base their rates on the time of day and system-wide demand. For these customers, Eragy's energy-management app will really pay off.
The energy-monitoring app is currently free—but there's a catch. You have to spend around $200 for The Energy Detective's TED5000 monitoring device that connects directly to your breaker panel, plus a subscription fee for the Eragy service. The TED5000 sends usage info to the Control4 system where Eragy's app interprets and displays it. To take advantage of the energy-management app, you'll also need the necessary ZigBee-enabled outlets or (in the future) appliances. I haven't been using the TED5000 and the app for long enough to get a good history of my electricity usage, but it's already gotten me thinking about how I can cut down on how much we're using. (Do you think my family will notice that I turned the thermostat down to 62 degrees?)
Light One Up
Although I find most aspects of the Control4 system to be slicker than snot, by far, lighting control is the slickest (after theater control, that is). Lighting control is one of those things. Once you start converting conventional light switches and dimmers into ones controlled by the system, you won't want to stop until every light in the house is under your thumb. Because all the lighting devices use ZigBee to communicate wirelessly, it's especially retro friendly. In fact, ZigBee devices set up a mesh network that can "heal" itself, so the more devices there are on the network, the more robust the network is. Unfortunately, cost is a major concern. Wireless dimmers and switches cost $129 each, plus the labor for your installer to swap out the current switch and ID the new one in the system. Depending on the size of your house, changing out all the switches and dimmers could cost a small fortune.