The Connected House: Room Service Page 2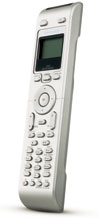 So I could check out the system before its August launch, Philips sent me a preproduction setup. (Some features and buttons could change by the time the system is available.) I put the base station in my living room and put the satellite on a counter in the kitchen - I've always wanted a music system there but couldn't stand the sight of a boombox.
When I listened to Ben Jelen - one of the few "rock" artists Philips had loaded onto the demo unit's hard drive - the base station sounded surprisingly robust, with good overall sound quality and strong bass. The music also sounded very good when I streamed it to the satellite, though there was noticeably less bass. The Wi-Fi connection worked perfectly, allowing the satellite to play anything on the base station's hard drive after about a 5-second delay.
Anybody who knows how to operate an iPod or other portable digital music player will be familiar with the system's straightforward operation - although creating playlists is a little harder using the remote's alphanumeric keypad than with a computer keyboard. But Philips has imbued the system with some interesting playback options. My Room My Music allows the base station and satellite to play different music at the same time, Music Follows Me lets a song "follow" you from room to room with the press of a button, and Music Broadcast streams the same song to every satellite station in the house.
Connecting the Music Center to a PC lets you download updates when new features are added or make backup copies of the WACS700's music files. And for people who want to add streaming to more advanced A/V systems, Philips says it will offer a rack-based version without speakers and with a larger hard drive later this year. Sony: Room to Room With the CAV-M1000ES system - sold only through custom installers - Sony attempts to offer the flavor of high-end A/V distribution and control systems from companies like Crestron and AMX at a much lower price and with far simpler installation. The basic setup ($4,400) consists of a CAV-M1000ES main controller/amplifier, which handles all the source switching and multizone amplification; an RM-TP100 touchscreen remote and charging cradle; and a wall-mounted RMR-K100 keypad, which comes with a conventional-looking IR remote. Sony also offers a Performance Pack that includes the controller/amplifier, a 400-disc DVD changer, a 400-disc CD changer, a multichannel A/V receiver, the touchscreen remote, and three keypads.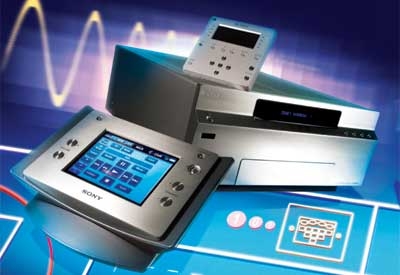 To see how the installed system works, I went to Sony's facilities in Park Ridge, New Jersey, to get a demo and play around with its features. The components were installed in a room set up like a home theater, while another room was wired so I could experience the A/V distribution capabilities.
LATEST VIDEO