Comcast Starts Beta Testing "Stream" Online TV Service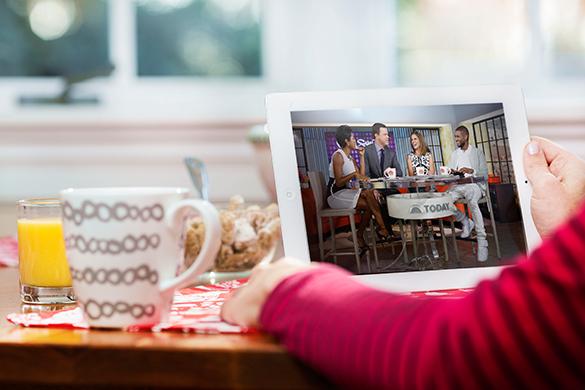 Comcast has announced "Stream"—a new service for its Internet customers that will stream a limited number of TV stations to computers and mobile devices. That says it all. It's for Comcast broadband subscribers and it only streams to mobile devices.
In an attempt to relate to the Millennial generation's disinterest in cable TV and desire to stream, Comcast is offering Stream so younger people can watch TV in a way that reflects "their current habits."
According to an infographic on the Comcast blog, Millennials "just do it differently" when it comes to TV. They watch three times more TV online than any other age group and 44% want access to live TV online. Almost half (48%) of people between 14 and 24 years old watch TV on computers, laptops, tablets and smartphones. Certainly these statistics led Comcast to believe that Stream is a good idea.
The Stream option is only for customers who get their internet service from Comcast. As it is "IP-managed"—delivered through Comcast's modems—it can only be accessed at home. What's more, there are no Stream apps for TVs or devices that connect to TVs.
The service includes all the major networks plus HBO and can be streamed live to mobile devices and computers but not to a second TV. It is also limited to two devices streaming at the same time. Of course, phones and tablets can be mirrored to a TV, or a connected laptop or computer may be able to display on a big TV screen, but the picture quality will probably be limited to resolution more suitable for the small screens.
Comcast also said the Stream service would take advantage of its Cloud DVR. They can watch recorded shows "whenever they want" as long as they are at home, as the Cloud DVR is limited to streaming from a user's Comcast broadband connection.
When outside the home, Stream will offer "thousands" of videos on demand. It's unclear what content will make up the on-demand titles—if those videos will include much of the programming from the networks, movies, or other.
Stream will run $15 per month—the same price as HBO Now (that can stream outside the home)—in addition to the price of Internet access. Recode.net did an analysis of Stream's cost: "Comcast sells Internet at different prices in different markets, but right now a basic broadband-only subscription in its home market of Philadelphia is $67 a month. Add in the cost of Stream and you're up to $82 a month. But Comcast sells a basic TV + Broadband package, including HBO, for $45 a month."
While any streaming TV service would also be in addition to the cost of Internet service, the point Recode makes is that it's cheaper to get regular cable from Comcast, illustrating that Comcast is clearly in the business of selling its cable service and is hoping Stream will capture the Millennial market. But Comcast is missing the point. Millennials may watch on mobile devices, but typically because they want to be mobile and watch anywhere. It's not that they eschew TVs in the home.
Stream is in beta testing through next year. Comcast will be trying it out first in Boston, followed by Chicago and Seattle by the end of 2016. It will have broadcast TV networks, yet at this time, the company isn't announcing whether it will include cable channels like ESPN or Food Network. The Comcast online TV service is a paltry attempt when compared to Dish's Sling TV online streaming service that includes a number of channels for $20 per month. All live streaming channels on Sling TV can be accessed away from home; there are apps for TV-connected devices (Roku, etc.) for watching on the big screen. Sling TV does not include local or national broadcast networks, but that's easily remedied with an antenna.
It will be interesting to see how Stream evolves as it moves through the beta process. It appears to be a desperate attempt to win over the next generation of TV viewers but we'll have to wait and see how the target market responds.