CloviFi Solves the Headphone Listening Dilemma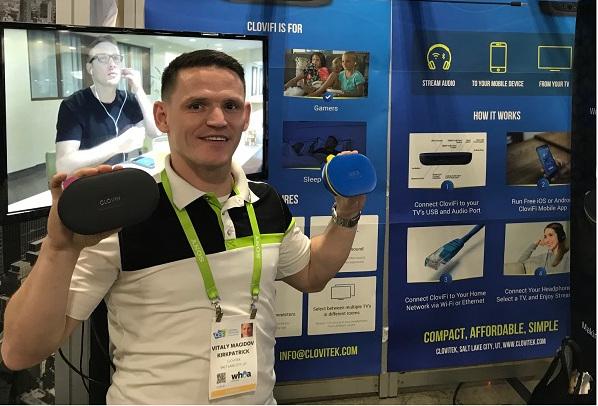 One of the frequent issues I run into as a custom installer is one of the people watching a TV has a difficult time understanding the dialog, so they either end up turning the volume way too loud for the other viewers, or that person uses some headphones. However the headphone "solution" can often pose its own set of issues, especially if you have multiple people wanting to listen in with phones or the TV only has an audio output. I ran across another newcomer at Eureka Park that has a terrific solution to this dilemma.
Clovitek was showing CloviFi, what they tout at "the world's smartest Wi-Fi HD audio transmitter." This small device is thin enough to tuck in behind a wall-mounted TV and provides multiple inputs – coaxial, Toslink optical, mini-jack analog – to receive your TV's audio signal. The CloviFi is designed to power via one of the TV's USB connections.
Once connections are made you install the iOS or Android app, connect CloviFi to your network via Ethernet or Wi-Fi, and then open the app on a smartphone or tablet, connect any pair of headphones and listen. If someone had a favorite pair of Bluetooth 'phones they can connect to the CloviFi's Bluetooth output. The beauty of this is that multiple listeners can easily connect to the same TV at once, all enjoying at their preferred volume level. This could be great for gaming or kid's parties where parents don't want to hear all of the on-screen mayhem, or for late night viewing that doesn't disturb anyone.
For multi-screen home or business applications, the app supports multiple devices, letting users pick which TV they would like to tune into. The device current has a latency of under 100 milliseconds, though they founder – shown in the picture holding two CloviFi's – told me they were shooting to get this down below $50 by the time they come to market. Pricing has yet to be set, but it is expected to initially sell for $100-150 depending on the quantity of the initial order.