Christie Digital and Stewart Too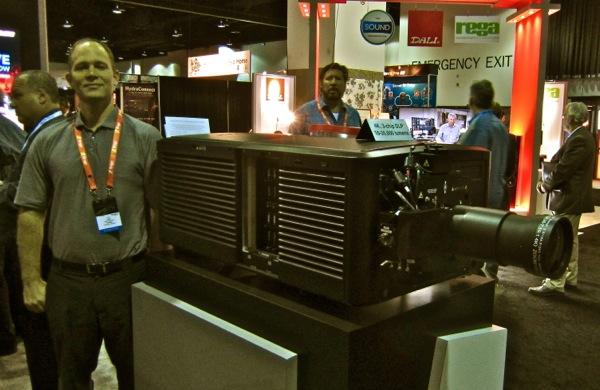 Christie Digital, a big name in theatrical digital presentations, made its first appearance at a CEDIA EXPO. Here is the biggest projector they had on display, a 4K, 3-chip DLP. Christie's Josh Kolbeck stands next to it for perspective.
While not on demo at Christie's own booth, it was being used in a Stewart Filmscreen demonstration elsewhere on the show floor. On a 15-foot wide Stewart Director's choice Gray Matte 70 screen, and with 4K sources, it produced what was easily the best-looking images I saw on the show's first day. I didn't catch the price (it took Christie personnel several minutes to find the price on the Christie laser projector shown below), but it definitely falls into the "if you have to ask" category. You'll also need to put it in a separate projection room. It's cooling fans are loud.
WHERE TECHNOLOGY BECOMES ENTERTAINMENT