CES04 Live: Nothing Like a Royal Flush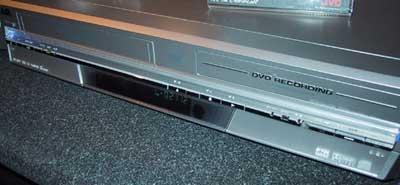 In a town where poker is a religion, there's nothing like laying down a royal flush. Arousing the press for an early morning press conference on the far side of the Strip from the Convention Center, JVC introduced the ultimate DVD/VHS combo player-recorder. The DR-MV1SL doesn't merely combine a DVD-RAM and DVD-R/RW recorder with a VHS VCR - it digitizes, deinterlaces, and upconverts the VHS signal to 480p (progressive-scan) format. That lets you connect the DR-MV1SL with any receiver, TV, or home theater system using a single set of component-video cables. What's so special about JVC's DR-MV1SL DVD recorder/VCR combo? It upconverts the VHS signal to 480p (progressive-scan) format so you only need one set of component-video outputs - your videotapes will look better, too. Available in April for $499.
The recorder allows easy, one-button dubbing in either direction between DVD and VHS, and its two built-in analog TV tuners permit simultaneous recording of two different programs. You can also play back from one format while recording on the other. The DR-MV1SL will be available in April for $799. But if it's simply the combination of DVD playback and VHS recording you desire, along with the improved picture and convenience of a single set of cables from the digitized VHS signal, JVC's modestly priced HR-XVC37US will accomplish that for $209 come June.
While JVC, like everyone else, displayed a range of plasma and LCD TVs, it crowed about the HDTVs using its proprietary three-chip D-ILA (Direct-drive Image Light Amplifier) micro-display device - the basic technology is more commonly known as liquid crystal on silicon, or LCoS. JVC claims that its D-ILA chip is the highest-density device available at any given size enabling higher resolutions, even compared with the popular Texas Instruments DLP (Digital Light Processing) chip. Since it uses no organic compounds, JVC says, it produces a picture that will not fade or discolor over time. Two rear-projection HDTV monitors using the three-chip D-ILA will be in stores in July, the 52-inch HD-52Z575 ($4,500) and the 61-inch HD-61Z575 ($5,500), both without built-in digital tuners. Later this year JVC will introduce similar models with tuners for $500 extra.
Wireless Video and Wood AudioA hang-on-the-wall TV suffers one impediment: wires. Since few flat-panel displays contain all their own electronics, inputs, and speakers, short of punching holes in the wall, you have to snake unsightly wires up to them. JVC demonstrated a pair of 42- and 50-inch plasma displays that need only an AC power cord, receiving their video signals via the Luciole optical wireless high-definition image-transmission system. The uncompressed signal is beamed to the TV by a low-power, eye-safe laser. When available in September, the 42-inch PD-42X995 will sell for $6,000 and the 50-inch PD-50X995 for $9,000. JVC will also introduce wireless RF (radio-frequency) solutions to this problem later in the year.
JVC's wireless Luciole transmitter is the magic behind two new plasma HDTV monitors that can hang on the wall with nothing but a power cord running off them. The uncompressed video signal is beamed to the display via a low-power, eye-safe laser. The 42- and 50-inch TVs will go on sale in September for $6,000 and $9,000, respectively.
Executives who appreciate fine finishes should like JVC's EX-A1 DVD compact desktop system. Not only do the enclosures of the stereo speakers gleam with polished wood, but the woofer cones themselves are made of wood, which JVC says improves the musical quality of the sound. The system will be available in May for $550.
Maintaining its tradition of novel audio products, JVC introduced the new EX-A1 DVD compact executive desktop system, which features speakers that use real wood cones in the drivers. The company claims that wood improves the sound, as it does for many musical instruments. The wood for the speaker cones is said to be softened by soaking in sake (Japanese rice wine) before it's bent and molded into shape. You can decide on the sound of this $550 system for yourself in May. It plays DVD-Video, DVD-Audio, DVD-R/RW, CD, CD-R/RW, and MP3 formats, plus JPEG photos, and includes Dolby Digital and DTS decoders - but it's only a two-channel system, so surround sound is mixed down to stereo.
From SuperTowers to Classic Horns
Definitive Technology showed this upgraded line of bipolar tower speakers using technology from its BP7000sc SuperTowers. The three models will be available in March.
In pure, non-sake-soaked audio, Definitive Technology upgraded its line of bipolar tower speakers using technology originally designed for its mammoth BP7000SC SuperTowers. The new BP7006 ($599), BP7004 ($799), and BP7002 ($1,099) incorporate improved powered subwoofers using 300-watt Class D amplifiers as well as upgraded drivers and crossovers. This impressive-sounding new line will be out in March.
JBL's Project Array is a complete home theater speaker system featuring the company's classic horns. JBL started with horn drivers decades ago and has finally achieved virtual perfection with them. The left/right speakers in this system array the midrange horn vertically on top of the woofer enclosure, with the tiny high-frequency horn placed horizontally inside the top lip of the midrange horn; in the center speaker, the midrange and high-frequency horns are placed between dual woofers. These rather massive speakers deliver remarkably smooth sound for horn-loaded designs. The system costs $25,550, with a pair of optional monster subwoofers adding about $4,000. Obviously, JBL considers Project Array a cost-no-object system.
JBL's Project Array is a home theater speaker system featuring horn drivers for the midrange and treble. Price is $25,550 for the main speakers, plus $4,000 if you add the optional left and right subwoofers (one is at far left in the photo, which shows only one speaker from each of the left/right front and surround pairs).
Ultimate Home Theater in a Box?Nearly all home-theater-in-a-box systems cost less than $5,000, and few include a TV. JBL's Cinema Vision will cause some whiplash as heads turn to see an integrated system combining a 50-inch, high-definition plasma display with a complete home theater audio system for a tidy $15,000. The 7.1-channel, 100 W x 7 audio system includes a five-disc magazine-type DVD changer. It decodes every possible Dolby and DTS format and has enhanced Logic 7 processing, for 7.1-channel playback from stereo and four-channel sources, and VMAx virtual surround for two-speaker playback (both of these modes are proprietary to Harman International, which owns JBL). All connections within the system are digital to eliminate any possibility of interference or signal degradation. JBL notes that since this is not your typical home theater in a box, your dealer will deliver and install it when it becomes available this spring. Does that make it home theater at your door?
Cinema Vision, coming from JBL this spring, combines a 50-inch plasma HDTV monitor with a complete 7.1-channel home theater audio system - including a DVD changer/receiver - for a mere $15,000.
MiniDisc Music DownloadsI forgot to mention in yesterday's report that to support its new Hi-MD MiniDisc format, Sony will inaugurate its own music download site this spring, to be called Connect(www.connect.com). It will download tunes for 99¢ each in one of Sony's three proprietary ATRAC compression formats - no MP3, WMA (Windows Media Audio), or AAC (the one Apple's iTunes uses).
NostalgiaIf all this high-tech is giving you a headache, Teac feels your pain. It showed a line of retro radios, but also, most endearingly, an old-fashioned portable record player where the turntable pivots down from the carrying case. Better still, no $25,550 for heritage here (à la JBL's Project Array) - the ST-C150 costs just $179. As I recall, my first record player, similar to that, cost about $100 in 1962 dollars, so the ST-C150 is a real steal. However, it only plays vinyl, no optical discs at all, not even standard-def formats.
Anyone pining for analog days of yore has a friend at Teac, which offers the ST-C150 portable record player for just $179. < < Back to the International CES 2004 index
LATEST VIDEO