CES 2018: My Visit to Vegas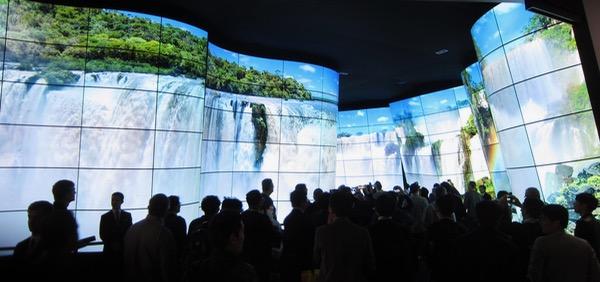 My trip to CES this year didn't begin or end well, but was fun in between. On arrival, my bag didn't make it with me and didn't show up for 18 hours. My return the flight from Las Vegas was late arriving in Dallas and I missed my connecting flight, resulting in a night layover in Big D, courtesy of American Airlines.
But despite a rainy first two days in Las Vegas, there was much to see. Much of it is of little interest to me and rarely covered by Sound & Vision—cell phones, robotics, home automation, drones, self-driving cars, and gadgets of every possible description that can twist their way into the definition of "technology." But some of it is creeping into video and audio. On the video side AI, or Artificial Intelligence, is making its presence known in advanced processors, voice activation, program searching, and even in setup. LG, for example, announced auto calibration for many of its 2018 (but not prior year) TVs in conjunction with CalMAN software.
The show was spread out among several venues, including the Las Vegas Convention Center (LVCC), the nearby Westgate and Renaissance hotels, the Sands Convention Center, the Venetian hotel, and the Mandalay Bay Convention Center (site of the pre-show press events and, yes, the same Mandalay Bay that was the site of a tragedy just a couple of months back).
The LVCC was packed on the first two days. The booths of the biggies—such as Samsung, Sony, and LG—resembled Times Square on New Years' Eve, but (this year) warmer.
Premier Projectors
CES isn't a big show for projectors, but nevertheless there were new things to see. The best of the conventional projector designs were shown at the Venetian hotel, though in only three rooms (the Venetian is traditionally the venue for high-end audio—more on this below). Wolf Cinema was featuring its premier, laser-driven, 4K (pixel shifter), LCOS model ($50,000), but had one of its newest DLP models on hand as well. There are two versions of the latter, the lamp-based PRO617 at $6,000 and the laser-driven PRO 817 at $9995. Both of the latter two employ the new 0.67 DLP 4K chip from Texas Instruments that displays all of the pixels in each frame of a 4K source, though in two time-displaced, pixel shifted sub-frames.
Both projectors looked spectacular on a Seymour Screen Excellence Ambient Visionaire Black, 130-inch wide, 2.4:1, 1.2 gain, non-perforated screen (shown below). Since this screen is designed to reject ambient light, during much of the demo modest room lighting was engaged, not to mention Seymour's behind the screen "Ambilight"-style bias lighting. The image held up well with the lighting on, but improved significantly when the lights were turned off, particularly on dark scenes. That's no knock on light-rejecting screens from Seymour or others. They have their uses. But a projected image always looks best in a darkened room; no screen technology can change that.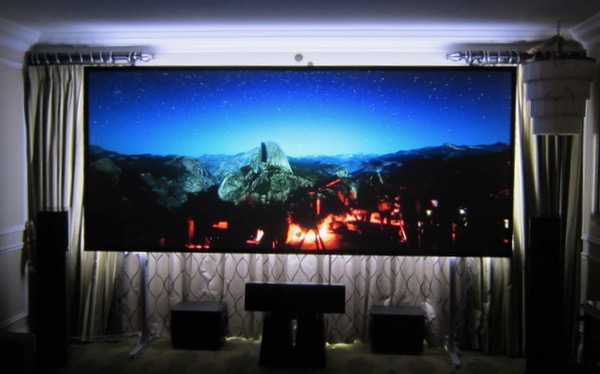 JVC had two darkened rooms, one of them with its DLA-RS4500 4K laser-lit projector ($35,000) and the other offering an A/B test between JVC's DLA-X990R projector and Sony's VPL-VW385ES (each $8,000). The DLA-RS4500 looked as exceptional as ever, and the A/B between the other two was so close I'd hesitate to name a winner in a brief 10-minute demo. Both rooms unfortunately had a dim but undefeatable light source (the safety lighting on two steps separating the multi-level rooms) that made evaluating the projectors' black levels impossible. But in my own comparison of a JVC DLA-X790R and a Sony VPL-VW285ES (similar to the pair in the JVC room but each of them one step down in their respective makers range and price), the JVC had the superior blacks. The Sony's are true 4K projectors and the JVC's employ pixel shifted "4K," but any differences in their projected, visible resolutions were hard to detect.
Back at the LVCC there were a number of short-throw projectors (which are designed to sit very near to and below the screen), mainly from Sony and Hisense, plus a compact projector from LG using the same TI 0.67 TI chip mentioned above. Most of these were covered in our show blogs. Otherwise, the video displays at the convention center were primarily flat screen sets using LCD or OLED technology. Sony showed two new OLEDs in its A8F series, which omits the heavy and modestly back-tilted support of the current and continuing A1E range and instead uses a conventional stand. The A8F retains Sony's unique Acoustic Surface sound system, using the screen as the diaphragm for radiating the source audio. In LCD sets, Sony's upgraded X900 range is now the X900F and features full array local dimming and a maximum available size of 85-inches. No prices or availability dates were available, but typically the new sets introduced at CES show up in stores in the spring.
Primo Processing
The major distinction in both of these new lines is Sony's latest video processor, the X1 Extreme, for which Sony claims a dramatic bump in processing power. But the hit of Sony's booth was an 85-inch, 8K LCD design with an unstated but clearly huge number of LED backlit local dimming zones and a claimed peak brightness of 10,000 nits! The latter is made possible, in part, but Sony's prototype X1 Ultimate processor. It looked spectacular, and for the propeller-heads in the crowd it's important to note that with 10,000 nits on tap no tone mapping will be required, and there will be no peak white clipping on any anticipated HDR source. But this technology, including X1 Ultimate processor, remains in Sony's R&D lab for 2018 awaiting full evaluation and will not be available in any Sony set announced for this year. For now, Sony fans will have to "settle" for the X1 Extreme in the company's premier sets.
LG is also updating its processors for 2018—the Alpha 9 for OLEDs and the Alpha 7 for its Nano Cell Super UHD (LCD) TVs. The new processors are said to enable greatly improve color and motion smoothing. The IPS-panels on LG's LCD-LED sets are also said to offer improved off-center viewing. The Nano Cell Super UHD LCD designs also have full array backlit local dimming.
In an off-floor demo I missed, LG Display (distinct from the consumer LG Electronics) showed a roll-down OLED screen, though this is not yet a consumer product. But we always knew that it was possible to curve the very thin OLED displays, and no other booth's walk-through entry outdid the spectacular video landscapes created by dozens of curved OLED screens linked together (as shown in the opening photo at the top of this blog). LG has made a habit of using its OLEDs in amazing ways at past CESs, and one wonders what they might be planning for next year (and are probably working on even now). Perhaps a voyage to Mars, from launch to the blackness of star filled space (something no other currently available consumer technology can do nearly as well as OLED) to exploring the red planet?
And 8K, Too
While 8K prototypes weren't in short supply at the show, don't expect to see them in showrooms soon. Samsung, however, was the sole exception to the 8K mini-fad. Instead, the big thing at its booth this year was the Micro LED display. This is a new display technology, originally developed for use in motion picture theaters (there's actually one such theater in Seoul). In a MicroLED display, each pixel is actually made up of red, green, and blue LEDs. Unlike today's "LED-TVs" which are, in reality, merely LCD sets that use the LEDs as backlights, a MicroLED display actually uses the LEDs themselves as the pixels. That makes a MicroLED display self-illuminating and, like OLEDs, these LED pixels can be shut off when needed to produce perfect blacks.
The MicroLED displays shown so far, including the one at Samsung's CES booth, were assembled using smaller MicroLED "tiles" put together on-site with seams that are invisible at any reasonable viewing distance. This capability is needed at the screen sizes involved, and those sizes, in turn, are needed because of a limitation of the current MicroLED technology—the MicroLED pixels are still too large to be used in manageable, one-piece consumer-sized sets.
The MicroLED prototype at the show, dubbed "The Wall," was 146-inches diagonal, or just over 12-feet. It could be available late this year or early next. But before you put off that projector and screen purchase and wait for it, I hope you have a very large bank account or a line of unlimited credit. No price was suggested at the show, but I wouldn't be surprised if it were seven figures. Before more practical (and affordable) MicroLED sets are available, Samsung will have to shrink the size of the LEDs dramatically, and there's no telling how long this might take, if ever. That's why Samsung's "The Wall" was 4K and not 8K. They can't as yet make the pixels small enough for 8K, even at 146 inches.
In more relevant and imminent developments, Samsung is pushing hard on the HDR10+ format (similar to Dolby Vision in that it uses dynamic metadata that can vary from scene to scene or even frame to frame, unlike HDR10 which uses the same static metadata throughout the program). Players compatible with the format are expected from both Panasonic and Samsung. Content, some of it streamed, is promised, as are compatible TVs (oddly, also likely from Samsung and Panasonic). Color me "wait and see" on HDR10+.
In other important news for those looking for a new 4K set, Samsung has returned to offering full array local dimming in its flagship sets, an important feature for LCD-LED displays that they dropped last year. But a word of caution when shopping for such a set; if you see "local dimming" in the specs for a TV, that's not sufficient. There are edge-lit local dimming designs on the market. What you want to see in the specs is full array local dimming (FALD), or full backlit local dimming.
Chinese companies were also well represented at the show by Hisense, TCL, and Changhong. While the latter isn't marketed under its own name in the US, Hisense and TCL are. Hisense, in particular, is deeply invested in short throw projectors using laser phosphor illumination. But it also markets a wide range of flat screen sets, topped off by the 75-inch H10E, offering a claimed 1056 zones of full array local dimming and 2000 nits peak brightness. One Hisense rep told me the MSRP of the H10E would be $5,000—a great price for a 75-inch set with impressive potential. But when I asked a different rep to confirm this price, he said it hadn't yet been set. That's an ongoing problem at CES going back as far as I can remember; you can't always rely on the information being handed out on the show floor. Hopefully $5,000 (or less) is the right answer.
Audio Beyond Alexa
While there was audio at the convention center, most of it was of the rough and ready, voice-enabled personal assistant variety such as "Alexa, play me the top 40."
But over at the Venetian hotel, where more serious, high-end audio has resided for the past decade or more of CESs, things were grim. In its wonder years (as in, "I wonder how much I missed.") high-end audio filled three floors in the Venetian Tower, with some overflow on other levels. This year there was only one floor, with two or three lonesome stragglers higher up. What was there was fun, but there's now far more interesting audio at even the smallest of the several annual North American consumer audio shows.
Nevertheless, there was enough serious audio at the 2018 CES to keep me busy for a day. At least two companies showed new powered speakers. GoldenEar's DigitalAktiv3, a two-way stand mount model (shown below with inventor Sandy Gross), will offer both wired and wireless drive (Chromcast Wi-Fi and Bluetooth). The price is TBA, but will likely hover around $2,000/pair (also sold singly). But don't expect them until later in the year.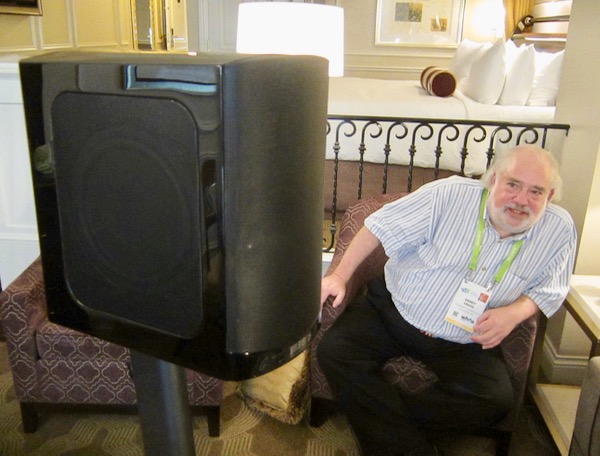 Elac will offer two self-powered designs in its upcoming Argo range—a stand-mount design and a tower. Both employ designer Andrew Jones' favored concentric midrange/tweeter configuration. The drivers, despite their physical similarity to those in Elac's Uni-Fi range, are clean sheet designs, as are the wood-finished cabinets. The stand mount is expected soon at $2,000/pair (stands optional). The GoldenEars weren't on active display at the show, but the stand mount Argos sounded sweet.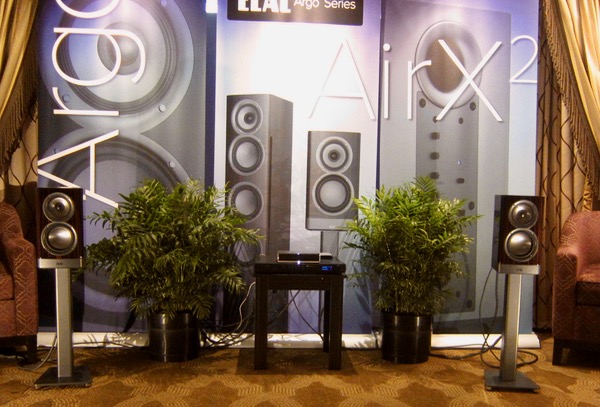 In the Harman room a convoy of Mark Levinson electronics drove a pair of Revel Ultimate2 Salon2 speakers. The latter may be a 10+ year old design ($22,000 per pair, unchanged since their launch), but nothing else I heard at the show exceeded their performance. (In fairness, I didn't spend quality time in every room.) Revel also demonstrated a prototype of a new up-market ($10,000/pair) version of its Performa2 floorstander with ceramic cone bass and midrange drivers and a beryllium tweeter. There was, as yet, no related center channel, but one is expected. (The conventional and less expensive Performa2 versions will remain in the line).
In another room, Constellation used a bank of its pricey electronics driving Magico S3 Mk2 speakers ($28,000/pair). While these sounded superb as well, I was unable to sample the music I brought with me on a CD, as I had on the Revels. Like most audio exhibitors these days, Constellation was using source material either streamed or stored on a hard or solid-state drive. Convenient, but frustrating to those who'd like to hear something they're familiar with. Most such exhibitors do ask what you'd like to hear, but are unlikely to have a specific selection. I wonder what their responses would be if I asked, perhaps, for Hindemith's Symphony in B-flat for concert band—or my reaction if they actually had it!
While the high-end audio exhibits at CES tend toward the pricey, at least a few of the products I encountered bucked that trend. Audio Alchemy is now owned by Elac. Now able to lean on the manufacturing expertise of the new owners, several new Alchemy products were on display and demo in the two Elac rooms. These included the PPA-2 phono preamp with adjustable gain and loading for MM and MC cartridges ($1,000), the DPA-2 power amp (Class A input stage, Class D PWM output stage, 350 Wpc stereo, 650 W in bridged mono mode, $1,500), and the DDP-2 DAC/Preamp/Streamer ($2,500).
Audio-Technica also joined the affordable parade with its new AT-LP7 belt drive turntable with a built-in phono preamp for moving magnet or moving coil cartridge at $800. A moving magnet cartridge is also included in the price. In its all black dress it definitely looks more expensive than it is and ready to join the vinyl parade.
But perhaps my biggest surprise was in hearing Emotiva's modestly-priced electronics driving a pair of its Airmotive T1 speakers. While an Emotiva subwoofer was also connected, it loafed during most of the music I brought along (yes, Emotiva's room did have a CD player!). While not in the same class as the above-mentioned Revel and Magico speakers, the Airmotive T1s made a solid case for themselves, and at $700/pair deserve a very close look. The Airmotive lineup includes smaller models as well, and is also ready for home theater with a pair of three-way center channel designs.