LG Showcases a Range of New TV Technologies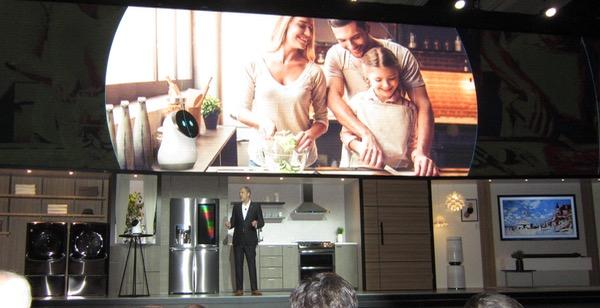 At its CES press event LG introduced new intelligent processors for its premier OLEDs (Alpha 9) and NanoCell LCD-LEDs (Alpha 7). These new devices are said to improve color and sharpness, along with enhanced noise reduction, better handling of smooth gradations, advanced color mapping, and a OLED frame rate capability of up to 120 frames per second.
In addition, its new ThinQ artificial intelligence (AI) capability is said to dramatically enhance and expand voice control, with hundreds of preprogrammed LG commands plus possible use of third party AI enhancements. It uses Natural Language Processing (NLP) for voice-activated control and connectivity.
LG, in fact, has gone even bigger this year into artificial intelligence applications. Not only its TVs but also its other appliances are designed for voice control using either an electronic personal assistant (possibility Google) to do everything from ordering pizza, to making sure your LG fridge is properly stocked, to determining how you'd like your clothes washed and dried (though for the present you still have to actually load the washer and drier yourself--poor baby!). The automation will also extend to your car for such things as showing the driver's facial recognition. As to the possible uses for the latter, we can only speculate.
There are LG designs for a range of robots as well, including a small cutie called Cloi that can assist in all of this AI hullabaloo. Cloi had a hissy fit during the demo, refusing to talk to anyone, so unfortunately we didn't get to hear her say, "I'm Sorry Dave, I can't do that."
But video is our main interest here, and this year LG will, in some of its sets, offer Advanced HDR by Technicolor and dynamic scene-by-scene tone mapping (which LG calls HLGPro and HDR10Pro). While most of LG's revised lineup of LCD-LED sets remains edge-lit, some of its NanoCell Super UHDTVs also include FALD (Full Array Local Dimming—try to keep up with the acronyms!). The new sets are also said to offer improved off-center viewing angles (using IPS panels) and a significant reduction screen reflectivity. The top three LCD-LED lines are the SK9500, the SK8500, and the SK8000. The SK9500 and SK8500 are available in 65- and 55-inch sizes, and of which offer FALD. The SK8000 range is edge lit only, but adds a 75-incher to its 55- and 65-inch offerings. Pricing TBD.
The new LG 8-series OLED lineup will be offered in sizes similar to last year, but the C8 range adds a 77-inch model. The audio systems in the higher end models now drop the Harman Kardon connection (for an obvious reason: Harman was bought by Samsung last year), but LG has now partnered with Meridian to enhance its audio offerings. This will include sound bars and, presumably, the audio in its flat screen sets, both OLED and LCD. The processors in these sets all offer Dolby Atmos, though we wouldn't expect it to produce the full level of Atoms possible with an external, multi-speaker setup.
LG is also expected to show an 85-inch, 8k OLED on the show floor, but it will almost certainly be a prototype not yet available to consumers. Similar "Show Cars" turn up at every show and will likely be seen from other set makers this year. They're all ramping up to be ready for the 8K broadcast of the 2020 winter Olympics in Korea—a broadcast likely to be available to very few consumers, in that resolution, outside of Korea and Japan.