CES 2013, Day One: LG Press Event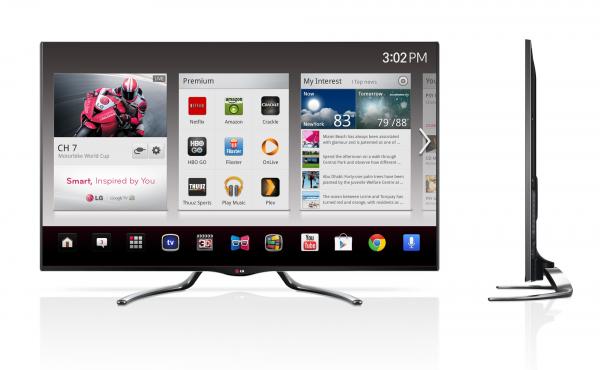 For me, LG's CES press conference was an anti-climax: The company had already announced its 2013 TV and Blu-ray/audio offerings in a conference call a few weeks prior to the event. The upside was I didn't have to take many notes —something that's not always easy to do at 8 a.m. when you're jet-lagged. Here are the highlights.
Smart TV
LG plans an all-out Smart TV offensive for 2013, releasing Internet-connected LED-backlit models in screen sizes as small as 27 inches, and as large as 84 inches. Most of the models with 47-inch and up screens offer passive 3D viewing. Leading the pack are the LA8600 and LA7400 series, 240-Hz sets that come in 60- and 55-inch (LA8600) and 60-, 55-, and 47-inch (LA7400) sizes and feature Edge-lit LED backlights with local dimming and the full gamut of LG Smart TV features. Just what are those Smart features? To start off, there's an updated Magic remote (something we liked very much when we reviewed the 2012 version) with Voice Mate enhanced voice control, which now includes search capability. LG's Home Dashboard Smart UI also gets an update with a new feature called My Interest Cards. These are folders that you can customize to easily access preferred apps and Internet content. There's also enhanced SmartShare with Miracast to wirelessly beam A/V content to the set and WiDi to wirelessly display your PC's desktop on the TV's screen. LG also claims significantly increased CPU and GPU speeds for faster navigation and multitasking on its Smart TVs.
Google TV
LG is among the manufacturers that's built Google TV into its sets, and the company is offering two new lines for 2013: The GA7900, which comes in 47- and 55-inch screen sizes, and the GA6400, which comes in 42- to 60-inch screens. Both have QWERTY remotes for easy text entry.
Plasma TV
Plasma TVS are still pumped out by LG, but the category is shrinking down to just three series for 2013. All sets come in screen sizes ranging from 47 to 60 inches. The PH6700 will be LG's high-end series, with a full Smart TV feature set and passive 3D display.
Ultra HD and OLED
LG's 84-inch, 4K "Ultra HD" LED and OLED TV aren't new news for CES; the company previously announced both products in early 2012. What's new is that the Ultra HD LM9600 is now shipping and will soon be joined by 65 and 55-inch UHD models, while the company expects to ship its 55EM9700 OLED model ($12,000) as early as March. Here are the relevant OLED specs: WRGB (red, green, and blue plus white pixels for added brightness) 1080p, 4 millimeters (0.16 inches) thin, 22 pounds.

SPONSORED VIDEO