CES 2012 Press Day: Sharp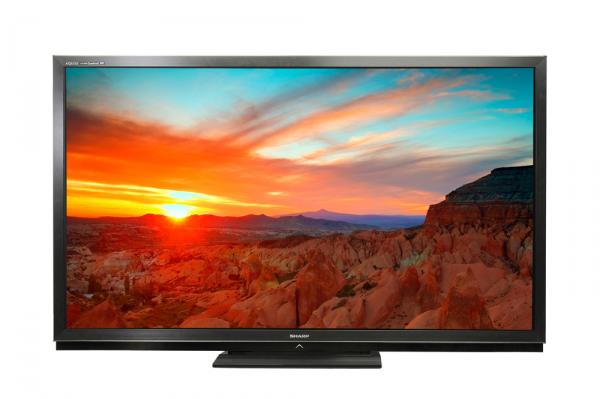 Sharp kicked off the company's 100th year with a slew of impressive CES product announcements. What you need to know is that the company is now all about really big screens — 60 inch or larger LED models to be exact.
After first talking at length about its new AQUOS Board, a product designed for the business presentation market, Sharp segued into a discussion of the 20 or so 60-inch and larger TVs it has in the works for 2012. Topping off the line size-wise is the 80-inch LC-80LE844U, a 3D model with a local-dimming LED backlight, a yellow pixel-adding Quatrron panel, and built-in Wi-Fi that's due in April. The high-end 9 series — on track to arrive sometime this summer — will consist of similarly featured 3D models in 60- and 70-inch screen sizes.
Another 2012 development for Sharp will be 4K TVs. The company has been working with something called the I-cubed research center to bring these about, and expects to get them to market at some point during 2012. But who wants a 4K TV when you can have an 8K TV? Sharp also apparently has an 85-inch, 7,680 x 4,320-pixel prototype on display here in Vegas. As for 8K sources to fill those pixels, well. . .
It seems that all TVs being rolled out at CES this year are Smart TVs, and the Sharp lineup is no exception. Its SmartCentral media-streaming interface can be customized to emphasize the apps you use most often, and it offers a fullscreen view mode that shows the currently tuned video input in a PIP window.
And in case you were wondering if Sharp had a follow-up for the XV-20000 3D projector that we reviewed last year, the answer is yes: the XV-Z30000 3D DLP projector will be available in March for $5,000. The new model has a 2X zoom lens and a vertical stretch mode to accommodate 2.35:1 Scope ratio screens. If it's anything like the 20000, you can bet it will be bright, too.
LATEST VIDEO