CES 2012: Audio-Technica AT-LP1240-USB Turntable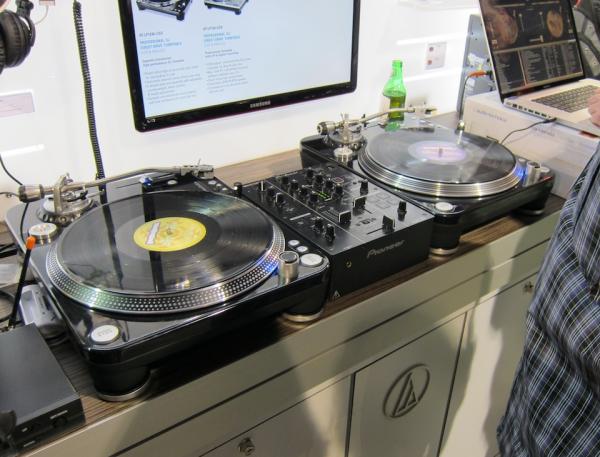 Turntables are alive and well, thank you very much. A-T has a well-deserved reputation for making solid turntables, and keeps hope alive with the introduction of a new model. The AT-LP1240-USB is aimed at both the DJ and home markets. This is a top-of-the-line professional model that is rugged enough to travel on the club circuit, and its gloss black design will fit into home theaters.
This model (clearly inspired by the late, great Technics 1200 series) uses a direct-drive, 16-pole, 3-phase motor. The S-shaped tone arm has adjustable counterweight (tracking force), anti-skate adjustment, locking height adjustment to vary the vertical tracking angle, and removable universal cartridge mount.
The turntable allows easy back-cueing, and forward and reverse play at 33-1/3, 45 and 78 rpm. The platter is cast aluminum with stroboscopic speed markings and slip mat, illuminated speed indicator, adjustable pitch control, start/stop button, removable stylus target light, tone-arm grounding lug, hydraulically-damped lift lever, locking tone arm rest, removable dust cover, and leveling feet.
A built-in switchable phono preamp is compatible with a wide range of receivers and other components. Of course, the turntable features a USB port, so you can transfer your LPs to a computer (Mac or PC) for digital storage. Supplied Audacity software converts analog audio to digital, and has features such as equalization and click-noise removal. The AT-LP1240-USB lists for $530 and will be available in March.