CES 2011: Monster Announces a Heap of New Products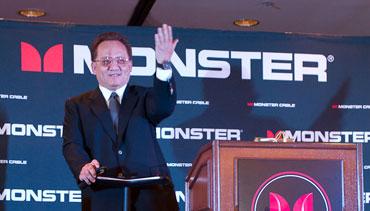 It's clear that when Monster found out they had 45 minutes for their press conference here at CES, they took it as a challenge to see just how many new products they could cram into that time period. The results were impressively prolific, including everything from slightly lowered HDMI cable prices (their cheapest model is now $30) to a line of car cleaning products made in conjunction with West Coast Customs. Rather than bombarding you with the whole pile, here are some of the products that caught our interest.

The Monster Vision 3D Glasses
3D glasses are a big topic of conversation this year at CES (much like they were last year) and now Monster is hoping they can get in on that action. Their new active shutter glasses, which will be available at the end of August, use IR and their new Monster Vision Max 3D Active Sync technology to make them compatible with all of the big brand 3DTVs, like Panasonic, Samsung and Sony. In the press conference, they also claim that they have been able to extend the effective range of the glasses to about 100 yards while improving the shutter performance. They require an external dongle, which will be sold with a pair of glasses for $229. Additional pairs of glasses (there was no mention of how many pairs can work with a single transmitter) will be available for $150.


Miles Davis "Trumpet" Headphones
The slide announcing the follow up to the original, and still relatively new, Miles Davis Tribute headphones claimed that they were the "World's Smallest." They achieved this feat by moving the drivers into the tip and leaving the back end resembling a tiny trumpet. The word cute was also used more than a few times. The Trumpets are $299, which is a full $200 cheaper than the $500 Miles Davis Tributes. They come equipped with Monster's new SuperTips, which they claim will help the phones rest deeper in the ear and provide "reference quality" sound. We should be able to get ears-on with them on the floor tomorrow. They will also be accompanied by a surround-sound recording of Miles Davis's iconic, Sketches of Spain record.

Tron Licensed Products
It seems a little late to be announcing Tron-themed stuff, but with a TV series and more movies on the way, Monster seems to think that the franchise is going to be on our minds for some time to come. To celebrate that, they have announced an executive-grade $250 iPod dock and two pairs of headphones, the T1 and the T3. All of their Tron-themed stuff is predictably adorned with glowing blue lights.

HDHS High Definition Headhpone Surround 360

As part of their Tron partnership, Monster is also producing a surround sound version of the Daft Punk soundtrack. But, the recording will be using Monster's new HDHS High Definition Headhpone Surround 360 system, which they claim brings true 360-degree surround to any pair of stereo headphones. According to the press material: "HDHS creates a sound field much like a virtual sphere - with you at the center - for the ultimate in 360-degree listening." The headphones are simply a different color of their T1 gaming headphones and will cost $350. The cheaper in-ear T3s take a big leap all the way down to $59.
Max3D HDMI cables

Despite lowering the prices on just about all of their HDMI cable offerings, they have also upped the speed on some of their high-end cables using their Max3D tech. They say it will offer superior performance as we move into 4K panels and start pushing all kinds of heavy data streams.

In the future, they mentioned that they would soon be announcing a partnership with Crestron as well as a couple of power conditioning products timed to Earth Day. They also have a hand full of in-car products, some new micro-HDMI cables for their Digital Life line, flat HDMI cables and even more surround sound music. We'll get some hands-on time with most of this stuff tomorrow and report back then.