CEDIA Expo 2012: A Runco Projector Deluge in Indy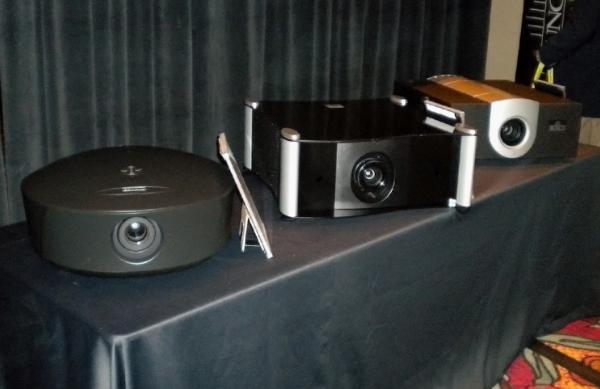 Runco unveiled several new projectors at CEDIA, all of them sporting some big brightness figures.
How big? Well in one case they're claiming 94 foot-Lamberts. That's LED LCD territory.
Get your wallet home equity line of credit ready.
In the XtremeProjection series, there's the X-200i, the X-400d, and the X-450d. All ship later this month.
The X-200i, "i" for integrated scaler and electronics, is a single-chip DLP with a claimed 1430 ANSI lumens and a possible 50 ftL, and is $14.995. The X-400d has an external scaler, 2100 ANSI lumens, and a claimed 52 ftL potential. It's $34,995. The X-450d is quite the flame thrower, with 3780 ANSI lumens and a possible 94 ftL. Yours for just $39,995. If you want special lenses or colors, those are extra.
Moving up in price, there are two new Signature Cinema projectors, that sport digital cinema lenses and a "proprietary optical system." Runco claims this results in better brightness, and the numbers they're touting for these new projectors bear that out. The $39,995 SC-30d has a claimed 1339 ANSI lumens for a possible 49 ftL, while the $44,995 SC-35d has a claimed 3500 ANSI lumens for a possible 87 ftL. Both are shipping in October and have the usual bevy of anamorphic and regular lens options.