Cat Run, Too Big to Fail, John Mellencamp: It's About You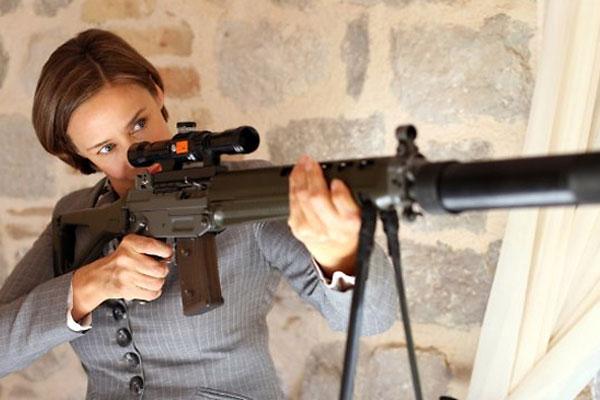 If you've been beating yourself up for missing last spring's biggest prostitute shoot-'em-up, salvation has arrived on Blu-ray. Anyone looking for a deeper grasp of how the U.S. (and the world's) economy got so royally hosed should make time for an excellent pay-TV dramatization, and you don't need to be a particularly ardent fan of John Mellencamp in order to enjoy his recent documentary.
Cat Run (Universal Studios)
Director John Stockwell (Blue Crush) is no stranger to tough-as-nails broads, but with Cat Run he trades breakers for bullets in this grindhouse-worthy, tongue-in-cheek actioner. The comely Paz Vega stars as a high-end call girl who finds herself on the run from the mob, a twisted assassin (Janet McTeer) and even misguided forces of the U.S. government when she takes possession of some damning evidence, and her only allies are a pair of inept rookie private dicks.
Plenty of gunfights, various degrees of nudity, and ample guy-friendly humor ensue (wives and girlfriends will probably prefer a nice walk, a good book, or a two-hour nap) in what could fairly be described as junk food for the eyes and ears, although the video quality is actually pretty strong. Director/producer audio commentary, deleted scenes and a "making of" featurette round out the neat little package.
Too Big to Fail (HBO)
Perhaps the main reason that those Wall Street/Washington SOBs got away with the crime of the century—the 2008 financial crisis—is that what they perpetrated was so ludicrously complicated, civilians like us need to see movies like this which dramatize the events in an effort to illuminate the truth. Adapted from Andrew Ross Sorkin's bestseller, this brisk, compelling HBO production lays bare key decisions that built to a real-life nightmare that's still unfolding.
Further aiding our understanding are informal interviews with the stellar cast and crew on the topic at hand, along with a detailed timeline that puts recent history into perspective. This is also one of the first titles from Home Box Office in their "HBO Select" format which conveniently provides Too Big to Fail on Blu-ray, DVD and an increasingly rare iTunes-compatible Digital Copy.
John Mellencamp: It's About You (MPI)
Super8 cameras in hand, photographer Kurt Markus and his son Ian followed musician John Mellencamp while he toured with cohorts Bob Dylan and Willie Nelson, infusing this generous access with a genuine artistry. Their resulting documentary not only shows a performer at work but a deeply passionate creative force devoting the time and energy to travel to Memphis' Sun Studio and other legendary locations to record his 2010 album No Better Than This.
Along the way we have the chance to get to know the man and his music as never before, and to better understand his evolution into an icon for the American heartland. The old-school film stock and frequent use of black-and-white impart the poignant mood of a bygone era, and the lossless stereo audio is first-rate. As it is, in a sense, a supplement to the album, It's About You's bonus content is limited to a trailer.
LATEST VIDEO