Canton Karat Series Home Theater Speaker System Page 2
My reservations about bass extended to the S 8 DC towers, which looked way too lean to deliver any serious low end. But when I cued up music and started listening in stereo without any assistance from the subwoofer, I was stopped in my tracks: not only did the S 8 DCs have great low-end extension, but the bass was very tight and clean. The wide distance separating the speakers in our room also seemed to help their imaging. In Richard Thompson's "King of Bohemia" from Mirror Blue, the Canton towers delivered a convincing representation of the acoustic space the singer was performing in when he recorded the album. Listening with my eyes closed, it seemed like he was standing about 10 feet in front of me.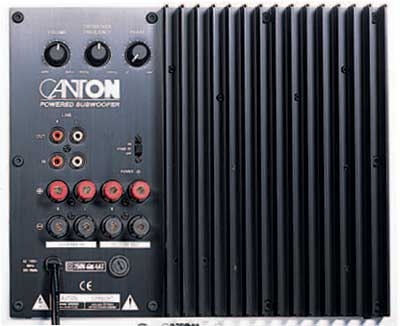 The main thing that struck me about Canton's towers was how clean and present their sound was. Depending on the recording, this could be either a plus or a minus. The electroacoustic jazz on the Bill Frisell with Dave Holland and Elvin Jones CD sounded great on the S 8 DCs, which did an admirable job of rendering dense layers of acoustic bass and reverb-laden guitar. But on some newer rock recordings, like "No One Knows" from Queens of the Stone Age's Songs for the Deaf - the kind that likely get a high EQ boost during mastering to make them more radio-friendly - the Cantons' sound definitely fell on the forward side of the fence.
I also had a minor gripe with the height of the S 8 DC. Since the speaker is only about 3 feet tall, its tweeter is about 2 1/2 feet up from the floor - chest-level when I'm sitting on a couch. No matter what I played, the sound had a "low" perspective, rising up toward my ears instead of hitting them straight on.
Getting back to bass, the S 8 DC tower/ AS 200 SC subwoofer combination turned out to be a real powerhouse. Playing "The Exploding Psychology" from Squarepusher's Go Plastic CD, an electronic-music track that seems composed to tax the dynamic abilities of speakers, the Canton trio weathered the pounding storm of beats, bass, and blips without breaking a sweat. Even at very loud volumes, the AS 200 SC sounded remarkably clean and tight. With a standard THX crossover point of 80 Hz dialed in on my processor, the sub also blended very smoothly with the towers both on music and on movie soundtracks.
Given the trio's handling of Squarepusher, I was hardly surprised by the full Canton system's performance with the new Led Zeppelin DVD. Unlike most concert recordings on DVD, the 5.1-channel mix of "Whole Lotta Love" doesn't make you feel like you're in a crowd watching the performance - it goes a step further and plunges you into the performance. It sounds like you're teetering on the edge of the Royal Albert Hall stage in 1970. The S1 surrounds readily contributed to this sense of sonic immersion and also did a good job handling their share of the Ping-Pong effects that cap off Jimmy Page's guitar solo. On the whole, the system easily delivered the thunderous, God-like slam of the Led Zep rhythm section, a truly unique phenomenon that this DVD captures.
HIGH POINTS Great looks. Slender design. Clean, dynamic performance. Powerful bass.
LOW POINT "Low" perspective to sonic image.
The Canton system's squeaky-clean performance proved to be a great asset for a movie with a complex soundtrack, like Phone Booth. Since most of this thriller takes place in an actual booth, director Joel Schumacher relies on audio to drive the story of a sleazebag PR flack (Colin Farrell) who's stalked by a psychopath, sometimes weaving multiple tracks of dialogue through a single scene. Even with several voices coming at me at once from different speakers, each shred of dialogue was intelligible. The off-center performance of the CS 4 center speaker was also very good, displaying only a mild shift in timbre when I slid to one side of the couch.
If you're looking for slender, stylish speakers that don't compromise on performance, Canton's Karat system won't disappoint you. It offers ultraclean sound along with bone-rattling bass, and its high-tech look makes it a natural companion for a flat-panel plasma or LCD TV. At a little over four grand, it isn't cheap, but in many ways these Karats are worth their weight in silver.
PDF: Fast Facts
PDF: In the Lab
LATEST VIDEO