Cambridge SoundWorks MegaTheater 510 DVD System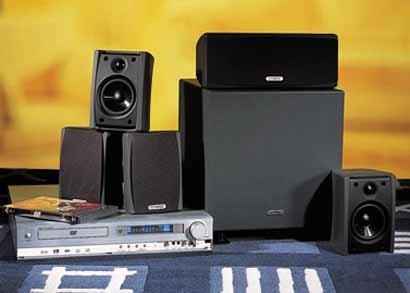 Photos by Tony Cordoza
Spend $850 on a used car, and in a few days you'll spend another $850 on repair costs. Invest $850 in the stock market, and in a few weeks you'll have $600 worth. Spend $850 on Cambridge SoundWorks' new MegaTheater 510 DVD home theater system, and in a few minutes you'll have more entertainment than you bargained for. They don't call it "mega" theater for nothing. Yet another entry in the home theater-in-a-box category (though it actually ships in two boxes), this system sounds considerably bigger than you'd expect.
The compact AVS500 control center - just over 15 inches wide and deep, and less than 3 inches high - incorporates an AM/ FM stereo tuner, a preamplifer/processor with Dolby Digital/DTS decoding and an equalizer, and a progressive-scan DVD player that also plays Video CDs and recordable CD-R/RWs with MP3 music files or JPEG image files. The BassCube 851 subwoofer contains an amplifier rated to deliver 150 watts to its own 8-inch driver and 60 watts each to the quartet of Newton Series MC100 left/right satellites and the Newton Series MC150 center speaker, which is magnetically shielded. The two-way speakers each have a 3/4-inch tweeter and a 3 1/2-inch driver - the MC150 has two mids. All have sealed charcoal-gray plastic enclosures and dark-gray cloth grilles.
The control center's few buttons, hidden behind a fold-down panel, let you operate most of the basic functions, but the svelte 57-key remote gives you full control of the numerous features (not all equally useful). Fortunately, you won't lose your way amid the forest of keys, since they're in different colors, sizes, and shapes. The tiny labels are printed in high-contrast white on the keys or in black on the body of the handset. Although you can use the system without the onscreen displays, you'll have very little control or knowledge of what's happening without turning on the TV. The clean displays won't win any graphics awards, but they're easy to read.
HIGH POINTS • Very satisfying sound. • Easy physical setup. • Superb value. LOW POINTS • Imprecise speaker-distance settings. • Overloaded with rarely used features.

The subwoofer sports an RJ-11 phone jack for a supplied wired remote that controls system volume, and Cambridge includes a set of cables to connect the sub to a computer's sound card. Considering that the company is now owned by Creative Labs, one of the largest makers of sound cards, this seems a logical option.

All the cables to connect everything together are supplied - in lengths generous enough for any room appropriately sized for this system - and they're all color-coded. I installed the MegaTheater 510 in my new 15 x 25-foot home theater with cable to spare. The interconnects that run from the AVS500 to the BassCube connect to stereo minijacks, while the cables from the BassCube to the main speakers use RCA jacks. Since the bare-ended speaker cable connects to the speakers with standard spring clips, you can easily trim or extend the cable as needed.

In addition to the jacks necessary for system interconnection, the control center's back panel includes a pair of RCA-style stereo audio and composite video in and out jacks, an S-video output, optical digital audio input and output, and a nondocumented multipin DIN connector labeled "5.1 output" that actually serves as a preamp output. Finally, there are inputs for the supplied AM and FM antennas.

The down-firing subwoofer, roughly a one-foot cube, includes an auxiliary stereo minijack input, a bass-level control, and a treble switch with Flat and Reduce positions. The sub's feet lift it a couple of inches above the floor. I placed it on the narrow wall of my theater about 3 feet from the TV, with the level set about midway.
---
NEXT PAGE
---
LATEST VIDEO