B&W XT Series Home Theater Speaker System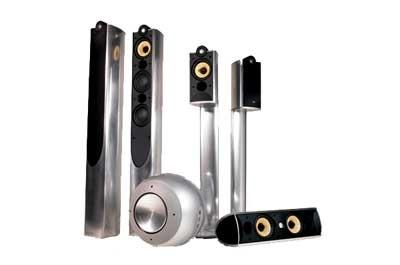 What We Think
A gorgeous system that delivers great sound - but you'll pay for the pleasure.
When TVs made the transition from bulky, oversize boxes to a slimmer, wall-friendly format a few years back, some speaker companies took the hint and came out with ultra-trim systems that were a better match for the new video displays. Among them was B&W, whose wall-hanging FPM series was not only a perfect visual accompaniment to bigscreen plasma or LCD TVs, but also sounded surprisingly good for speakers less than 4 inches deep. Now, with the new B&W XT series, the company has introduced another variation on the slender speaker theme - one that definitely kicks things up a notch in visual style.
Placed in my humble home theater/workspace, the gleaming, aluminum-sheathed B&W XT series home theater speaker system ($5,800) looked positively radiant - almost too nice. I couldn't help but feel sorry for it that it wasn't destined for some minimalist loft space alongside designer furniture and contemporary art. Each XT speaker is formed from an extruded aluminum enclosure that arches back gracefully toward the rear. Both the tall XT4 tower and XT2 satellite also feature B&W's distinctive, tube-loaded tweeter. The design, adopted from the company's high-end Nautilus line, places the tweeter in a separate module on top of the speaker - an arrangement that's said to improve the dispersion of sound across a wide area and deliver more open-sounding highs. All speakers in the system also sport the company's trademark yellow woven-Kevlar midrange driver - something that you'll need to strip off the black cloth grilles to experience.
In another departure from traditional form, B&W's unique PV1 subwoofer has dual 8-inch mica/aluminum drivers pushing out from opposite sides of its orb-shaped enclosure. The sub's aluminum finish (it also comes in white or black) makes it a perfect match for the rest of the system. A control strip along the rear includes a three-position equalization switch for reducing the sub's output at the lowest frequencies - useful for taming bass boom in certain rooms - and an auto mode that lets it power up automatically upon receiving a signal.
SETUP Each XT4 tower comes with heavy-duty spikes that jut out at a 45° angle to stabilize the tall, slender speaker. After stabbing the armored bases of the XT4s into the reasonably plush carpet surrounding my plasma TV stand, I played a familiar acoustic guitar and vocal track, Richard Thompson's "King of Bohemia," to help me position them. Although the XT4s' imaging proved very sensitive to placement, after 20 minutes of moving and toeing in the towers, Thompson's voice finally locked in between them. Both the XTC center channel and XT2 satellite speakers come with brackets for permanent wall mounting. For my temporary arrangement, I placed the XTC on the center shelf of my TV stand, angling it slightly upward on its curved mounting plate. I put the XT2s on high speaker stands slightly behind and to either side of my couch (B&W offers its own 27.5-inch high FS-XT speaker stands for $300 a pair). The PV1 subwoofer, meanwhile, went into my room's front right corner, pulled out a foot or so to strike the best compromise between actual bass and boom with the EQ setting at 1.
Listened to full-range without aid of a sub, the B&W XT4 tower speaker delivered decent bass extension. More important, there was a cohesive sonic transition between its upper and lower ranges - for straight-out music listening, all but the bass-hungry will be satisfied with the towers alone. B&W includes a set of foam plugs with each speaker that can be pushed into its front ports to tame bass response - useful if you install the XT4 towers relatively close to your room's back wall. For home theater, however, subwoofers are a necessity rather than a luxury. After experimenting, I found that the XT4 blended well with the PV1 when I set my preamp/processor's subwoofer crossover to 60 Hz, while the other speakers sounded good with the standard THX 80-Hz crossover.
LATEST VIDEO