Butter, Doctor Who Season Seven Part One, Ai Weiwei: Never Sorry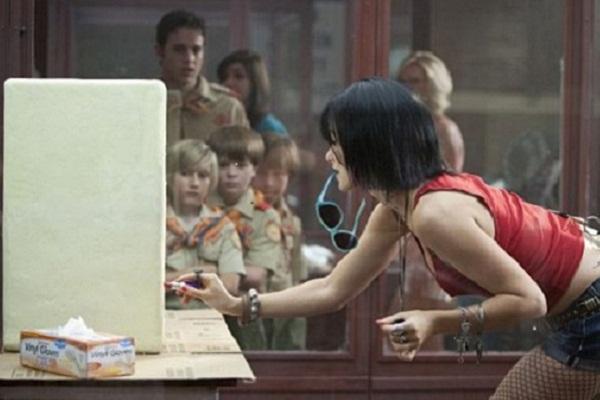 BBC has just the prescription for Doctor Who fans, a new documentary reveals an embattled Chinese genius, and a star-studded black comedy shows us how to use everyone's favorite dairy spread for evil as well as good.
Butter (Anchor Bay)
A dark ensemble comedy with quite the comic book movie pedigree (Hugh Jackman, Jennifer Garner, Alicia Silverstone, Ty Burrell, Olivia Wilde), Butter deliciously explores the competitive world of… well, butter carving. Poking great fun at the Midwest's reputation for good Christian values, the story pits an eager housewife (Garner) against an up-and-coming ten-year-old butter sculptor as the latest competition approaches. Not coincidentally released in an election year, the movie from director Jim Field Smith (She's Out of My League) gleefully explores the shameless shenanigans some folks will resort to in order to win anything, if they want it badly enough.
R-rated for its edginess, Butter arrives on both Blu-ray and DVD in this combo pack, and is accompanied by one of the more amusing gag reels I've seen in a while, along with some deleted and extended scenes. Thoroughly enjoyable, and not a drop of saturated fat.
Doctor Who Season Seven, Part One (BBC)
Matt Smith's cheeky rendition of Doctor Who continues in these five newest episodes: "Asylum of the Daleks," "Dinosaurs on a Spaceship," "A Town Called Mercy," "The Power of Three" and "The Angels Take Manhattan." This two-disc release is timed specifically during the mid-season hiatus, a curious collection that tosses fans a bone as they await the debut broadcast of The Back Nine, and the inevitable complete-season set sometime next year.
Traveling through time and space in the TARDIS with his companions Amy and Rory, (and sometimes Rory's father, Brian) The Doctor dives headlong into this quintet of adventures, each about three quarters of an hour long. They show us his classic nemeses the Daleks in a whole new way, manage to involve some always-popular prehistoric beasts, take a detour through the old west, introduce some mysterious new "visitors" and end with a trip to The Big Apple. Each arrives with 1080i video and DTS-HD High Resolution 5.1 audio, and the set is complemented with a featurette on Comic Con, an episode "making of," an episode prequel and more.
Ai Weiwei: Never Sorry (IFC Films)
Ai Weiwei is an artist (sculptor, photographer, filmmaker, architect and "installation artist") best-known for his work on the "Bird's Nest" stadium where so much of the 2008 Olympics were set, in his home country of China. Yet in contrast to the facade that the oppressive nation put on for those weeks, he is an outspoken critic of his government, a position which has made his life rather complicated. (He spent 81 days in jail in 2011.)
With her new documentary, filmmaker/journalist Alyson Klayman gives viewers a fascinating look at modern China, as a backdrop for Ai's ongoing creative and political efforts. Wonderfully surprising and insightful, it presents a portrait of a brave, talented man who makes us laugh and makes us think. And if you want to learn still more, the disc provides a creator commentary, interviews and some deleted scenes.