Budget Wireless Audio from Monoprice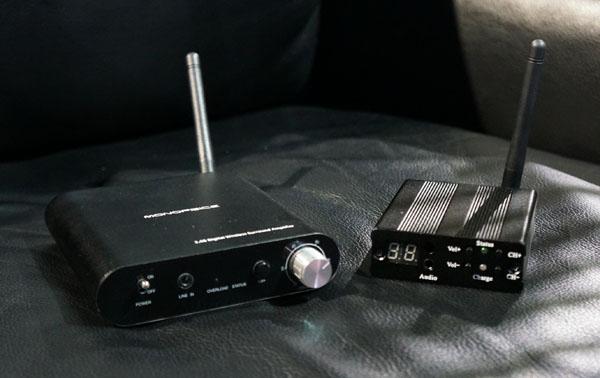 CEDIA was packed with plenty of pricey options for transmitting audio over the air, but at least one company was showing wireless gear at a down-to-earth price. Monoprice's Wireless Speaker Transmitter ($88.11) is a transmitter/receiver system that sends CD-quality audio over the 2.4 GHz band at distances up to 98 feet. And since were talking Monoprice here, a no-frills cables/accessories e-tailer that places a premium on value over marketing, I will also note the system's product number: 10601.
The receiver end of the Wireless Speaker Transmitter has a 2x30-watt amp and connectors to hook up surround speakers or a stereo speaker pair for a DIY 2-zone multiroom system. A 3.5mm input and volume knob give you local control (a remote is also included for that purpose) so you can hook up an iPod or other source directly to the receiver. Another possible use for the system is to make your subwoofer wireless — as long as said sub has a speaker-level input. Good news: If you order 50-plus Wireless Speaker Transmitters, they only cost $82.24 each!