Blue Men Exposed!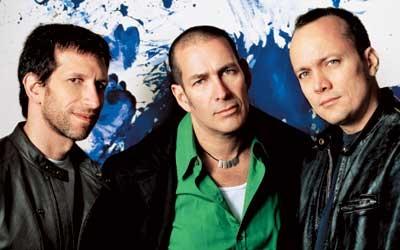 Some musicians think it's neat to hear their music remixed for surround. Others don't give a damn and let their labels do a remix so they can sell a few more albums. But for performance artists turned media stars Blue Man Group, multichannel sound is a matter of musical survival. Blue Man Group founders Matt Goldman, Phil Stanton, and Chris Wink.
Thanks to their frequent Tonight Show appearances, ubiquitous Intel ads, and spectacular live performances, it's hard to find anyone who's not aware of the men in blue. But not everybody knows how important music is to the Group's creative project. And tha nks to DVD-Audio's inability to break out of its audiophile niche, even fewer people have heard Blue Man's quirky, playful, thickly textured, heavily percussive music the way the Group wants it heard: in surround.
The DTS DVD-Audio release of the Group's second album, The Complex, features Blue Man's high-resoultion multichannel mix.
Few artists have worked harder to get the word out about multichannel music. The Group's first album, Audio (Virgin), was re eased on CD and on a two-sided disc with a DVD-Audio version on one side and a DVD-Video version on the other. Their second CD, The Complex, led to The Complex Rock Tour Live DVD (both Lava/Atlantic). To pique interest in the surround mix of the original Complex, the flipside of the live DVD has three studio tracks redone for multichannel. The full album was then released on DVD-Audio by DTS. The Group also created a listening booth, complete with a Bose Lifestyle 50 surround system and garnished with curling white tubes (of course), for the Virgin Megastore in Las Vegas.
Knowing how strongly Blue Man founders Matt Goldman, Phil Stanton, and Chris Wink feel about all things surround, I visited the Group's recording studio on Manhattan's Lower East Side to give them an opportunity to spread the multichannel word.