Bite into Sushi Girl, The Thief of Bagdad (1924) and Little White Lies on Blu-ray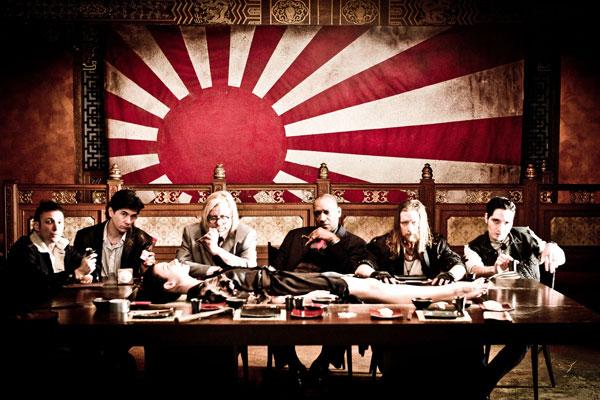 While colorful, remorseless career crooks might not be anything new in Hollywood, hats off to writer/director Kern Saxton and co-writer Destin Pfaff for making it all seem fresh again with
Sushi Girl
. A lesser-known label serves up a terrific surprise with the high-def disc debut of a beloved Doug Fairbanks classic, and from France comes a tasty creation that plays like
The Big Chill
with some unexpected bite.
Sushi Girl (Magnet)
It starts out like any other dinner, with a group of felons gathered around a naked woman adorned with sushi, in honor of Fish (Noah Hathaway, Battlestar Galactica's little Boxey all grown up), recently paroled. Fish just did six years hard time after he alone took the fall for a jewel robbery and dutifully kept his mouth shut. But the persistent mystery of "What ever happened to the loot?" resurfaces, and so the evening becomes decreasingly festive and increasingly violent.
Brought to life by a who's-who of geek-tastic film and television veterans (Mark Hamill, Tony Todd, Sonny Chiba, Danny Trejo, etc.) Sushi Girl is irresistibly different even as it riffs upon some more familiar crime noir (most notably the works of Quentin Tarantino), genuinely suspenseful and ultimately satisfying. Magnet's Blu-ray disc is a treat as well, with an impressive DTS-HD Master Audio 7.1-channel soundtrack, an all-star commentary, abundant on-disc extras and BD-Live connectivity to still more.
The Thief of Bagdad (Cohen Media)
A lavish highpoint in the career of one of silent film's brightest stars, The Thief of Bagdad showcases Douglas Fairbanks in his fearless, acrobatic, swashbuckling glory. This original 1924 film adaptation of the oft-told tale unfolds against spectacular backdrops, its crisp black-and-white photography occasionally enlivened by carefully applied color tints and tones, all under the inspired guidance of director Raoul Walsh. Although a tad short on plot, it's long on thrills that still play magnificently to modern audiences, in stark contrast to today's CGI-tweaked stuntwork.
Cohen's new disc represents a 2K restoration from two different 35mm negatives, complemented by a DTS-HD Master Audio musical score performed by the Philharmonia Orchestra. Since none of the cast and crew is still with us, we are given an expert audio commentary plus a featurette highlighted by some rare behind-the-scenes photos.
Little White Lies (MPI Pictures)
This 2010 French dramedy from writer/director Guillaume Canet (Tell No One) wrangles an engaging ensemble cast of 30/40/50-somethings (including Oscar winner Marion Cotillard and a pre-Artist Jean Dujardin) coping with the sudden near-death and hospitalization of one of their own. The timing is oh-so-unfortunate, as they are preparing to embark upon their annual group vacation. In what shapes up to be the filmmaker's indictment of his own generation, the story follows the rather self-centered gang on this nearly-ruined holiday where truths are revealed and personalities clash, touching upon a wide range of emotions, wholly relatable despite the language barrier.
Although a bit long at over two-and-a-half hours, Les petits mouchoirs (original title) is another deftly executed work from the gifted M. Canet, who appears in the brief featurette, the disc's only real extra.