Big-Screen Megabargains Page 3
InFocus High-end performance at a low price
The lowest-price model in the InFocus ScreenPlay line, the $1,299 Model 4805 follows the NEC in creating images with a widescreen chip. But the Model 4805 has another weapon in its video arsenal: Faroudja DCDi processing, which helps enhance the look of standard-def TV programs - like most sports, cartoons, and news.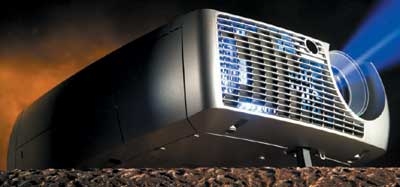 INFOCUS SCREENPLAY 4805
DIMENSIONS (WxHxD) 9 7/8 x 4 1/4 x 12 1/2 inches WEIGHT 7 3/4 pounds PRICE $1,299 MANUFACTURER InFocus, infocushome.com, 888-282-7529
PLUS• Crisp picture with natural colors • Plentiful adjustment and input options
MINUS• None
Although the 4805's styling is plain, its compact, silver-gray case will blend in with most environments. Connection options include a component-video input and an M1 jack that can connect either to the RGB output of a computer or to a copy-protected DVI output on a high-def satellite receiver. InFocus throws in a special 1-meter M1-to-VGA cable for a laptop, but for a digital hookup with other components - like a DVD player - you'll need the optional M1-to-DVI cable ($39 for 2 meters, $99 for 10 meters) or the M1-to-HDMI adapter ($45).
The supplied remote control is small but solid and features a backlit keypad. It has enough buttons to complete most tasks quickly, including direct switching of up to four video sources (you map each source button to a specific input via the setup menu), toggling picture presets, and making on-the-fly brightness and contrast adjustments.
SETUP InFocus offers a surprising number of high-end picture adjustments on its entry-level projector. You can select among several options for gamma and both standard and high-def "color space" settings. There are also menu adjustments for overscan, horizontal and vertical picture position, and red, green, and blue gain and cutoff levels. Using this fairly complete suite of controls, I was able to really dive in and tweak the picture to my liking - something I couldn't do with the other projectors.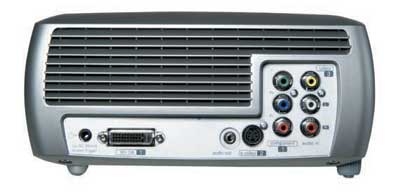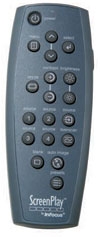 PICTURE QUALITY Displaying Wild at Heart from a progressive-scan DVD player, the Model 4805 offered very good contrast. In a shot of the newly paroled Sailor waiting outside the penitentiary for Lula, the sunlight beating down on his all-black outfit brought out a wide range of subtle dark tones. The inky shadows beyond him lent a true sense of depth to the image, and even though the bright colors of Lula's red lipstick and her mom's pink fingernails looked startlingly vivid, more subtle hues like skin tones looked natural. For example, in a dim hotel-room scene, I could easily make out the transition between the pale upper and tanned lower sections of Sailor's arm as he lazed on a bed.
The projector's color and contrast didn't have quite the same range and "pop" with my DVD player feeding it standard 480i (interlaced) video. Even so, I was impressed by how clean the picture was. Cable TV programs also looked clean and sharp on the Model 4805. Its Faroudja processing didn't work miracles with the Golf Channel, but it did the best job of the three projectors in balancing picture smoothness and detail.
---
The InFocus ScreenPlay 4805's wide- screen DLP chip, Faroudja DCDi processing, and advanced picture adjustments make it a standout performer in its class. Add the projector's flexible input options and unobtrusive design, and it's clear that InFocus did its homework when designing the Model 4805. PDF: Features ChecklistPDF: In the Lab
LATEST VIDEO