Big-Screen Megabargains Page 2
NEC Widescreen projection, compact package
For a company with its feet planted firmly in the industrial world, NEC makes a good number of products that cross over into home entertainment. At $1,295, its HT410 projector is aimed at viewers who want a big image for regular TV and DVDs, but don't want to spend loads of money. A key benefit is the HT410's widescreen DLP chip, which lets you use its full 848 x 480-pixel resolution to watch DVDs mastered in the same 16:9 format.
NEC HT410
DIMENSIONS (WxHxD) 7 3/8 x 5 1/4 x 13 5/8 inches WEIGHT 6 1/2 pounds PRICE $1,295 MANUFACTURER NEC, necvisualsystems.com, 800-632-4636
PLUS • Solid progressive-scan performance • Whisper-quiet fan • Computer input jack
MINUS• Limited shadow detail
The HT410's industrial heritage is easy to see in the design. It's extremely compact, has a rugged, utilitarian look, and comes with a carrying case for toting along to a vacation house, business meeting, rave - whatever. Although the HT410 can be ceiling-mounted, the whisper-quiet fan makes it one of the quietest projectors I've ever tested, so coffee-table installation is a workable option.
I can easily imagine NEC's tiny remote control getting lost between the cushions in a plush couch. Thankfully, most of the projector's functions can also be carried out using its top-panel controls. The remote has a backlit keypad and dedicated buttons for each video source as well as noise reduction, picture mute (which blanks the image), and picture freeze.
SETUP The NEC has a number of neat features for setup and installation, including a vertical lens shift (gives you more leeway for projector positioning), front and rear tilt adjustments, and even surface-color correction if you're projecting directly onto a wall. Among its many video adjustments are selections for color management, color temperature, gamma (fine tunes the gradations between black and white), and peak white.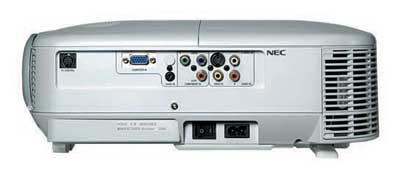 PICTURE QUALITY After tossing the new, director-approved DVD of David Lynch's Wild at Heart into my progressive-scan player, I settled back for some life-size weirdness. In a scene with Sailor and Lula in their convertible, a pack of Marlboros sitting astride the dash had the familiar red hue the world knows and loves. The skin tones of the parole-violating pair looked slightly too rich, but they weren't that far off. I became more concerned with the lack of shadow detail in a scene in a New Orleans nightclub - the band behind a blues singer got lost in the smoky darkness. And in a disturbing bathroom scene, the ornate floral-patterned wallpaper looked solid, although it lacked some crispness compared with the same scene displayed by the InFocus projector.
The HT410's solid image held up for standard cable TV programs, where the noise-reduction processing helped smooth out gnarly pictures without erasing too much detail. However, the processing seemed somewhat "slow" in scenes with motion. Patches of grass on the Golf Channel seemed to trail behind the players as they crossed the green.
---
For an industrial-strength projector, the NEC HT410 definitely has its movie chops down. And the computer input makes it a good option for someone looking to hook it up to a multimedia PC. In some respects (see "in the lab"), its performance lagged behind the InFocus and HP, but I still found it to be a fine little projector. PDF: Features ChecklistPDF: In the Lab
LATEST VIDEO