BG Radia R-800 In-Wall Speakers
Extreme audio: a new standard in transparency, definition, and detail.
I've reviewed many excel- lent in-wall speakers, but none quite like the new Radia R-800 in-wall speaker from BG. With 24 drivers in each speaker, this giant stands almost 7 feet tall and is clearly designed for extreme listening—extremely satisfying listening, that is. Each speaker has two 8-inch woofers mounted at the top and bottom, six Neo10 planar-ribbon midrange panels, and 16 Neo3PDR planar-ribbon tweeters in a vertical-line array pattern. An outboard amplifier, the BGA-2500, which is included with a pair of Radia R-800s, powers the two woofers.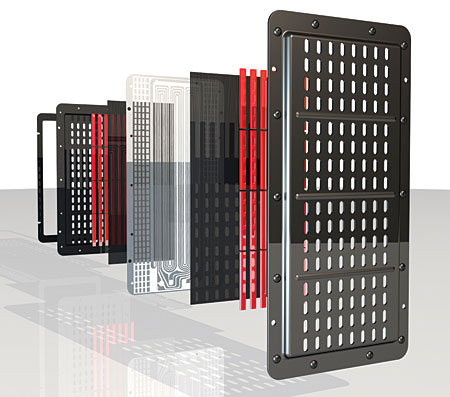 This was an exceptionally ambitious review, but one I was eager to start. My first preview of the Radia R-800s at CEDIA 2005 in Indianapolis was very convincing. I was glad to have the assistance of Ed Jaeger, president of BG, and Fred Yando, vice president of sales, to help me install and set up the Radia R-800 speakers. In fact, I couldn't have unpacked, moved, or installed them in the walls without their help. Beware, because, once they were installed, their appearance in my living room was formidable. If the room didn't have high ceilings, they wouldn't have fit as well as they did.
If their appearance is formidable, their sound quality is awe-inspiring. I've reviewed other BG in-wall speakers and was pleased with the sound quality, which entailed a clean, open midrange and excellent high-frequency detail. But the Radia R-800s define a new standard. Almost immediately, they produced a you-are-there sense of midrange clarity and presence, as well as high frequencies that were pure and uncolored. Each instrument and vocal element was easy to distinguish from others in the soundstage. Detail and definition was outstanding, with a strong center image. Since these speakers were shipped fresh from the production line, their sound quality continued to improve after several hours of breaking in.
In particular, vocals were strikingly clear, creating a feeling of immediacy and intimacy with the music, as if I were listening to a live performance. With a new recording from Renée Fleming, Haunted Heart (Decca Records), the speakers revealed every detail and nuance in her voice and breath, which helped convey the sad emotions present in many of the songs. The piano sounded as if it were in the room, with a solid foundation of bass and newfound clarity in the midrange and higher frequencies. The Voices Unbound DVD-Audio (AIX Records) by Zephyr showcased two of the best examples of vocal alacrity in the Radia R-800s: "Now Is the Month of Maying" and "Le Chant des Oyseaux." They are a cappella recordings in the round, with a single microphone placed in the center of a ring of vocalists. When I played these tracks in multichannel mode with the rest of the speakers in my system, the voices' transparency and dynamic range were amazing, as if I were seated in place of the microphone. The sound was enveloping, detailed, and accurate.
The Radia R-800s do what any good speaker should: They allow you to hear the music, not the speaker. They are incredibly transparent. Many speakers force you to listen—they have a so-called in-your-face sound—but the Radia R-800s let you listen. They connect you with the music and let you pick out various details and elements of a recording as you wish. There are only two other speakers I've had in my home that impressed me this way: the KLH Model 9s (electrostatic speakers made in the 1950s) and the Dahlquist DQ-10s (phase-coherent speakers made in the 1970s).
Don't be surprised if the Radia R-800s reveal weaknesses in some recordings. As much as I enjoy listening to older discs, these speakers bring out the best and worst qualities in a recording. This was evident in Django Reinhardt's duet with Stephane Grappelli in a 1940s-era monaural recording, Djangology (Snapper Music). As you might expect, the lack of dynamic range was immediately exposed. It's like driving a high-performance sports car with a tank full of the cheapest grade of gasoline.
The Radia R-800s also exhibited a unique characteristic I've not encountered before: When playing music, especially vocals, they retained a strong sense of clarity and detail, even when I was listening from an adjacent room.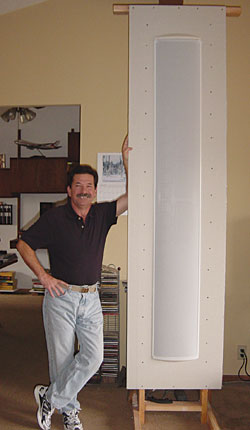 The Radia R-800s are the first in-wall speakers I have auditioned that do not need a subwoofer, although BG offers an in-wall subwoofer, the Radia R-88, with two 8-inch woofers. Without a subwoofer, bass response was tight and extended in every music disc and movie soundtrack I played. The bass track in James Taylor's "Line 'Em Up," (Hourglass SACD, Sony Music) sounded authoritative, well defined, and solid, as did "Why Can't It Wait Till Morning" from The Best of Fourplay (Warner Brothers Records). The separate amplifier, the BGA-2500, that drives the two long-throw 8-inch woofers in each speaker employs BG's BASH technology, using a switching power supply and a discrete analog output stage for high efficiency and very cool operation. (The BGA-2500 is available with or without rack-mount ears.) Since the midrange planar driver's crossover is set at 250 hertz, you can drive the rest of the system with an amplifier or receiver, and BG recommends power output of 100 to 250 watts per channel to adequately handle musical peaks. The Radia R-800s have a rated sensitivity of 93 decibels and are capable of a claimed maximum SPL output of 120 dB. I don't think I achieved that level, but, even at high levels, the Radia R-800s retain their high degree of clarity and detail.
I only enjoy watching movies with a good sound system, and, in my opinion, the quality of the sound is more critical than that of the picture. I'm in the process of acquiring an LCD flat panel, and, in the meantime, I'm using a 19-inch CRT TV. Although listening to 7-foot-tall speakers and watching a small TV was a sensory disconnect, the Radia R-800s more than compensated for the small picture size. With the Radia R-800 speakers, it seemed as if I were seated in a widescreen cinema when watching the March of the Penguins and Crash DVDs, two very different but equally compelling films with full, enveloping soundtracks. My 19-inch screen suddenly seemed like it was 19 feet.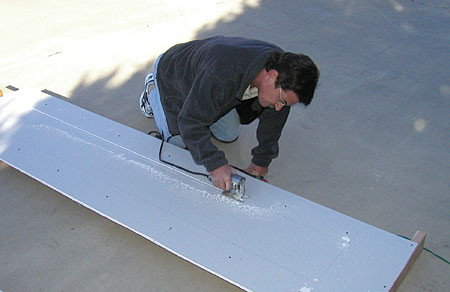 The Radia R-800 speakers present a very wide, tall, deep, three-dimensional soundstage with pinpoint imaging. The soundstage makes the musical presentation sound large, enhancing the feeling that you're listening to a live performance. The wide sweet spot is also ideal for large rooms and off-axis listening where everyone may not have the best seat.
Construction Quality
The construction quality of the Radia R-800s is excellent, with a steel frame complemented by a finely machined aluminum baffle. Each speaker secures to the wall with 12 dogleg clamps, six on each side, and the grille slides into a channel along the sides of the frame for a clean appearance.
The Radia R-800s are suitable for new construction or retrofit installations. BG strongly recommends cavity bracing with construction adhesive and/or building dedicated back boxes or enclosures for the speakers, and I agree. The woofers are capable of moving lots of air, and, unless the cabinet or wall cavity is very solid and well sealed, vibrations and resonance are inevitable. I used an entire tube of caulking with drywall screws spaced every 6 inches on each speaker with good results but still had a few rattles. If I were to install them permanently, I would build back boxes, brace the walls, and seal every joint. Make sure your installer does the same. The benefits will become evident in solid bass reproduction.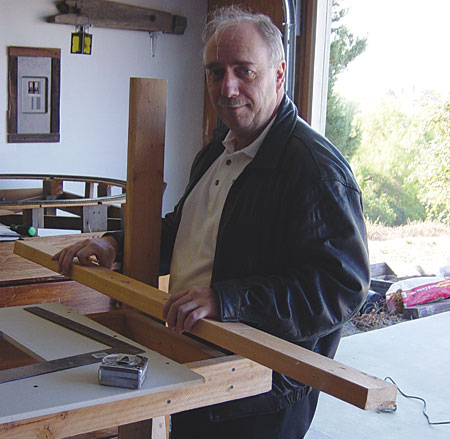 In Summary
The BG Radia R-800 speakers are a giant step forward in architectural loudspeakers. Priced at $12,000 per pair (including the external amplifier) they are ideal for installation in a dedicated media room. The Radia R-800s aren't for everyone, but, fortunately, BG has introduced a line of five new Radia in-walls that use the same drivers and design principles with similar sound qualities and more affordable pricing. The new, smaller models are also certain to please those who must convince a wary spouse. But, if you have a large room or theater and want outstanding audio performance, don't overlook the Radia R-800s. Describing the sound quality of the BG Radia R-800s with words doesn't match the experience of hearing them. I can only imagine what a multichannel system with five Radia R-800s would sound like—now that would be extreme listening.
Highlights
• Full-range in-wall speakers with planar-ribbon midranges and tweeters in a vertical-line array
• Excellent detail and definition
• Clean and open-sounding midrange performance
• Solid, well-defined bass response