Best Streaming Devices of 2017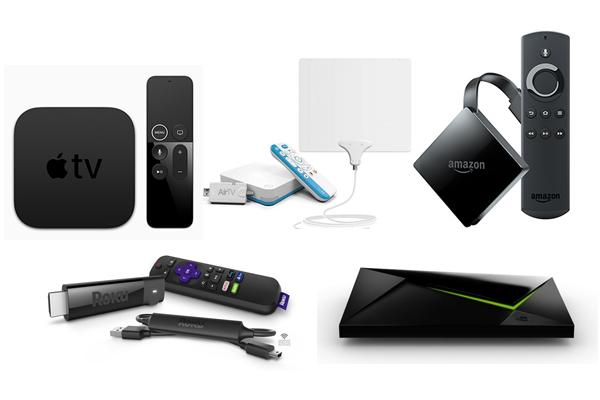 This past year has seen the maturing of many features that were formerly only hopeful ideas. Streaming in 4K Ultra High Definition (UHD) resolution with High Dynamic Range (HDR) is offered by more services, including Apple iTunes, Vudu, and Hulu. High-quality streaming content makes it possible to get excellent picture quality on mid-level UHD TVs everyone can afford. Cord cutters have more live TV streaming options. Cloud DVR options are available to record local TV programming. Voice command has moved beyond simple title search to include home control, thanks to the use of Siri, Alexa, and Google Home on the latest streaming players. 2017 is the year that all of these features became readily available and reliable enough to use on a regular basis.
Streaming a 4K/HDR picture first requires large amounts of data to reach the player or smart TV over a wireless home network. Throughout the year, I've used Netgear's AD7200-Nighthawk X10 Smart Wi-Fi router to deliver the most demanding streaming content without fail. Its powerful 1.7GHz quad core processor can handle multiple streams on its three bands — Netgear says it takes only 21 seconds to transfer an 8-GB movie file. I also have a Plex media server that works with Plex apps for playing movies and music stored on a hard drive connected to the router.
Western Digital's WD 4100 network attached storage (NAS) drive also has a Plex server from which I can access one of my downloaded media libraries. In years past, NAS drives have been unreliable, particularly when using a Mac. The kinks have finally been ironed out and this NAS drive is a workhorse that can stream all of my downloaded movies and music to the Plex app on my streaming players. What's more, saving downloaded files from my Mac to the WD 4100 over the network is almost as fast as saving directly to a connected drive.
The Plex app and server have been updated with many new and useful features. As the Plex app retrieves meta data from the internet for my downloaded movies, it now suggests similar titles, shows trailers, and includes such extras as YouTube video interviews about the title. The app is as feature-rich as any streaming service. Other updates include support for 4K HDR titles, voice search using Google Assistant on the Nvidia Shield, and DVR options for cord cutters. With the help of the HDHomeRun network-attached Tuner, Plex can also record local channels that can be downloaded and streamed to the Plex app while at home or away.
While the HDHomeRun network-attached tuner is not new, this year brought apps and devices that rely on it to get local TV programming. Along with the Plex DVR options, Dish launched the AirTV, which is set up to provide Sling TV, local TV, and other streaming content in one onscreen guide as well as offering the option to record shows to Dish's Cloud DVR.
Streaming live TV, and recording it to a Cloud DVR, has become a viable alternative for cord-cutters who are looking for online TV programming options. The Sling TV app offers DVR subscriptions in its app on a number of devices. Hulu has added live TV with a Cloud DVR option that includes 50 hours of storage. Hulu Live TV offers local channels from smaller markets and does not require an antenna or separate tuner. YouTubeTV has unlimited Cloud DVR storage with its TV subscription but is not yet available everywhere. PlayStation Vue offers live TV streaming but recorded programs are deleted after 28 days and some local stations (mostly CBS) cannot be recorded in a number of cities.
Being able to stream live TV has been a great convenience but even more exciting is the ability to stream 4K/UHD content with HDR. Hulu, VUDU, YouTube, and others added dozens of UHD titles to those already available from Netflix and Amazon. Vudu also supports Dolby Atmos sound. With original series from Netflix, Hulu, and Amazon being shot in 4K, and Vudu offering UHD streams, 4K content has become more readily available. If you're still having trouble finding 4K programs, check out Roku's 4K Spotlight app, which aggregates movies and TV shows that are available in 4K with HDR.
2017 was also the year that streaming players became powerful enough to reliably play all of this 4K/HDR content. Roku, Apple TV, Fire TV, and the Xbox One X are capable of streaming 4K with HDR and wide color gamut for a viewing experience that is light years beyond compressed HD video.
My go-to device for streaming content is typically the one offering the best picture quality. But since the aforementioned devices are all capable of excellent picture quality, I can only recommend one over another based on other features. The Xbox One X's astounding picture quality extends to 4K/HDR video games that are edging their way toward film-like reality, and it has the bonus of a UHD Blu-ray player. Apple TV has the added bonus of being part of the iPhone/Mac universe and delivering images that are almost three-dimensional. The Roku Streaming Stick Plus is slightly larger than an ordinary flash drive so you can easily take it on the road. The Roku operating system still offers the best agnostic voice title search results (though others are catching up).
If you like the idea of being able to talk to your streaming player, Apple TV, Fire TV, and Nvidia Shield (launched in January) offer Siri, Alexa, and Google Assistant voice control, respectively. Beyond simple search, all three let you control home lights, thermostats, and other connected devices as well as check the weather, search Google, and control playback with spoken commands. The Shield doubles as a full Google Home device with a game controller that can be set up to always listen. When I say, "okay, Google," I'm able to control the Shield entirely hands-free. The Fire TV has a full Alexa assistant built-in so you can order pizza, close the garage door, and lock the front door, all without leaving the comfort of your couch or missing a minute of the movie you're watching. Apple TV and Fire TV do, however, require that you first press the mic button on the remote. Nonetheless, this is the year where I can sit down at my TV, change the lighting, ask about an actor in a movie, and add an item to my shopping list when something I'm watching jogs my memory.
While the advent of 4K/HDR streaming has made it harder to choose a favorite streaming player, it has made it possible to get great picture quality from TVs that aren't top-of-the-line models — like my mid-level Hisense 65H8C and Vizio M65-E0s — which is a real boon for the average consumer.
With CES less than two weeks away, it will be interesting to see what new innovations are on the horizon and whether any will top what's become available in 2017. I, for one, hope voice control will become refined enough to let me play individual episodes of a TV series on request. Always-listening features for Alexa and Siri would also be a good addition so I don't have to search for my remote to activate voice control. Also on my wish is extending voice control to smart TVs, or allowing Alexa and Google Assistant to control the TV and AV receiver as well. For the latest news, watch for our CES 2018 coverage, which begins Monday, January 8.