BenjiLock Opens With a Key or Fingerprint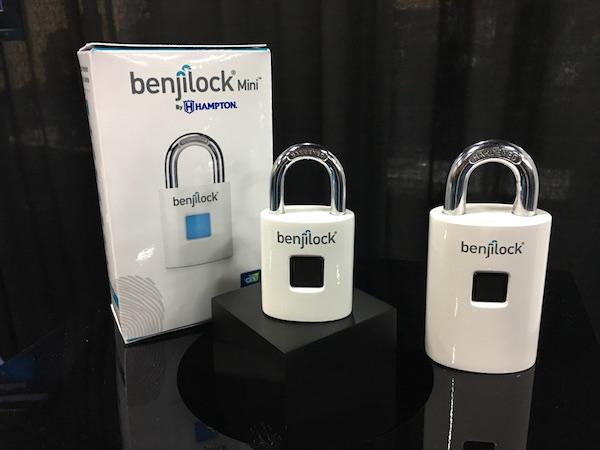 I met Robbie Cabral, the Inventor/CEO/Founder of
BenjiLock
, at the end of the final day of CES 2017 while we were both eating along at our respective tables in the middle of the Johnny Rockets at the Excalibur Hotel. (The finest of lodging and dining facilities if there ever was one.) Still unbelievably energetic after spending a week at CES, Robbie stopped by my table and we spoke at some length about tech journalism, what it's like being a startup company, and—of course—why the hybrid padlock, the BenjiLock, he (and his wife, Brach) had invented was so cool. I gave him my card and expected never to hear from him again. I didn't. Well, I did—sort of.
The BenjiLock is a seven-cylinder padlock that can be opened using a standard key or with the built-in fingerprint sensor located on the front of the lock. Cabral says it's "the world's first traditional rechargeable padlock with fingerprint technology"; stores and recognizes up to four users; includes a stainless steel shackle and body; is weatherproof; comes with a set of old-fashioned physical keys; and includes a built-in, rechargeable lithium-ion battery. Despite its playful name, the BenjiLock is a serious piece of hardware. I don't have the exact weight specification available, but I can tell you it is as heavy and as solid as any padlock of its size that I've held in the past.
Although it's true that I didn't hear from Cabral in the intervening 12 months since CES 2017, it wasn't because he'd dropped his dream of bringing his idea to fruition on the market. Instead, he'd made his way up from the depths of obscurity to the top level of ABC's Shark Tank where he received a $200,000 in investment from Kevin O'Leary for the seemingly small cost of 15 percent equity in the company. In November of 2017, Hampton Products International, a company that specializes in locks and hardware, purchased the North American rights to the BenjiLock. You can see a great video of Cabral accepting his first royalty check (for $100,000) from Hampton Products International live on CNBC here:
The emotion displayed by Cabral in the video isn't a put-on, either. Cabral exuded the same genuineness and devotion to his family during my brief post-CES fast-food conversation as he did on-screen.
By chance, I ran into Cabral during CES Unveiled. He recognized me immediately—and before I could say anything, he launched into a long apology about not getting back in touch . The reason was simple: he'd lost my card. I'm not surprised he'd lost my contact info. You can usually wallpaper at least one room in your home with all the business cards you bring home from CES. What did surprise me was how quickly he recognized me and remembered my name. (I know I'm famous, but I'm not that famous. After all, he's been on Shark Tank. I haven't.) Even though he doesn't have the equivalent of a BenjiLock for business cards, he evidently has a BenjiBrainLock for names and faces. (Or maybe I'm just that memorable…)
The BenjiLock is expected to be available nationwide in July of this year with a tentative MSRP of $69.99. A Mini version will also be available for $49.99.
By the way, all this success hasn't gone to Cabral's head. He's staying in the Excalibur again this year. I haven't seen him in the Johnny Rockets yet, though. But there's still a few days of CES 2018 left for that.