Being Flynn, Down By Law, Metropolitan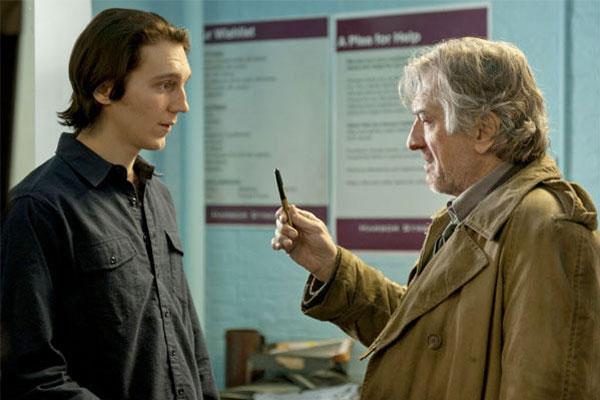 Admirers of the ever-committed Robert De Niro will want to check out his turn as another flawed original. And if you've never had the pleasure of watching early works from Whit Stillman and Jim Jarmusch, The Criterion Collection has a double treat in store.
Being Flynn (Universal Studios)
This adaptation of the powerful memoir Another Bullshit Night in Suck City by Nick Flynn is a difficult story about difficult people, with young scribe Nick (Paul Dano) toiling away in a homeless shelter and trying to get his own deeply troubled life back on track. But the unceremonious arrival of his long-absentee father, Jonathan (De Niro), at the very same shelter rocks Nick's fragile world like a bombshell.
Father/son relationships are never easy but this one is particularly complex. There's much more to Jonathan than his deadbeat-dad status might suggest, demons and talents and strange parallels, and the challenges and rewards of rekindling that family bond make for a touching, and surprisingly un-schmaltzy tale. Surprisingly, screenwriter/director Paul Weitz (About a Boy) contributes little to the disc in the way of extras, there's just a featurette, so this one might make for a quick but worthwhile rent/watch/return.
Down By Law (Criterion Collection)
Actor-musicians Tom Waits and John Lurie star as two less-than-savory individuals who are nonetheless set up and sent to a Louisiana prison, where they meet their eccentric Italian cellmate (Roberto Benigni, long before his Oscar). Thrown together by chance, the trio bonds and soon plots a breakout, with an unexpected twist. Dark in places and bizarrely comic in others, Down is another eye-level look at oddballs in America, through the lens of Jim Jarmusch, following up his breakthrough Stranger Than Paradise two years earlier.
Criterion has brought us the black-and-white movie in a lovely new, restored digital transfer. The extras are generous, although mostly vintage: 2002 interviews, clips from the Cannes Film Festival in 1986, in addition to a Jarmusch-directed Waits music video, photos, and audio recordings. But the isolated track of the movie's terrific music is certainly a tempting carrot.
Metropolitan (Criterion Collection)
Hard to believe that a filmmaker of such an enduring, singular voice as the wonderful Whit Stillman has only directed four movies (plus an episode of Homicide: Life on the Street), with his newest—Damsels in Distress—in theaters just this past spring. This 1989 "debut" is a (kinda) romantic comedy about a (sort of) fish out of water, an outsider who tags along with a tight group of friends hitting the Manhattan debutante scene. They're all young, quite privileged and yet somehow still relatable, perhaps because they yearn for the same things in life we all do. And since the movie itself is so utterly charming, we don't resent these kids, flitting from party to party in this exclusive world, we just want to follow and perhaps see if any will hook up.
There are no big stars but a smartly-crafted, Oscar-nominated script brimming with brilliant dialogue. The director joins members of his cast for the audio commentary, and the disc also presents outtakes and footage of some rarely-seen alternate casting. (Mr. Stillman's third feature, the equally honest, witty The Last Days of Disco also arrives on a handsome, well-adorned Criterion Blu-ray the same day as Metropolitan.)
LATEST VIDEO