Been There, Installed That: CEDIA EXPO 2015 Highlights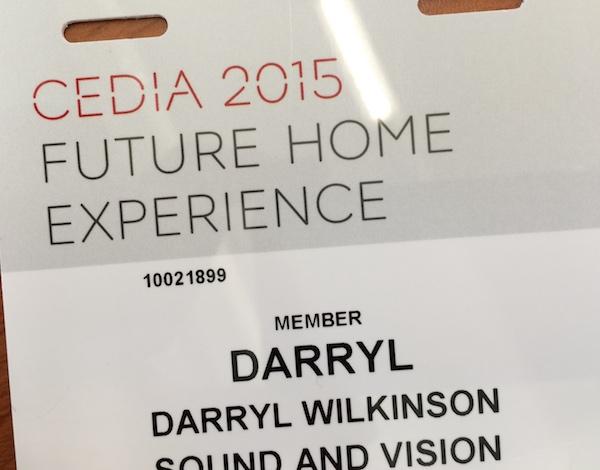 As per the usual, CEDIA EXPO 2015 ended with a whimper on Saturday, the 17th, as the EXPO attendees dwindled to just a few handfuls by the time the closing announcement was made at 5 PM. (I bailed around 4:30 PM.) By most measures, aside from the choice of venue, this year's EXPO was a resounding success. The number of attendees increased 16 percent over last year to a total of almost 19,000; while the 510 exhibitors accounted for a 6 percent increase. Perhaps the most exciting (and encouraging) news was that 124 exhibitors debuted at CEDIA EXPO 2015.
I noticed a healthy enthusiasm amongst both attendees and exhibitors this year. The gloom and doom found at EXPOs several years ago were gone, and—just as importantly—the vendor and industry hype was confident yet restrained. To me, that's a good sign of a healthy industry (for the moment, anyway).
Over 500 exhibitors meant that even with the cadre of editors we had in Dallas, there was no way we could cover it all. I'm not going to attempt to compile a comprehensive list of everything to be found on the EXPO floor, but I do want to point out a few of the more interesting things that didn't get blog coverage while we were there.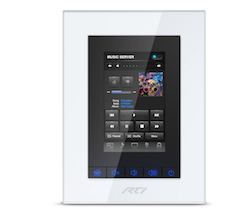 Remote Technologies Inc. (RTI) may not be a household name when it comes to remote control and automation technologies, but they're definitely a name that's well-known in the custom installation world for single-system and whole-home controllers. RTI's new KX3 In-Wall Touchpanel Keypad is a 3.5-inch color LCD touchscreen includes a pretty powerful control processor behind the pretty faceplate—so it can be used an in-wall touchpanel for a multiroom system or as an all-in-one, standalone, in-the-wall remote control unit for a single AV system. RTI says that, "Future updates to the KX3 will add even more powerful features, such as the benefits of an advanced control processor — including an astronomical clock and the ability to run two-way drivers — as well as a built-in 2.4 GHz ZigBee antenna for connectivity with RTI wireless remotes. Other advanced capabilities will include sense ports, relay control, built-in intercom, Wi-Fi, and more."
For those, like me, who have the incessant urge to change the song or volume of the music when I'm in the shower, RTI also displayed the WK2 Water-Resistant In-Wall Keypad that includes an all-glass exterior construction with an integrated capacitance-touch keypad plus a small (128w x 32h pixels), monochrome OLED panel for two-way feedback. RTI doesn't sell direct to consumers, but RTI does have a "dealer finder service" that can direct you to a dealer with "at least one person on staff who has passed an RTI programming certification exam."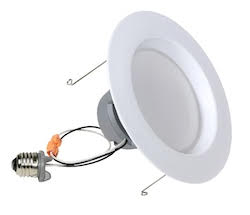 Nortek Security & Control has decided to ride the Z-Wave wave big time. Rather than use the Nortek name, though, the company is rebranding its extensive line of Z-Wave devices and sensors to wear the GoControl badge. Z-Wave devices from GoControl range from smart light bulbs to switches, dimmers, outlets, thermostats, door-window sensors, plus a Z-Wave-enabled siren/strobe. Especially interesting is the GoControl Smart Retrofit Lighting Kit (MSRP $59.95) that's designed to replace an existing can light fixture with one that is Z-Wave enabled.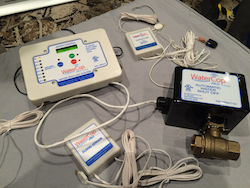 Plumbing may not be the most exciting thing on the planet—especially when it backs up—but DynaQuip Controls was very excited to show off the company's WaterCop Automatic Water Shut-Off System. Simply put, the WaterCop is a motorized water valve that can be installed in your home on its own or as part of a larger home automation or security system that will turn off the main water line in your house when water is detected in areas where you have water sensors installed. WaterCop is now available in a Z-Wave version.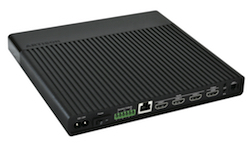 Unless you were specifically looking for it, you'd have missed Artison's Nano Backpack WiSA Powered (WP) because it was hidden on the backside of a flat-panel TV in the Artison booth. Hiding in plain sight, of course, is what the Nano Backpack is designed to do, either behind a TV, on a wall, or in an enclosure. The Backpack is surprisingly small, measuring 1 x 9 x 9 (HWD in inches). It packs plenty of punch, however, with three internal 100-watt Class D amplifiers "using Continuous Sigma technology for Class A sonics" that can be used to power a standard, passive LCR soundbar or separate LCR speakers. The diminutive Nano Backpack includes "a WiSA-compliant wireless output (24 bit/96 kHz)" for driving subwoofers and surrounds using WiSA-compliant amplifiers (built-in or external). As you would expect, the Nano Backpack also handles Dolby Digital, DTS, and Dolby ProLogic II/IIx decoding. There are three HDMI 2.0 inputs, one Toslink input, a 3.5 mm stereo minijack, and an RJ45 jack, as well as Wi-Fi and Bluetooth 4.0 connectivity. Artison says the Nano Backpack will ship in in the second quarter of 2016 with a MSRP of $999.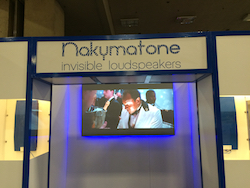 Invisible speaker maker, Nakymatone, isn't a new company; but they were showing a new invisible speaker at CEDIA EXPO 2015. Unfortunately, I didn't have time for a demo; but co-founder, Eric Nakkila, was able to give me a quick update on the smallest, most affordable version of Nakymatone's invisible speakers to date. Tentative pricing is $999/each, and shipping is expected to begin early next year.
There was plenty of excitement at the DISH booth, especially in the section where the new 4K Joey—with its blazingly fast processor—was being displayed. DISH's big CEDIA-related announcement was that they had expanded their integrations and partnerships to include Key Digital, Logitech, Middle Atlantic, and D-Tools. Logitech's integration allows Harmony Hub-based remotes to control the Hopper using direct IP integration. Middle Atlantic has produced a complete set of custom rack shelves for the Hopper and Joey receivers. On my way out of the booth, though, the King Tailgater caught my eye.
It's a fully automatic HD satellite antenna that can be placed on the ground or permanently mounted on the roof of an RV. What's so cool about the King Tailgater is that it's able to aim itself in the right direction for satellite reception (in the 48 contiguous United States). It's $350 for the Tailgater, but it only works with a compatible DISH HD Solo receiver (ViP211z, ViP211k, ViP211 or 411)—so you can't just yank your DISH Hopper out of your AV cabinet and take it on the road. Receivers start at $99, and DISH has a couple of special subscription packages for tailgaters and other travelers.
As I mentioned near the beginning, there's no way we can mention all of the new and notable products that were introduced at CEDIA EXPO 2015. If they're truly noteworthy, however, you can bet we'll cover them over the coming months. Now…on to CES 2016!