Bass-ic Training Page 3
Second, how much bass do your current speakers have? If you have smaller, bass-shy bookshelf speakers, then you're going to need a sub that will extend up to relatively higher frequencies (around 120 Hz). This way, there won't be any gaps in the sound between the low bass and upper-midrange sounds. On the other hand, if you have relatively large speakers with decent bass response, then you should look at larger, more-powerful subwoofers. These will augment the existing speakers with extreme low-frequency reproduction. Drivers that are 12 inches or larger typically provide better low-frequency response than 8- to 10-inch drivers. Smaller, less-powerful subwoofers may not extend much deeper than your current speakers do. Don't forget Hoffman's Law, though. It's possible to find an extremely small subwoofer (like the Sunfire True subwoofer) that puts out lots of bass by trading cabinet size for amplifier power.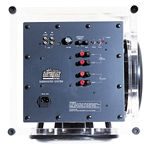 Another feature to consider is how you divide the upper and lower frequencies (the crossover). Your surround preamp or receiver should have a subwoofer output that sends only low frequencies to the sub. How low, of course, depends on the capabilities of your main speakers. This output has been crossed over, or low-pass-filtered, by the processor. You want to be sure your subwoofer offers an input that bypasses the crossover built into the subwoofer (this is mandatory on THX-certified models). The bottom line is, avoid cascading crossovers, which occurs when you use the crossover in both the preamp and the sub. Cascading crossovers cause a number of problems, including a 6-dB loss in bass level. Your preamp should also eliminate bass from the main speakers' amplifier, which will prevent an overabundance of bass where the speakers and sub overlap and, as I mentioned earlier, increase power and decrease distortion. The sub's crossover controls will be useful, however, if your preamp or receiver either doesn't offer a sub output or doesn't filter both the main and sub outputs. In the latter case, make sure your preamp's outputs (whether they're line- or speaker-level) match the sub's inputs.
When calculating your budget, remember that an average-quality subwoofer costs between $600 and $1,000. (Next month, I'll be reviewing a few subs under a grand.) With this in mind, you're ready to go out and actually begin your selection process. I hate calling it shopping.
First things first—you're going to need a couple of CDs and DVDs, a notepad, a pen, and (of course) a copy of the latest Home Theater Buyer's Guide. Any time you shop for audio equipment, it's imperative that you bring your personal music selections—not only because you know when the tracks sound good and bad but because sales associates know what material makes certain speakers sound good.
After you request your selections, be sure to ask the associate to play your CD/DVD tracks at the volume level(s) you find comfortable and at the same volume level for each sub. Be sure to choose satellites similar or identical to those in your home. Pay particular attention to any noise coming from the woofer, such as rattling, port noise, or chuffing (leaking).
Of course, ask to compare several subs in your budget with one another. If the sales associate can't or won't compare them, shop elsewhere. Be sure to take notes on what you like and dislike about each one. You may find it easier if you use the Home Theater rating system: build quality, performance, ergonomics, value, and features.
Once your listening evaluation is complete, carefully inspect each woofer you like. Be sure to look for important features like gain (volume) control, variable crossover, both high- and low-level inputs and outputs, and auto on/off. Other important features that may come in handy are remote gain control, circuit protection, low-frequency "boost," and phase adjustments (to compensate for the difference in distance between the satellites and subs and help blend the two as well as possible).
Congratulations! You have successfully completed the first phase (no pun intended) of subwoofer boot camp. If you're not thoroughly confused and disoriented, then you're ready for phase two—the subwoofer face off. Next month, I've got a few recruits lined up for a face-to-face shouting match to determine the best of the best for under a grand. When you're talking subwoofers, it's rare to find one that's capable of both rigid transient attacks and gut-wrenching low-frequency extension. Some might say it's impossible. Check out HT next month and decide for yourself.