Banshee, Would You Rather and A Place at the Table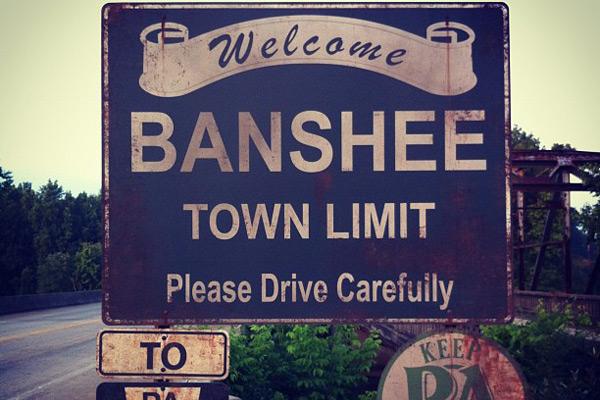 The premium channels continue to serve up cleverly conceived, juicily executed series, and while newcomer
Banshee
might not be as well-known as some of its kin, it's worth a look for fans of late-night TV drama who might have missed it in its first-season run. Viewers seeking a disquieting borderline-horror/thriller should play a game of
Would You Rather
, and everyone needs to find out why one in four American kids is being denied
A Place at the Table
.
Banshee The Complete First Season (HBO/Cinemax)
Witness this ain't: Set in the small, fictional town of Banshee, PA, Cinemax's TV-MA series finds a tough, resourceful ex-con (extra coolness points for never revealing his true name) assuming the identity of the local sheriff. He's come to rural Banshee to find his erstwhile lady love and to stay off the radar, as a vengeful Ukrainian mob boss is on his trail.
The town is populated by some colorful characters—a transsexual cyber-crook, a Gulf War hero, a former boxer with a heart of gold—and the strong values of the nearby Amish community stand in stark contrast to the bad behavior of the non-Amish folk. That is until we get to know lovely young Lili, who lives a devout life by day and cuts loose by night, in ways that only Cinemax can show, with the pay channel's copious sex, bloody violence and ample profanity.
All ten Season One episodes are here, along with six cast-and-crew audio commentaries, deleted scenes, prequel videos, multiple featurettes and several interactive features including a graphic novel look at the faux sheriff's backstory. A multi-format Digital Copy of the entire season is also provided.
Would You Rather (IFC Midnight)
This one goes out to a co-worker who introduced me the game of "Would You Rather," wherein participants are asked to consider two rather unpleasant possibilities and then chose one or the other. In theory it is a terrific if unsettling icebreaker, and a person's choices can speak volumes about him or her. But what if it wasn't just idle talk?
A plucky young woman (Brittany Snow) just wants to help her sick brother, and so she attends a dinner party thrown by a wealthy benefactor (Jeffrey Combs) with hopes of some relief from their plight. But before long we learn that nothing is without a price, and the guests are forced to make increasingly more difficult—and more violent—either/or choices in order to make it to the end. The repeated stressful predicaments are vaguely reminiscent of the Saw films, but Would You Rather has a disturbing vibe all its own.
The disc itself is lean but not bare, with an audio commentary shared by the director and screenwriter and a gallery of poster treatments.
A Place at the Table (Magnolia)
Yet another documentary about the sorry state of eating in America (it shares some of the same producers as the outstanding Food, Inc.), A Place at the Table focuses until the still-vexing problem of hunger, or perhaps more specifically malnutrition here in the U.S. I make that distinction because one of the underserved youngsters we meet in this thought-provoking narrative is actually dangerously overweight, and yet she is in dire need of proper nutrition. We follow a handful of citizens as we navigate the challenges of trying to eat properly in modern times without adequate funds.
The movie features interviews with the always endearing, fittingly paternal Jeff Bridges along with celebrity chef Tom Colicchio and other informed voices, combined with educational visuals. (Worth noting, this is an exceptionally good-looking film, with terrific music.) Directors Kristi Jacobson and Lori Silverbush seek to expose the huge underlying issues that have led to this sorry situation, including an over-processed grain-centric diet and the troubles the truly needy face in order to secure government assistance.
The Blu-ray extras are bountiful, and recommended for anyone wanting to learn even more about the hunger epidemic and how to fight it.