BackTalk: Steve Buscemi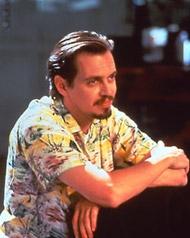 I hear you're calling in from the set of The Sopranos.
I'm directing the next episode - Episode 5. We're in preproduction right now. It's the fourth episode I've directed.
You also recently directed a movie called Lonesome Jim. Yeah, it's a comedy about a young man from Indiana who tries to make it as a writer in New York. But he can't hack it after a couple of years, so he moves back in with his family and has a nervous breakdown in the comfort of his own home. The problem is that his older brother lives there and is even more depressed than Jim, so they compete to see who will have a breakdown first.
Will it be in theaters soon? The Independent Film Channel is releasing it sometime this fall or winter. I know it will definitely play at the theater they acquired - the Waverly in New York City - but I don't know where else it will be shown.
Movies like that often find a wider audience on DVD. That's the way it worked for the other movie I directed, Trees Lounge. I don't expect Lonesome Jim to have a wide release or a long life in theaters. I hope it does, but it usually falls to how much money there is for marketing and what kind of reviews you get. With something like this, it's all about word of mouth.
Are you a fan of DVDs? There's a whole set of John Cassavetes movies on DVD [Five Films] that's pretty cool.
You recently acted in a Sirius satellite radio broadcast called the Theater of the New Ear. What can you tell me about that? Carter Burwell, who writes the music for the Coen Brothers movies [Fargo, The Big Lebowski, O Brother, Where Art Thou?], was commissioned to perform his film scores at the Royal Festival Hall in London. But he thought it would be more interesting to write something new instead. So he asked the Coens and Charlie Kaufman [Eternal Sunshine of the Spotless Mind, Adaptation] if they would write these radio plays, which we performed in front of a live audience at St. Ann's Warehouse in Brooklyn.
What was it like? It was great fun, and the cast was amazing - people like John Goodman, Philip Seymour Hoffman, and Marcia Gay Harden. I've done radio plays before, but this was the first time I'd done live radio. They're sort of like books on tape. Even though we were just sitting on stage reading, we did have a live orchestra behind us, which Carter conducted. We each played several characters, so in the beginning it might have been a bit hard for the studio audience to follow. It would almost have been easier if they'd closed their eyes so they wouldn't know who was doing the different voices.