Back to School, Back to Work: The Office Season Eight, Glee Season Three, and Hung Season Three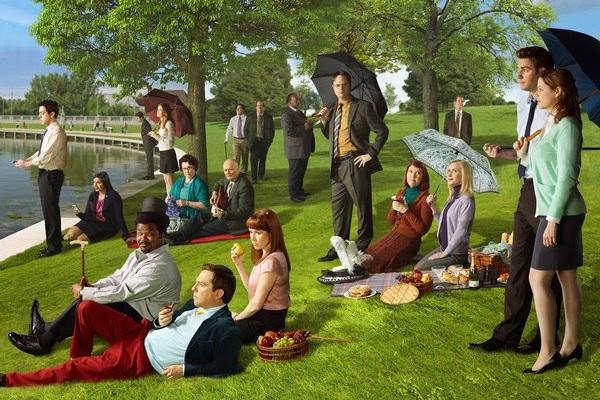 Labor Day has passed, which means that it's about time for some of our TV favorites to return, and so the studios give us a look at what we might have missed
last
season. From unenthusiastic working stiffs in Scranton, PA to plucky teens in Lima, OH to a stiff worker in Detroit, there's no shortage of music, comedy and drama.
The Office Season Eight (Universal Studios)
I like the talented actor Ed Helms and his body of work, but filling the wingtips of departing Office boss Steve Carell is an unenviable task if ever there was one. And so the show shifted to more of an ensemble format for Season Eight, which brought in a new CEO (a bizarre James Spader) and took a team down to Dunder Mifflin/Sabre's Florida office (headed by Doctor Who's even more bizarre Catherine Tate). The supporting players certainly had a chance to shine, with many more of the subtle comedic moments we've come to expect.
Almost two hours of deleted scenes are included in the supplements, along with producer's extended cuts of key episodes, bloopers, some elaborate tie-in webisodes with the cast, and in-character promotional spots for NBC. Universal is showing viewers a lot of love with this set, which is playable on both Blu-ray and DVD players, plus they've bundled in the entire 24-episode season on UltraViolet, for streaming/downloading from The Cloud.
Glee Season Three (Fox)
It was a bumpy two-year ride to Nationals for the William McKinley High School Glee Club, only to be sent home from New York without a trophy. But for anyone who's stood by Finn, Rachel, Kurt and the gang through the show's ups and downs, Season Three saw some satisfying vindication. There was a new attitude, new blood on the squad, new challenges and lots and lots of practice, in the form of different musical styles filtering in from week to week, occasionally bolstered by guest star like Ricky Martin. The personal lives of the students and teachers are once again a mixed bag, highlighted by engagements, prom and graduation for some, another year for others.
Principal among the extras are the jukebox feature which allows us to jump directly to the multiple musical numbers in every episode, a few deleted/extended scenes and some cast interviews.
Hung Season Three (HBO)
So you're a male prostitute: Who knew how hard it could be? For divorced single dad Ray Drecker (Thomas Jane), his "gift" alone has never been quite enough to assure success, and his high-maintenance, down-on-her-luck poetess pimp Tanya (Jane Adams) is only so much help. This year they came up with a new front for their illicit endeavors, which inspired rival pimpette Lenore (Rebecca Creskoff) to recruit a young stallion and heat up the competition in this delightfully absurd adults-only dramedy.
We're given a little something extra in the form of deleted scenes, an alternate ending for the season finale, a few creator commentaries and featurettes, along with Ray's kids' music video.
Kudos to HBO for keeping it up so long. (The quality of the show, that is.)
LATEST VIDEO