Atmos Competitor Auro Does Dazzling "Immersive Sound" Demo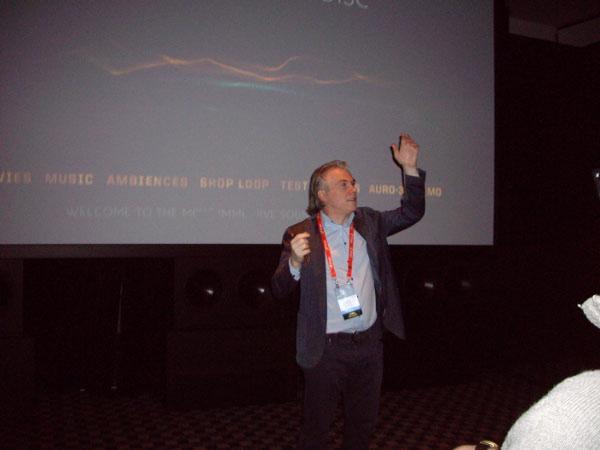 Belgium-based Auro Technologies dazzled CEDIA Expo showgoers with an 11.1-channel "immersive sound" demo of the Auro-3D surround format it introduced in theaters in 2011 and is now bringing to home theaters.
Unlike the object-based approach taken by Dolby Atmos, Auro-3D is a channel based format intended for music and movie soundtracks that adds height and overhead channels on top of a standard surround sound layout (Atmos deploys only height channels). Available in 500 theaters worldwide, the format is being introduced to the home market via two ultra-high-end processors: Auro-3D's own $16,700 Auriga Home Theater Receiver and the $18,000 P200 processor from Denmark's Steinway Lyngdorf, which also decodes Dolby Atmos.
The Auro-3D demo was conducted in a large room with 36 seats—more like a small Cineplex theater than a home setup—and featured a Blu-ray player fed by an Auro-3D processor from Datasat Digital Entertainment, a 16-foot-wide screen, and spectacular sound delivered by 20 speakers and six subwoofers provided by James Loudspeakers. Total cost for the system: $400,000.
A diverse sampling of native 11.1-channel Auro-3D recordings were presented, including a convincing slice-of-life clip that transported the audience to the streets of Amsterdam, a rousing orchestral performance, an action-packed movie clip from How to Train Your Dragon 2, and a pipe organ playing Beethoven in a majestic European cathedral. The sense of space and movement was at times startlingly realistic.
For more on Auro-3D, read our recent interview with inventor Wilfried Van Baelen.