Audioaccess W.H.E.N. Audio/Video Distribution/Surround System Page 2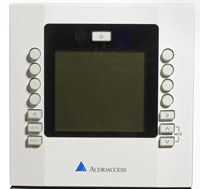 Beyond running the wires, installation of a W.H.E.N. system is a two-part process. The first step: connecting the AVR21EN receiver, the central component of the system. It provides six A/V source inputs (five of which accept component-video signals), an eight-channel analog input for a decoded multichannel source (such as a Blu-ray Disc or HD DVD player), and four digital audio inputs (two optical, two coaxial). I was impressed to find a full complement of front-panel connections, including component video and both optical and coaxial digital audio, making it so much easier to quick-connect things such as videogame systems or camcorders for temporary use. Oddly, while there is an HDMI output for the primary home theater display, there are no HDMI inputs - a big disappointment in a late-generation receiver priced at more than $2,000.
The AVR21EN has several connections that let you know it's no everyday receiver. Seven IR output jacks enable the system to control connected source components. Six Flag-In jacks can detect the power state of connected components using the optional Source Power Flag Kit (SPFKIT). This is key for reliable system control of components that don't offer discrete power commands.
Then there are the three RS-232 ports. These are labeled "DVD Changer Interface," but they're really reserved for advanced control and metadata feedback from special components. Currently, the only such component is Audioaccess's iPod docking station/controller, the aDock. But due shortly are interfaces for Russound's ST2 tuners (both Sirius and XM) and an upcoming Harman Kardon hard-disc server/DVD player. Interestingly, the jacks are device-specific. For example, the aDock control and metadata function only when connected to the Disc 3 input. Although this simplifies programming, it also limits the system to supporting only a single iPod (or XM tuner, etc.) with metadata feedback.
Finally, there are the connections for unleashing the W.H.E.N.'s multiroom functionality, including two RJ45 jacks and six Video Source Out connections. Pull Cat5 and RG-6 cabling from the AVR21EN receiver to the AVH21 distribution hub, all audio, video, and control signals are then routed around your home.
LATEST VIDEO