Atlantic Technology IWCB-626 In-Wall Loudspeakers
In-wall speakers without the in-wall sound.
In-wall loudspeakers, specifically those with open backs, can yield unpredictable results because their sound quality is highly dependent upon the wall cavity in which you install them. Typically, the wall cavity's volume doesn't load the woofer correctly. Plus, the wall can introduce rattles and vibrations, which obviously degrades sonic performance (and can be very annoying). Critics cite these problems as reasons to reject in-wall models for serious consideration as high-end speakers. Increasingly, manufacturers are seeking to overcome these performance issues by designing in-wall speakers that include enclosures—sort of like a bookshelf speaker in a wall. Atlantic Technology is one of them. Their new IWCB-626 speaker comes in a closed-back enclosure. An enclosure eliminates the wall cavity as a variable and ensures more consistent performance. It also makes installation easier and brings the sound of in-wall speakers closer to that of freestanding speakers. In-wall speakers are popular with homeowners because they are less visible and don't take up floor space—many homeowners want audio without speakers and wires cluttering the room. But homeowners also demand good audio performance, and a sealed-box in-wall speaker can potentially come closer to achieving both goals.
Performance Features
The IWCB-626 (which stands for In-Wall Closed Box, a two-way speaker with a 6.5-inch woofer and a 6.5-inch passive radiator) is a rather plain-looking speaker. Beneath the surface, though, Atlantic has included a few important features to enhance its performance. For instance, the speaker includes a Directional Vector Control (DVC), a two-position switch that aims the sweet spot down 15 degrees in the event that you plan to install the speaker higher than ear level, which is a distinct possibility if you install the speakers next to a wall-mounted flat-panel display. Also on the baffle are a three-position high-frequency level control and a boundary-compensation switch, which will come in handy should you have to place the speaker close to a wall, such as in a corner. Perhaps the most important performance feature is the tweeter, which I'll discuss in more detail below.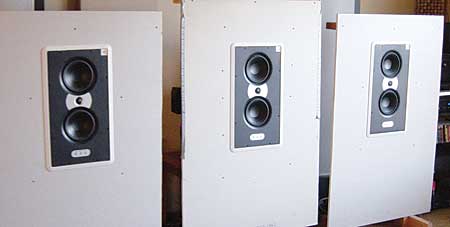 The DVC and high-frequency level controls are both useful features, but I found that the sound was to my liking right out of the box with no adjustments required. The Atlantic speakers have a very open midrange presence with a distinctive, agreeable vocal clarity, albeit a little forward sounding. I suspect that the forward-sounding nature stems from the tweeter and crossover design. According to Atlantic, many consumers install in-wall speakers higher than ear level when seated to make them less visible or in order to position them adjacent to a flat-screen display. Since this is a two-way speaker, the woofer handles most of the midrange. But woofers tend to beam in the upper midrange, which can result in a perceived dip in those frequencies unless your ears are on axis with the woofer. Some manufacturers employ a pivoting tweeter, although that doesn't solve the midrange problem; it simply aims the high frequencies down toward the listener. Atlantic's solution is to cross over the dome tweeter about an octave lower than many speakers, down to 2 kilohertz, which is well into midrange territory. The tweeter has a wider dispersion in the midrange frequencies than the woofer, which results in broader coverage. Combined with the aforementioned Directional Vector Control, this makes for a lot of placement options.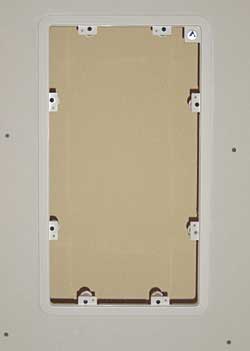 Listening Evaluation
I installed my three review samples (an L/C/R system) directly at ear height. Diana Krall's song "How Insensitive" from her new From This Moment On CD (Verve Records) revealed an almost startling vocal presence and a nearly in-the-room sound to the French horns. I've listened to this disc on several speaker systems recently but not one with this level of midrange presence and boldness. Laverne Butler's luscious voice was equally pleasant in "Isn't It a Pity" from World's Best Audiophile Vocal Recordings (Chesky Records). Although the midrange was somewhat aggressive, it did not overwhelm the other elements in the recording.
The Atlantic system also performed very well with multichannel music when I used it with my existing surround speakers. Of particular note was the midbass, which sounded full and robust in Roy Orbison's Black & White Night (Orbison Records). Vocals were distinct and easy to place in the soundfield in Zephyr's Now Is the Month of Maying (AIX Records), a multichannel a cappella recording featuring 12 singers, one positioned at each hour on the clock. The combination of vocals created quite an enveloping soundfield. The Atlantic speakers also handled high-volume listening with ease.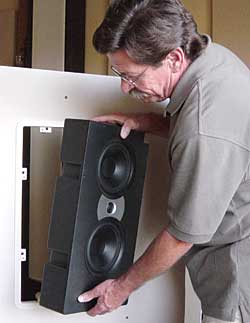 Dialogue intelligibility is a critical element for enjoying movies, and it often seems to be a weak point in film sound production and thus home theater systems. Clear, crisp dialogue is the center-channel speaker's job. With each film clip I played from Titanic, Master and Commander: The Far Side of the World, and others, the Atlantic speakers demonstrated good vocal definition. Thanks to its midrange clarity and presence, the IWCB-626 makes a good choice for film sound. In particular, Master and Commander is a demanding test of dialogue intelligibility. The English dialect can be difficult for Americans to hear clearly, but the Atlantics passed the test.
Construction Quality
The IWCB-626s' construction quality is very good. The smooth, coated enclosures are solid and inert, as evidenced by a sharp rap on the cabinet. Each of the speakers is a two-piece system, with a separate mounting bracket and speaker enclosure; it's a design that I found facilitates easy installation. The paintable mounting bracket inserts into the 20.375-by-11.125-inch drywall cutout and secures to the wall with eight dogleg clamps. Eight screws fasten the speaker enclosure to the mounting bracket.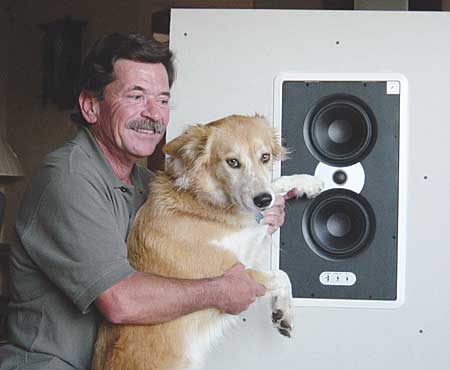 While the construction quality of these speakers is very good, I'm not as enthusiastic about the plastic mounting bracket. As I was tightening the screws on the dogleg clamps, one of the plastic clamps broke, and one of the screws snapped off. I used a cordless drill to tighten the clamps, but it was adjusted to the lowest torque setting, and I exercised care when tightening. Time is money, and I suspect that many installers would also use a cordless drill to install the brackets and speakers. The mounting bracket does an adequate job of securing the speaker in the wall; it's just not as sturdy or well built as the speakers. Perhaps a higher-density plastic or aluminum bracket would be a better alternative and a better match with the quality of the speakers.
Conclusions
I have reviewed more in-wall speakers than any other audio component, and I rank the Atlantic IWCB-626 high on my list of favorites. Mounting-bracket flaws aside, this speaker reproduces stereo and multichannel music with a sound quality more like a comparable freestanding model than a typical open-back in-wall speaker. Their midrange clarity and presence make it my choice for film sound, especially vocals and dialogue.
Highlights
• Closed-back enclosure provides more consistent sonic performance in multiple locations
• Open midrange with distinctive vocal clarity, although a bit forward sounding
• Design and features allow for flexible in-wall placement