Archos of Triumph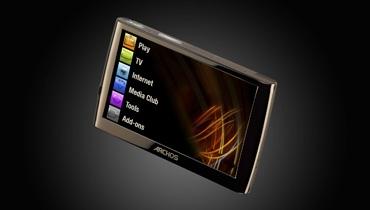 The Short Form
$349.99 (as tested) / ARCHOS.COM / 866-489-4718
Snapshot
Archos is out with its sleekest and most versatile portable media player yet, but be prepared to buy plug-ins and the DVR Station to make it fully functional.
Plus
• Bright crisp video screen • Finger swipes can flip through and magnify photos • Download movies, TV shows, and music from Archos Media Club without a computer • Kickstand for hands-free viewing • Speaker for no-buds listening
Minus
• Not a multi-touch screen • "Plug-in" software at odds with out-of-box compatibility • Component video input on optional DVR Station buggy
Key Features
• 60GB drive (higher capacities available) • 4.8-in 16:9 touchscreen • Stores or streams music, photos, or movies • Wi-Fi- (802.11g) ready • Plays Internet radio • Optional DVR Station with remote adds A/V ports including component video-in/out, HDMI out, and SPDIF audio out; accepts USB storage devices • Inputs/Outputs: USB, earphone, DVR station connector • 4.8 x 3.2 x .5 in; 10.7 oz
Taking a cue from flat screen TV makers, Archos has eliminated the buttons on the front of its sleek new portable media player and reduced the bezel to 3/8 of an inch or less. The Archos 5 Internet Media Tablet replaces the 605 WiFi player reviewed last year. Survivors are power and volume relocated to the side, while Archos has purged the easily-lost stylus. Your finger controls the screen, though the interface is still not multi-touch as in Apple's iPhone and iPod Touch. The widescreen (800 x 480 pixels) has been upped to 4.8-inches from 4.3-inches, which results in about 50 percent more viewing area than the 3.5-inch (480-by-320-pixel) screen used by Apple. If you want larger, there's the Archos 7 - identical except for its 7-inch screen. Besides the 60-Gigabyte version (the model I reviewed), the 5 is available with 120- and 250GB of storage. The 7 comes in 160- and 320GB versions.
SETUP
One of the frustrating aspects of the 605 was that you paid à la carte to download such capabilities as Web browsing and media decoding that should have just worked out of the box (Archos calls them "plug-ins," and they're about $20 each). To its credit, once you register the tablet online, you can download two of Archos's most popular plug-ins free: the Opera Internet Browser - which contains Adobe Flash 9 support for YouTube videos - and a WebTV and Radio player for accessing some 10,000 streaming radio stations and public access TV channels from around the world.
Upon discovering the Archos 5 on my network, my computer's Windows Media Player prompted me to allow wireless sharing of my photo, music, and video folders.