Apple TV Adds HBO Go, WatchESPN, More Streaming Videos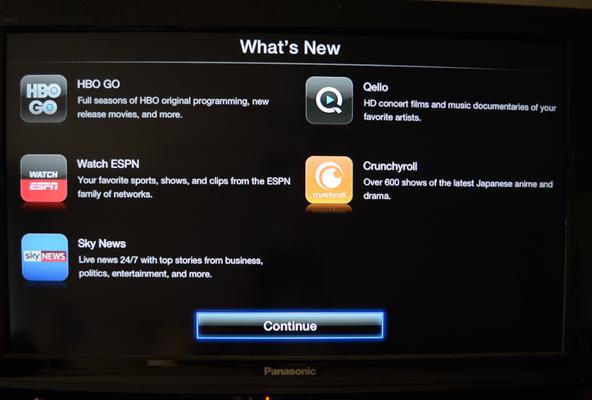 Apple TV has been a solid performer among media players and streamers, but has fallen behind as its competition--Roku, Boxee, WDTV Play, NETGEAR boxes, Google TV, and so forth-- continue to add to a broad number of channels/apps. This month Apple TV received a software update that takes a leap forward, adding popular channels including HBO Go, WatchESPN, CrunchyRoll, Sky TV, and Qello. While iTunes offers 60,000 movies and over 230,000 TV episodes, there is still a world of TV shows, sports, and online videos that can be found on Roku boxes, WDTV Play, Google TV, and other streamers but aren't available on Apple TV. The addition of these services may be enough for consumers to reconsider Apple TV as their choice for streaming media.
It's not that Apple TV has only offered iTunes. Early updates brought Netflix (according to Wikipedia it was added in 2010) and later YouTube. HuluPlus, MLB, NBA ,NHL and Vimeo were added in 2012. To be fair, the Apple TV can be used to stream a variety of video sources because a number of apps can be streamed from iPads, and iPhones using AirPlay. However, many videos will not be the highest quality available as they are compressed for use on smaller screen mobile devices. AirPlay can also be used to mirror a new model Mac. If you are streaming video from a website on your Mac it can be sent to your Apple TV and watched on the big screen. In that way, content is virtually limitless. Still, it's much easier to click on a channel in the Apple TV menu, then browse content and control playback directly on the device. Additional channels are welcome.
HBO Go has been available on iPads, iPods, and web browsers as well as on media streamers including Xbox 360, Roku, and Google TV. The addition of HBO Go to the Apple TV brings a vast library of content produced by HBO as well as movies from all studios that are aired on the pay channel. Offerings include HBO series Sex and The City to Boardwalk Empire and Game of Thrones, and every HBO show in between. Along with streaming movies currently playing on HBO, there is an extended library of popular films including Birdcage, Backdraft, Coming Home, all four Jaws films, and several other titles. Current shows appear in the app/channel after they are first shown on HBO.
With WatchESPN it's possible to stream live sports to Apple TV. Programming from ESPN, ESPN2, ESPNU, ESPN3 and ESPN Buzzer Beater/Goal line is available on the Apple TV. Whatever is currently showing on the channels can be streamed including SportsCenter, college football and basketball, Monday Night Football, major golf tournaments, all four Grand Slam tennis events, and more. Along with live coverage, there is a library of highlights, news clips, and short videos from ESPN.com.
Both HBO Go and WatchESPN require that you subscribe to the channel as part of your satellite or cable lineup. While HBO Go has an extensive list of TV providers (excluding DirecTV) that can be linked to the app channel for authentication, WatchESPN can only be used by a subscribers to a few cable companies and Telcos. To be eligible to watch the app channel on Apple TV (or other media streamers) you must subscribe to ESPN on AT&T U-eVerse, Charter, Comcast XFINITY, Cox, Time Warner Cable, Verizon, Bright House Networks, Midcontinent Communications, or Optimum. If you use DirecTV, Dish, or a local cable company, you'll have to wait until provider participation expands.
Two subscription online video channels were also added. Anime online video channel, Crunchyroll is now available. The second, Qello, streams concert videos and music documentaries. You can subscribe to either channel directly from your Apple TV. SkyNews is the fifth app that was added. Viewers can stream live news, and browse or search highlights and archived news stories from around the world. This international news goes beyond the US borders for a global view of current events.
It's been several months since I've used my Apple TV. Instead, I've watched the past season of The Newsroom on my Xbox 360 or Roku box. The Apple TV is easy to use, can be controlled by my iPhone, and has excellent sound and picture quality. Plus, iTunes radio will be available in the fall to stream music from the entire iTunes library. I've dusted off the Apple TV, updated the software, and connected it to the TV again, just in time to watch the newest episode of True Blood in high definition quality with blood curdling sound.
LATEST VIDEO