Apple TV 2015 Review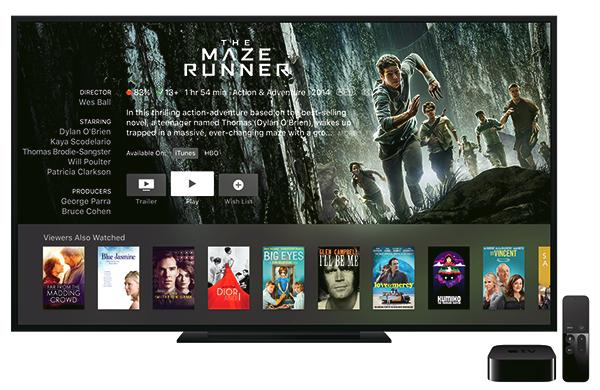 When I learned that the new generation Apple TV doesn't support 4K, I was certain it would be doomed—useful to only Apple enthusiasts. I was wrong. Of all the current generation media streamers, the new Apple TV has become my go-to player. The home menu may look like the old Apple TV but it offers new features and content that extends far beyond simple streaming apps.
Starting with the remote control, Apple has traded the classic navigation wheel for a touch pad that lets you move around the screen by swiping right, left, up or down. When I set it to "fast" it was a bit too easy to fly past the desired selection, although I did find the extra speed useful in "typing" logins, passwords, and more using the onscreen "keyboard," which displays the alphabet in a line.
Swiping is also used in video playback. Thumbnails appeared above the timeline as I swiped back and forth to find a scene. This scrub-bar movement is much faster than using fast forward or rewind buttons (which are not available on this spartan remote).
As fast and easy as it is to swipe to a place in a video, you also have the option of using Siri voice control to navigate playback. It worked beautifully, which is hard for me to say because I find Siri to be abysmal on my iPhone—it never understands my requests. On Apple TV, Siri is more than voice search. It can be used to open apps with simple command like "Launch Netflix." Even more impressive, I can request a specific TV show and episode and with only two taps, I'm watching the show. When I told Siri to "play the latest episode of Once Upon a Time, all I had to do was tap on the title that appeared on the search screen and select Hulu or iTunes on a subsequent screen. When I chose Hulu, the show started to play. Only Xbox One comes close to providing that kind of immediate viewing through a voice command.
Siri is activated by pushing the microphone button on the remote. While I could say "Play Video" or "Pause Video," it made more sense to just press the play/pause button. Siri really excelled in fast forward and rewind. I could ask her to "rewind 3 minutes" or "fast forward 20 seconds" and be right where I wanted to be in a flash. This worked in every video app I tried including YouTube, Hulu, Netflix, Ted Talks, and CBS All Access. In the Plex and Netflix apps, I could also request a specific title and playback would start immediately.
Surprisingly, Apple has given users what they want—the ability to watch a show outside of Apple iTunes. Right now, you have to use Siri to search for a program on Hulu or Netflix but Apple says other apps will be included in the future. While Siri is great at finding titles, TV episodes, cast, directors, and genres, it couldn't handle the sort of contextual searches available on Android TV. When I asked for movies about Las Vegas, I got an error message that said, "Sorry, I can't search for what something is about…"
Content
Because I can't watch network TV in high definition (it's a local issue), I'm particularly interested in streaming shows and Apple TV has what I need to truly cut the cord. Hulu has added a "commercial free" subscription for an extra $4 per month, which means I can watch my favorite ABC, NBC, and Fox shows uninterrupted. I also have a subscription to CBS All Access. Add Showtime (as part of Hulu), and HBO Now, and I find myself using my satellite service less and less.
Apple TV is loaded with many popular streaming apps including YouTube, which now offers videos in my Google Play library as well as Disney Anywhere movies I've purchased. Another neat wrinkle: you can use Airplay to stream videos from the YouTube app on an iPhone, iPad, or Mac to the Apple TV and easily return to the app you were previously using.
Beyond simple entertainment and streaming video, the Apple TV has also brought interactive apps to the big screen. And even though Android TV is an app-based platform, Apple continues to excel at apps that consistently work. The QVC and Gilt apps allow shopaholics to buy directly using the Apple TV remote and there's an aquarium app that lets you move fish around the screen. There's also an art gallery app that lets you display famous works on the screen but art is not displayed in 4K and some paintings don't fill a 16x9 screen.
If there is one place where content is lacking, it's with music. There are no apps for Spotify or Pandora. iTunes Apple Music is available but is a terrible service that has either lost songs and albums or replaced them with remakes. If only Apple would stick to videos and open its doors to other music services.
Like other streaming players, Apple has jumped on the gaming bandwagon. Games developed for mobile devices are showing up on the Apple TV. I played a few that use the Apple TV remote rather than a game controller. Apple doesn't make its own controller but two Bluetooth controllers—the Nimbus SteelSeries and the Horipad Ultimate—are available in the Apple store along with bundles that package a game controller with NFC figurines that can be added as characters in the game. You can play Guitar Hero on Apple TV using the Bluetooth guitar made for the iPad/iPhone app.
With Airplay mirroring, Apple TV's content is unlimited because you can send (mirror) content on an iPhone/iPad or Mac/MacBook screen to Apple TV. My office is next to my media room so I was able to use my TV as a monitor, and my Bluetooth mouse and keyboard to control my computer in the next room. Anytime I want to watch a video from a website, browse the web, or view photos on the big screen, I simply click the Airplay icon to display the images via Apple TV. It's fast and easy, and I experienced no delay. (In fact, I'm typing this on my Apple TV right now.)
Performance
The Apple TV just works. It's quick to start up, screaming fast to navigate, and opens apps pronto. Streaming also begins more quickly than with other media players and there are fewer delays than what I've experienced on a smart TV or lesser media players.
Video is not displayed in 4K but 1080p content is clear and bright and surround sound is supported if it's available.
Final Thoughts
Beyond the lack of decent music streaming services, Apple TV does not have Amazon Instant Video (which is why you can't buy Apple TV in the Amazon marketplace). If you are an Amazon user or want 4K, look to the Fire TV or Roku 4. If you are an Apple power user, you should be quite happy with the new Apple TV. The 32 GB model runs $149, and the 64 GB model is $199. It's probably best to get more storage if you're a gamer or if you plan on downloading a lot of apps.